Amritsar MC
SAD skips contract panel meeting
Amritsar, September 17
Rift in the ruling coalition came to the fore again today when SADís senior deputy mayor Ajaybir Singh Randhawa and junior deputy mayor Kashmir Singh boycotted a crucial meeting of the finance and contract committee of the Municipal Corporation, which passed a Rs 22-crore budget. The committee is dominated by the BJP.
Party meetings fail to draw crowds
Guru Ki Dhab (Faridkot), September 17
Political conferences organised by the SAD, All-India Lok Bhalai Party and the SAD (Amritsar) on the eve of the annual Jor Mela at Guru Ki Dhab near Jaito in this district today failed to draw crowds. Visitors enjoyed the mela more than hearing the political leaders.


Stone of first AC veggy market laid
14 more such markets soon: CM
Patiala, September 17
Punjab Chief Minister Parkash Singh Badal inaugurated the stateís first air-conditioned Rs 23-crore vegetable market on the Patiala-Sanaur road here today. He announced 14 more such vegetable markets to preserve and market vegetables.
Scheme for poor, bright students fails to materialise
Chandigarh, September 17
Chief Minister Parkash Singh Badalís much-touted initiative to reserve 10 per cent seats for poor and handicapped bright students in technical institutions is unlikely to benefit the concerned with private engineering colleges, yet to start admissions under this category.
Pbi varsity gets ĎAí from NAAC
Patiala, September 17
Punjabi University here has been awarded "A" grade on a three-point scale among over 350 universities in the country for five years by the National Assessment and Accreditation Council (NAAC), an autonomous institution of the University Grants Commission.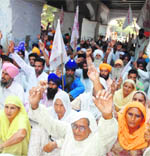 MSP: Farmers hold dharna at DCís office
Amritsar, September 17
Farmers led by the Kissan Sangharsh Committee (KSC), Punjab, today to held dharna outside the office of the deputy commissioner, demanding Rs 1450 MSP for paddy.





Farmers protest near the office of the deputy commissioner in Amritsar on Wednesday. Photo: Vishal Kumar
Jaundice, malaria hit border villages
Tarn Taran, September 17
The rural belt of this border district has been hit by water-borne diseases with two deaths being reported due to jaundice in three days.
Tainted officerís posting creates flutter
Patiala, September 17
The Punjab Forest Department has created a flutter by posting H.S. Grewal, an Indian Forest Services officer, as conservator of forests at Patiala even though he has been facing a string of cases registered against him by the Vigilance Bureau. Grewal has been facing four Vigilance cases in Patiala and Ropar, which were registered during 2002-06.


Petition withdrawn
The high court today made it clear that the remedy for seeking disqualification of elected state legislature members was election petition and not a public interest litigation.