Art Fact
Take a sneak peek into country's rich culture
Amritsar, September 23
The Indian Academy of Fine Arts (IAFA) here would exhibit rare paintings of the great painters of the 20th century and contemporaries of renowned artist Sobha Singh during the platinum jubilee celebrations to be held from September 27.
Poverty, hunger top UN meet agenda
Amritsar, September 23
The United Nations would deliberate on the poverty and hunger across the world during its next general assembly meeting to be held on September 25 in New York.
Tapeworms major cause of epilepsy, says expert
Amritsar, September 23 As many as five lakh people in the country suffer from epilepsy. This was revealed by Dr Rajneesh Sharma, head of department of neurology, Guru Nanak Dev Hospital, during the inauguration of series of neurology camps, being organised by the institute, here on Tuesday.
'Heart ailments on the rise in city'
Amritsar, September 23
A free heart and diabetes checkup camp was organised by Fortis Escorts Hospital here. A team of doctors, including Dr HP Singh (cardiologist), Dr Rajiv Khanna (diabetologist) and Dr Gagan (physician) examined over 182 patients, residing in Gumtala, Ajnala Road and other nearby areas. Free tests, including blood sugar, blood pressure, ECG and BMI, were conducted.
Dream IT, achieve IT! Gutsy girl shows the way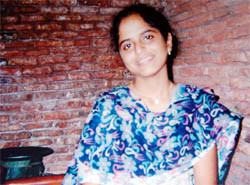 Amritsar, September 23
"I want to do something significant for my state and country after completing my study in UK". These were the words of Jasvir Kaur, a Punjab girl, who left for UK on Monday on a scholarship, provided by University of Wolver Hampton, to pursue her higher studies. Belonging to a middle-class family, Jasvir is a role model for students who dare to dream big and then work towards it with unflinching devotion.

Jasvir Kaur is one of the two Punjab students picked up by a UK varsity for a two-year scholarship programme. — A Tribune photograph

Ladakh students interact with AWWA chief
Amritsar, September 23
A group of 30 girl students from Ladakh accompanied by a woman teacher interacted with Kaushiki Paul, President of Panther AWWA, at Amritsar cantonment here today.The delegation was part of an educational tour under "Operation Sadbhavana" being conducted by the Army for children of the Batalik region of Ladakh.
PCA urged to help cricketer's family
Amritsar, September 23
The cricket fraternity of the city today condoled the death of former skipper of Punjab Ranji Trophy Umesh Kumar as his family faced the double tragedy with his young son Mohit passing away last week.
Campus Buzz
GND varsity holds debate on population explosion
Amritsar, September 23
Jyot Parkash of DAV College, Jalandhar, was declared winner in the inter-college debate on "Population explosion is threat to environment," organised by Guru Nanak Dev University and sponsored by the Association of Indian Parliamentarians, New Delhi.
Ayurvedic association chief lists his priorities
Amritsar, September 23
Newly elected president of the Punjab Ayurvedic Medical Services Association (PAMSA) Dr Atamjit Singh Basra today said that his first priority would be to nominate the remaining members of the executive committee in the coming few days.
Hip surgery with new technique
Amritsar, September 23
A leading orthopaedic surgeon here in collaboration with a hip replacement expert from Australia conducted a live surgery using metal-on-metal (MoM) technique on a 28-year-old young patient.