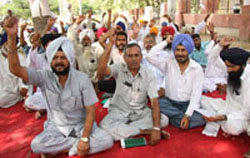 Demanding compensation for the farmers who recently lost their crops due to bad weather, CPI workers staged a dharna in front of DC office in Bathinda on Monday. Tribune photo: Kulbir Beera
Villagers lock school to protest staff absenteeism
Bathinda, September 29
In protest against the alleged absenteeism of teachers of the Government High School, village Burjemansa, residents today locked the school and raised slogans against the principal and the teachers of the school.This is the second incident of such kind in the district within a week. Villagers alleged that the teachers never reached the school on time and had been failing to do their job properly. The result of class-VIII was the example of it as out of 63 students, about 48 failed in English and more than half of them failed to pass in all subjects, they added.
Worm presence in mid-day meal unabated
Abohar, September 29
Failure of the administration in acting against the supply of 'highly-contaminated'

food under the mid-day meal scheme forced some parents and teachers today to stop serving the food to the students in the government school of the Amarpura village, located on the Abohar-Hanumangarh road.
Worms found in the food supplied to the schools under the mid-day meal scheme in Abohar area on Monday. A Tribune photograph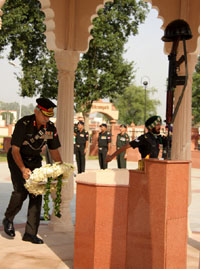 New General Officer Commanding of the Chetak Corps Lieutenant General D.S. Chauhan laying wreath at the war memorial in the Bathinda Military Station on Monday.
Tribune photo: Kulbir Beera
Jaundice, malaria grip Mansa, authorities yet to wake up
Mansa, September 29
Contaminated drinking water coupled with the accumulated dirty water in the streets of this town had inflicted hundreds of the residents here with the deadly diseases of jaundice and malaria. But the authorities concerned are yet to wake up from their deep slumber.
Fair organised for farmers in Fazilka
Fazilka, September 29
The Fazilka Farmers Organisation of Agricultural Development, a local non-government organisation (NGO), organised a fair for farmers here on Sunday.
Maharaja Aggarsein Jayanti today
Bathinda, September 29
To celebrate the 5132nd birth anniversary of Maharaja Aggarsein, the Maharaja Aggarsein Jayanti Samaroh Samiti, Bathinda is going to organise several programme at Maharaja Aggarsein Park, here on Tuesday.
Aggarsein Jayanti celebrations
Couples having only daughters honoured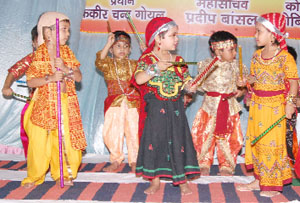 Abohar, September 29
Students of the Kilkari Playway School, Genius International School, Gopi Chand Arya Mahila College and S.D. High School presented a colourful programme during the Aggarsein Jyanti celebrations organised by the Aggarwal Sabha here last night.


Children presenting group dance at a function organised by Aggarwal Sabha in Abohar. A Tribune photograph

Barnala SDS chief dead
Barnala, September 29
Panna Lal Goyal, president, Sanatan Dharm Sabha (SDS), Barnala, passed away after two month illness on Saturday. He was 74 and was undergoing treatment at a hospital in Ahmedabad following heart surgery. Two days before his demise, Goyal was shifted to a hospital in Mumbai where he breathed his last. His body reached here today.

Faridkot public relation officer retires today
Bathinda, September 29
Manohar Singh, District Public Relations Officer (DPRO), Faridkot, after serving the state public relations department for more than 27 years is retiring tomorrow.

Manohar Singh