Desperate Call
'Punjabi artists have been ignored'
Amritsar, September 30
The Indian Academy of Fine Arts (IAFA) exhibited rare works of the great painters of 20th century and contemporaries of renowned artist Sobha Singh during its platinum jubilee celebrations which concluded on September 27.
Trust for pro-poor health strategies
Amritsar, September 30
Organising medical camps for the poor, downtrodden and rural people is his mission and for achieving this he established a trust in the name of his grandfather Bua Ditta.
It's kids' day out at Langooran wala mela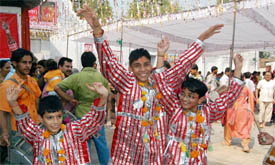 Amritsar, September 30
A huge influx of children dressed in bright red clothes, with silver and golden stripes, seen in the Bada Hanuman Temple on the Durgiana Temple premises, announced the commencement of the unique and world-famous "Langooran wala mela" on the first Navratra here today.

Kids dressed in colourful outfits make merry during the first day of the mela in Amritsar on Tuesday. — A Tribune photograph

Campus Buz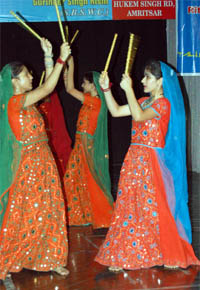 4 MNCs offer jobs to 46 varsity students
Amritsar, September 30
Forty-six students of Guru Nanak Dev University have been placed in four multinational companies in the past two weeks, taking the tally of 349 students of batch-2009 who have got job in different national and multinational companies through campus placements before completing their studies in June 2009. Director (placement) Sukhdev Singh said 32 students - 20 of B. Tech computer science and engineering, seven of MCA and five of B. Tech electronics and communication engineering - had been selected by the Computer Sciences Corporation (CSC), Noida, at an annual salary package of Rs 3 lakh each.


Girl students perform dandia during a cultural programme at the BBK DAV College for Women in Amritsar. — Photo by Vishal Kumar

City to host Asian ball badminton tourney
Amritsar, September 30
The holy city will host the Asian Ball Badminton Championship which will get underway on October 4. The event would be held at the Khalsa College, which would also be the venue of the sub-junior national ball badminton tourney.


Combat Class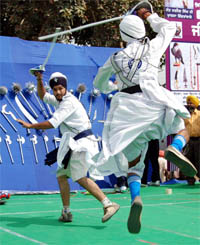 Participants showcase their skills during a gatka contest in Amritsar on Tuesday. — Photo by Vishal Kumar
Healthy heart on canvas
Amritsar, September 30
To raise awareness on heart diseases, a declamation and on-the-spot painting contests were organised by the Fortis Escort Hospital. The declamation topic was "Heart Disease - Risk and Prevention", while the painting contest theme was "Healthy Heart".
Seminar on ad hoc network
Amritsar, September 30 A UGC-sponsored national seminar on "Ad hoc network" was organised by the postgraduate department of computer science, Khalsa College for Women, in which more than 20 delegates from parts of the country presented their studies.
Biz Buzz
Kohler showroom
Amritsar, September 30
Kohler, a global leader in kitchen and bath design, plans to open 70 showrooms across the country, said company MD Sharad Mathur. Mathur was here to inaugurate its first showroom in the city.