Normalcy will 'boost' business
Jammu, October 1
Though it has been a month since the Amarnath land row got over in the Jammu region, traders, particularly those associated with tourism, feel their business will pick up only after normalcy returned in the state.
Elderly living a lonely life
Jammu, October 1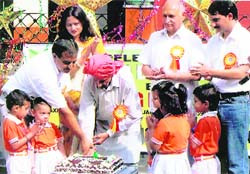 Seems World Elder's Day holds little or no meaning for some. Swarna Devi, a widow hailing from Nai Basti, is a dejected woman. After being severely thrashed by her adopted son, Swarna was turned out of her house. She sought refuge in the Old Age Home, Amphala, dedicated to people of her ilk.


Fouri Sharan, the oldest inmate at the Home for the Aged at Amphala (Jammu), cuts a cake in celebration of World Elder's Day on Wednesday. Tribune photo: Anand Sharma
Missing villager joins Hizbul
Udhampur, October 1
The Doda police has launched a manhunt to nab a missing villager, who has joined the militant outfit Hizbul Mujahideen.
Wildlife project for Centre
Jammu, October 1
Concerned over the rising incidents of man-animal conflicts in Jammu and Kashmir, the state's Wildlife and Protection Department has submitted a detailed project to the Centre to help in handling this grave problem that has so far claimed 65 lives besides causing serious injuries to 300 others during the last two years.
JDA yet to allot plots
Jammu, October 1
The Jammu Development Authority (JDA) has allegedly played truant with hundreds of applicants by generating a false hope of providing them plots at three residential colonies on the city's outskirts.
CET results: Students allege foul play
Jammu, October 1
Students from Jammu who could not crack CET, whose results were declared on September 29, have alleged foul play in the selection of candidates.
Security staff allege inaction by varsity
Jammu, October 1
In an incident of manhandling wherein a student- Munish Gandotra- and security guard, Kamaljeet, allegedly entered a scuffle outside the administrative block on Saturday, the university administration is yet to initiate action against the student.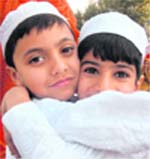 Eid celebrated with gaiety
Srinagar, October 1
Eid-ul-Fitr was celebrated with religious fervour and gaiety in the Kashmir valley today with scores of people thronging shrines and mosques to offer prayers in the morning. The biggest congregations were held at Eidgah, Hazratbal, TRC grounds and Sonwar. It was for the second time that prayers were offered at Eidgah, since last year, after a gap of about 20 years.
EID MUBARAK: Two Kashmiri boys hug each other after Eid-ul-Fitr prayers in Srinagar on Wednesday. Tribune photo: Mohd Amin War
Vohra' greetings
Srinagar, October 1
Extending his warm greetings on the auspicious occasion of Id-ul-fitr, Governor N N Vohra said it inspired the people to follow the path of love and compassion and further strengthen the bonds of brotherhood.
Sweets exchanged on Indo-Pak border
Jammu, October 1
Indian and Pakistani soldiers today exchanged sweets and greetings on the Line of Control (LoC) on the occasion of Eid, a few hours after the Indian troops foiled an infiltration bid in Jammu region.
Plaza or mockery of Gandhian philosophy
Jammu, October 1
In a blatant defiance of the philosophy of Mahatma Gandhi, Gandhi Plaza, a full-fledged vegetable market at Gandhi Nagar, today houses shops where non-vegetarian food is sold, purchased and even dished out along with alcohol.
Tourism has vast scope, says Guv
Srinagar, October 1
Governor N.N. Vohra has observed that tourism holds an enormous promise for economic transformation of Jammu and Kashmir and expressed the hope that with gradual easing of restrictions more virgin tourist destinations would be thrown open to domestic and foreign tourists.
Unrest hits tourism in Gulmarg
Gulmarg, October 1
The vast expanses of Gulmarg are as lush and captivating as they usually are during this time of the year, only that crowd of tourists which has made it a top travel destination is missing.
Hotel owner held for pilgrim's murder
Jammu, October 1
The police has arrested a hotel owner and his servant for allegedly murdering a Vaishno Devi pilgrim after a dispute over payment.
Jawan held with ammunition
Jammu, October 1
A jawan of the Rashtriya Rifles was arrested today with 40 rounds at Jammu railway station.
Traffic police mulls management body
Jammu, October 1
To bring an end to traffic woes in the twin capital cities of Jammu and Srinagar, the traffic police would propose to the state administration to set up a traffic management committee.
Report submitted on PSU restructuring
Srinagar, October 1
Mehmood-ur-Rehman, chairman, Jammu and Kashmir State Finance Commission, presented a part of the report, which covers issues relating to the restructuring of public sector undertakings (PSUs) and fiscal devolution to municipalities and local bodies, to Governor N.N. Vohra here yesterday.