COLUMNS



THIS ABOVE ALL

TELEVISTA

GOOD MOTORING

AUDIO SCAN

MUSIC ZONE

WEBSIDE HUMOUR

FOR CHILDREN



CROSSWORD

RHYME TIME

ROOTS
In defence of the ranks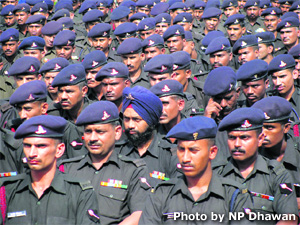 The proposals put forward by the three Services Chiefs for parity of pay to the Armed forces will cost the country only Rs 450 crore. This is a small price for ending the resentment in the services on the issue of discriminatory pay and pension, reports Ajay Banerjee
The recent refusal of the Army, Navy and the Air Force to accept the revised pay scales has lent new urgency to the issue of anomalies in the Sixth Pay Commission report, which was to be implemented from October 1.

Disparity: How it hurts
And now a designer dog
If you want a dog with specific looks, coat, colour, size and behavioural traits, then science and breeding could design one for you. Such characteristics can spell the difference between a dog becoming a much loved and pampered pet, or a mistreated and neglected animal.