Itís Chak De Punjabis at Ohio festival
Amritsar, October 10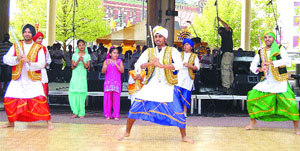 Amritsar-born Dr Kuldip Singh Rattan, Sameep Singh Gumtala, Dr Darshan Singh Sehbi, Loharan village in Jalandhar district-born Avtar Singh Springfield and other Punjabis living in Dayton, Ohio, USA, and around were instrumental in winning first prize for their Punjabi cultural exhibition out of 61 exhibitions of different countries, including Japan, China, Mexico.
A stall put up by Punjabis living in Ohio in the US was adjudged the best during the 12th cultural fest of Springfield.

Pillar boxes plug power pilferage
Amritsar, October 10
Pillar boxes containing bulk domestic power meters, put up in various government and private localities, have been instrumental in plugging power thefts three times in one year.
Writerís murder: CM urged to review case
Amritsar, October 10
The Sikh Students Federation (SSF) led by Gurcharan Singh Grewal has urged Chief Minister Parkash Singh Badal to review the murder case registered against activists of the Sri Guru Granth Sahib Satkar Committee on the suspicious ground.
GND varsityís youth fest begins with a bang
Amritsar, October 10
More than 800 students from different colleges of the district affiliated to the Guru Nanak Dev University are participating in a three-day zonal youth festival (A-zone) of the university inaugurated here today.
Eng refresher course in Nov
Amritsar, October 10
Guru Nanak Dev University (GNDU) has invited applications from college lecturers for a three-week refresher course in English which would be conducted from November 7 at Academic Staff College (ASC) here.
Beyonce reveals it all
American singer Beyonce Knowles has recorded more than 70 songs for her new album. While writing on her official Web, the 27-year-old singer said that her new album reveals all about her.
JE held on graft charges
Amritsar, October 10
A junior engineer (JE) of Punjab State Electricity Board was caught by sleuths of vigilance bureau (VB) while accepting a bribe of Rs 2,000 from a Gurdaspur resident.
Letters
Sons of Amritsar
Needless to say that two renowned persons who were born in Amritsar - Field Marshal Sam Manekshaw and playback singer Mahender Kapoor - have nothing after their death to remind people of their linkage with the holy city. It would be in the fitness of things if a thought is given to it.