Youth dies in accident
Panchkula, October 10
One youth was killed while another injured in a head-on collision between an Innova and Indica car near Mansa Devi complex here today. The deceased, who was driving the Indica, has been identified as Ankush. He was a resident of Sector 25, Panchkula. The injured, Harshit, was admitted to a local hospital.


LIGHTING AWAY DARKNESS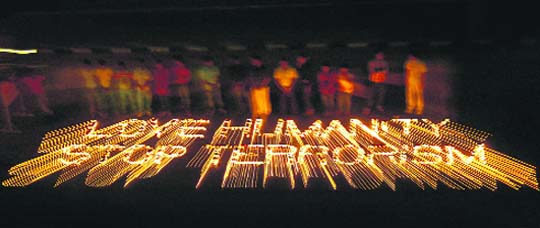 Members of the Youth Sankalp Foundation, an NGO, on Friday paid a tribute to the people killed in the recent bomb blasts across the country. The special tribute was paid by lighting 1,100 candles reading 'Love Humanity, Stop Terrorism' on the Panjab University campus. Tribune photo: S. Chandan
Illegal inter-state buses ply from Sec 22 as STA sleeps
Chandigarh, October 10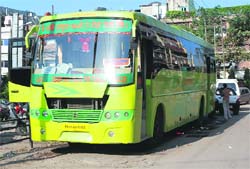 Certain private bus operators have been running illegal inter-state buses virtually under the nose of the authorities, putting the state exchequer to loss.






Passengers prefer private buses as they provide them with better facilities. A Tribune photograph
20 vehicles recovered after kingpin's interrogation
Panchkula, October 10
The interrogation of Bhim Patan has led to the recovery of 20 vehicles stolen from the tricity.
Chief engg directs officials to clean water tank
Mohali, October 10
Chief engineer of the water supply and sanitation wing of the public health department S. R. Aggarwal directed officials to clean the underground water storage tank in Phase X in which lizards and insects were allegedly found and also check the quality of water supplied to residents.
Dreams in pipeline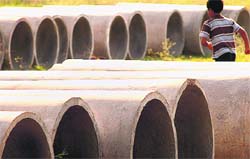 A kid playfully makes his way through drainpipes to be laid in Sector 56, Chandigarh, on Friday. Tribune photo: Vicky Gharu
City all set to become a hub of multiplexes
Chandigarh, October 10
Derisively dubbed as a city of tired and retired, Chandigarh is waking up to the multiplex culture in a big way. In a development that may spice up the entertainment scenario in the city, the Chandigarh administration has relaxed the conditions for the conversion of the existing cinema halls into multiplexes.
Enforce Cinematograph Act, Centre to UT
Says film fests in city showing uncertified films
Chandigarh, October 10
Taking serious note of the exhibition of "uncertified films" at certain film festivals in the city, the union ministry of information and broadcasting has asked the Chandigarh administration to strictly enforce the provisions of the Cinematograph Act, 1952.
Silvi Park Theatre
Artistes seek light, sound facilities
Mohali, October 10
A number of artistes and those related with cultural activities have demanded equipping an open-air theatre at Silvi Park, Phase X, with light and sound facility.

Men! Don't ignore that lump in breast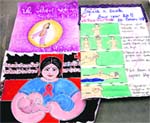 Chandigarh, October 10
Amritesh (45) is being treated for breast cancer at a city hospital. Until it happened to him, he believed it was impossible for men to get the disease. But they do, and it is more dangerous than in women. "For a long time I tried avoiding the lump, even after it turned malignant. I scoffed at the doctor who diagnosed it. I was not ready to believe it, as I thought it only happened to women," says Amritesh.
Child welfare panel working without office
Chandigarh, October 10
The Child Welfare Committee is still awaiting official accommodation at the Juvenile Home, Sector 25, even after writing to the Social Welfare Department director for the same over a year ago.
Amend land use policy: Banquet owners
Mohali, October 10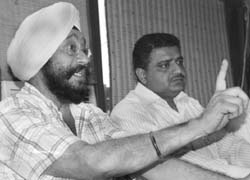 The Mohali Banquet Owner's Association today urged the Punjab Chief Minister to amend the policy of allowing the change in land use (CLU) from industrial plots to commercial in Industrial Area here. None of the plots allotted by the GMADA in Industrial Area, Phase 1 to VI, fulfill the conditions laid down under the CLU policy notified in January this year.

Members of the Banquet Owners Association address a press conference in Mohali on Friday. A Tribune photograph
GMADA okays Rs 1,700 cr for land acquisition
Mohali, October 10
Acquiring land to provide multiple accesses to the upcoming Chandigarh International Airport is going to cost the Greater Mohali Area Development Authority (GMADA) four times the money spent on acquiring the land for the airport in Jheorehri village here.
E WILD WILD
The Internet 'hawala'
The proceeds of the flourishing illicit trade globally merge with the greatest of ease into the vast daily flow of interbank settlements and private money transfers. Internet not only boosts the speed and efficiency of the illegal trade, but expands the possibilities by, for instance, hosting online markets for prostitutes from Moldova and Ukraine destined for shipment to markets in Britain, France, Germany, Japan and the United States. The illicit trade, too, offers terrorists and criminals means of survival and methods of financial transfer and exchange.

Coping with life after suicide bid
Chandigarh, October 10
Life after death is certainly not known, but life after a suicide attempt is full of guilt, grief, fear and shame. Suicide may seem like an easy and the only way out of a tough situation for many, especially those in the age group of 20-35 years, but life is not the same for those who survive a suicide attempt.
P.K. Sharma gets additional charge of MC secy
Chandigarh, October 10
Following the transfer of Samwartak Singh, secretary, municipal corporation, as DPI (schools), the Chandigarh administration has given P. K. Sharma, additional commissioner, additional charge of the MC secretary.
Four SHOs appointed
Chandigarh, October 10
In a minor reshuffle, the UT inspector-general of police today appointed four station house officers (SHOs). In two of the police stations the incumbents had been placed under suspension a couple of days ago.
Prepaid coupons to set up Diwali stalls
Chandigarh, October 10
The Chandigarh Municipal Corporation has decided to issue prepaid coupons to people desirous of setting up temporary stalls on Diwali.
Accused complains of chest pain
Chandigarh, October 10
Ravinder Singh, the prime accused in the case of the cash delivered at judges house was taken to the PGI following a complaint of pain in the chest.
Encroachments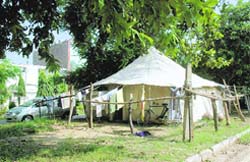 A blot on planned scape
Security tents in VIP sectors immune to demolition drives
Chandigarh, October 10
Security, indeed, is an all-time favourite excuse of ministers, police officers and bureaucrats who leave no opportunity to grab public land by pitching tents on it for 'their men'.
A security tent erected on government land in Sector 23. Tribune photo: Parvesh Chauhan
Who'll teach the schools?
Residents face problems with cementing of outside area
Chandigarh, October 10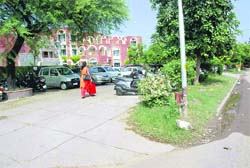 Is cementing the area outside the school's boundary walls legal? Schools say yes, residents say no, and authorities, who are supposed to implement the law of the land, are clueless and busy passing the buck over checking it.




An illegal parking opposite Saupin's School, Sector 32.Tribune photo: Parvesh Chauhan
Alterations at will under MC's nose
Chandigarh, October 10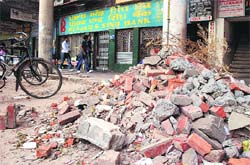 Cocking a snook at the rules, the encroachments and illegal alterations in Sector 17 are mocking at the administration's ambitious spruce up plans





The debris at the rear side of the SCO 78-79 in Sector 17-C. Tribune photo: Himanshu Mahajan
Violations galore as authorities sleep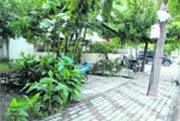 Chandigarh, October 10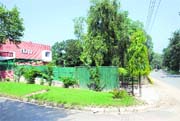 Even after framing hedge bylaws to keep a check on encroachments in the residential and commercial areas of the city, the authorities, it seems, have forgotten to execute them.



PU should get central status: Pathak
Chandigarh, October 10
K.N. Pathak, former vice-chancellor, Panjab University (PU), strongly feels that PU deserves central status. Speaking at a press conference at a city school, while he refused to comment on the current scenario of PU, he could not stop himself from supporting the demand for central status for the university.
K.N. Pathak,
Eatables to cost more on varsity campus
Chandigarh, October 10
Next time you think of grabbing a quick bite without burdening your pocket at the popular Student Centre of Panjab University, think again. Very soon, the eatables may not come at affordable price as the administration is contemplating to implement 12.5 per cent VAT (Value Added Tax) on all the eatables.
Adult education unit holds exhibition
Chadnigarh, October 10
The adult education unit of the Chandigarh administration, under its income-generation programme, organised a three-day exhibition cum sale of its products prepared by the learners of the Continuing Education Centres at the Panchayat Bhawan, Sector 18.
PU Notes
Lecture on Sikh philosophy delivered
Chandigarh, October 10
As part of Panjab University's Diamond Jubilee Celebrations, the department of Guru Nanak Sikh studies, PU, organised a special lecture by Jagdip Singh Shergill today. Eminent speakers from University of Victoria, Melbourne, Australia, delivered a talk on "The Sikh scriptural perspective on religious pluralism".
58 donate blood in PU
Chandigarh, October 10
The PU Students' Council, in collaboration with a vernacular daily, organised a blood donation camp at the Students' Centre today in the memory of Narender Mohan, former MP, Rajya Sabha.