Tackling Power Woes
Motorcycles, vans for linemen to improve services
Faridabad, October 10
In a decision that would definitely bring smile on the faces of linemen of the electricity department, the authorities today decided to provide 120 motorcycles to them so that they could rectify faults at a greater speed.
Chemists' association condemns attack on officers
Sirsa, October 10
The Haryana State Chemists and Druggists Association (HSCDA) today condemned the incident of attack on drugs control officers of the state by some local chemists.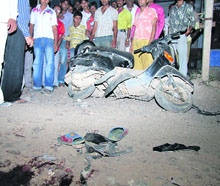 The scene of a accident in Gurgaon in which a father and his daughter were killed when a canter collided with their scooter on Thursday night. Tribune photo: Rajesh Kumar Yadav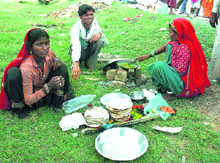 A poor family makes food after work on the roadside in Ambala on Friday. Photo: Kamal Sachar
HAU to import soil fungus
Sirsa, October 10
Efforts are being made by Chaudhary Charan Singh Haryana Agricultural University (CCSHAU), Hisar, to import soil fungus from abroad so as to increase the soil fertility in the state.
Charges for disposal of
biomedical waste
Hospitals lock horns with
pollution control board
Sirsa/Fatehabad, October 10
The disposal of biomedical waste in Sirsa and Fatehabad district has run in jeopardy after hospitals and nursing home owners of these districts have come at daggers drawn with the Pollution Control Board as well as the Synergy Waste Management- a company appointed by the board for the disposal of biomedical wastes-over the sharp hike in charges recently introduced by the company.
6-year-old raped
Fatehabad, October 10
Two youths of Hinjrawan Kalan village allegedly raped a six-year-old girl in fields near the village here today.
Attack on Lecturer
Agitated teachers, students hold protest at VC's office
Kurukshetra, October 10
Teaching work in Kurukshetra University as well as affiliated colleges remained suspended on the third day today as nearly 400 university teachers, students and non-teaching employees demonstrated in front of the office of the vice-chancellor on the university campus here.
Senior medical officer attacked
Kurukshetra, October 10
The senior medical officer (SMO) of Lok Nayak Jai Prakash Civil Hospital, Dr Jagmal Singh was allegedly attacked by two youths near a railway over bridge here this morning.
Admn office of college inaugurated
Kurukshetra, October 10
K.L. Sharma, an MLA from Shahbad (Markanda) constituency, inaugurated the administrative office of the Markanda National College, 20 km from here, today.
Looted property worth Rs 5 lakh recovered
Kaithal, October 10
The district police has recovered a looted property of worth Rs 5 lakh and arrested four members of the gang, who allegedly looted this property from a house in Cheeka Mandi on the intervening night of October 8 and 9.
2 youths murdered in Jagadhri
Yamunanagar, October 10
Two youths were allegedly murdered brutally by a group of around 26 persons, following old rivalry in Jagadhri town yesterday.
Makkar seeks apology from Harbhajan
Yamunanagar, October 10
Justifying the Akal Takht stand, SGPC president Avtar Singh Makkar today demanded apology from Indian cricketer Harbhajan Singh for his portrayal of Ravana in a TV show and said Harbhajan's act had hurted the sentiments of Sikhs.
4 boys hurt in cracker explosion
Karnal, October 10
Panic gripped the Dussehra ground when a cracker exploded with a deafening sound, injuring four boys here today.
Traffic constable beaten up
Panipat, October 10
A traffic constable sustained serious injuries when a truck driver, whom he had signalled to stop, allegedly attacked him with an iron rod.
Dist libraries to be computerised
Chandigarh, October 10
Haryana has decided to computerise all district libraries and link the book-lending facility in these libraries.
Vita raises commission
Chandigarh, October 10
The Haryana Dairy Development Cooperative Federation has increased the commission of the dealers and distributors of Vita milk and milk products from 17 paise per litre to 20 paise per litre with effect from October 16.
Govt allows purchase of staff vehicles
Chandigarh, October 10
The Haryana government has allowed its departments, boards and corporations to purchase staff vehicles or cars up to Rs 6 lakh, inclusive of all taxes.
Police officers transferred
Chandigarh, October 10
The Haryana government today posted S.S. Kapoor,IPS, who was awaiting posting after his repatriation from central deputation, as DIG (Crime-I) and M.S. Malik, IPS, DIG, HVPNL, as DIG (Crime-II).