Cong to field people with clean image: Soz

Jammu, October 18
Union Minister of Water Resources and state Congress chief Saif-ud-Din Soz said today the party would field people with a clean image in the forthcoming Assembly elections. At the same time, he added that there were "few problems in politics" which had to be taken into account.


Union Minister of Water Resources and state Congress chief Saif-ud-Din Soz during a party meet in Jammu on Saturday. A Tribune photograph

EC trying to delay polls: BJP
Jammu, October 18
Even as the reports of possibilities of the Election Commission announcing the state's Assembly poll schedule in the next couple of days are pouring in, the BJP and the Panthers Party are taking them with a pinch of salt.
Not rejoining BSP, says Sat Pal
Jammu, October 18
The National Bahujan Party (NBP), headed by Sat Pal, has no intention of rejoining the BSP.
Security apparatus to be purchased
Jammu, October 18
Ahead of the Assembly poll in Jammu and Kashmir, the authorities will procure modern security apparatus in bulk to help Army personnel maintain law and order during the elections.
JU to introduce BSc Nursing
Jammu, October 18
Jammu University (JU) is going to introduce BSc Nursing from this academic year onwards. According to reports, the Indian Nursing Council recently gave a go ahead to the varsity after making assessments in the light of its parameters.
NC leader interrupts VC during address
Jammu, October 18
The atmosphere at the advisory council meeting held in Srinagar today became surcharged when NC's Jammu province president, Ajay Sadhotra, reportedly interrupted Jammu University vice-chancellor Prof Amitabh Mattoo during his address.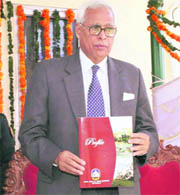 Rs 2.88-cr support for Rajouri varsity
Poonch, October 18
Governor N.N. Vohra announced a financial package of Rs 2.88 crore for Baba Ghulam Shah Badshah University (BGSBU) in Rajouri today. Vohra lauded the university for academic excellence, infrastructure development, efficient utilisation of funds and concern for biodiversity conservation.



Governor N.N. Vohra releases the university publication at the Baba Ghulam Shah Badshah University in Rajouri on Saturday. — A Tribune photograph

Interactive session
Jammu, October 18
An interactive session of students with vice-president of the Business Transformation and Performance Management for USA, Pamposh Zutsh, was held at the Bhaderwah Campus in Jammu University (JU) today.
Ambedkar Study Centre to resume activites
Jammu, October 18
The Department of Sociology in Jammu University has appointed senior assistant professor Ashish Saxena as the director of Ambedkar Study Centre with an aim to resume its activities.
Credit Card Fraud
Foreign cheats return swindled amount
Crime Branch wants CBI probe
Srinagar, October 18
The Crime Branch investigation into a credit fraud has taken an interesting turn as the accused, based overseas who carried out illegal transaction after fraudulently managing details of a Jammu-based man's credit card, credited back a part of swindled money back to the victim's account.
MC to install plastic dustbins
Srinagar, October 18
To keep the summer capital clean, the Srinagar Municipal Corporation (SMC) would install plastic dustbins in the city.
Nagar kirtan taken out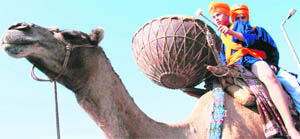 Jammu, October 18
A Nagar Kirtan was taken out as part of the tercentenary celebrations of the Gurta Gaddi Diwas of Guru Granth Sahib in Jammu today. The nagar kirtan started from Gurdwara Guru Nanak Darbar, Chand Nagar, and culminated at Gurdwara Guru Nanak Nagar, Jammu. A Tribune photograph

No power project gifted to Centre, says govt
Srinagar, October 18
The government has clarified that no power project in the state had been "gifted" to the Centre nor any Memorandum of Understanding (MoU) was "detrimental" to the interests of the state. It has stated that the MoU signed between the state government, State Power Development Corporation, NHPC and Power Trading Corporation (PTC) for tapping the state's hydroelectric resources in a joint venture was beneficial to the interests of the people.
Professional policing needed: DGP
Srinagar, October 18
Expressing satisfaction over the law and order situation in the Ladakh region, DGP Kuldeep Khoda who concluded his three-day tour to the region, has called for professional policing to curb crime and other social evils.
No apology given, says ex-BSP chief
Jammu, October 18
Expelled from the party, former state BSP president Yash Pal Bhagat has accused the party's national general secretary Narinder Kashyap of pursuing a false propaganda against him.