Purkul, alchemy to better life
Dehradun, October 21
With an alcoholic husband and three young children to nurture, Shanti Devi had little choice but to work as a labourer for less than Rs 50 a day. But life started looking up with Development Society, a voluntary group working for economic development of the poorer section of society in the foothills of Mussoorie, coming to her help.
'Dehradun is my home'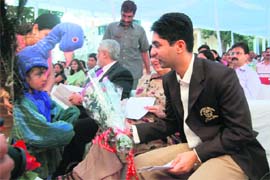 Dehradun, October 20
For Beijing Olympic Gold medallist, Abhinav Bindra, being in Dehradun was a homecoming. Bindra, despite his busy schedule, which included a meeting Chief Minster, and mediapersons, took time off to visit his alma mater, Riverdale where he spent the most crucial formative years of his life.
Abhinav Bindra receiving a bouquet from a student at a felicitation function at Riverdale School where he studied as a child in Dehradun. Tribune photo: Anil Rawat
IIT Roorkee awards alumni
Roorkee, October 21
Four former students of the Indian Institute of Technology (IIT), Roorkee, have been awarded by the institute for outstanding achievement in various fields. The dean, alumni affairs, H. Sinvhal said recipients of the award for 2008 include Prof. Shamsher Prakash, S.B. Budhiraja, N.K. Patni and S.K. Hajela.
Letters
The launch of the Dehradun edition of your esteemed paper is welcome, even though it is a belated move. I belong to Chandigarh, though I am settled at Dehradun now.