Purkul, alchemy to better life
Divya Semwal
Tribune News Service
Dehradun, October 21
With an alcoholic husband and three young children to nurture, Shanti Devi had little choice but to work as a labourer for less than Rs 50 a day. But life started looking up with Development Society, a voluntary group working for economic development of the poorer section of society in the foothills of Mussoorie, coming to her help.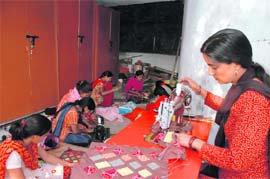 Over the past nine years, the society under various projects like Yuva Shakti and Stree-Shakti, has been providing opportunities to the downtrodden to live a better life.
Established by G.K. Swami and his wife, the projects run by the couple are pillars of economic support for many a family. Started by Swami with eight women nine years ago, the strength of this self-help project has gone up to 75. The poor women are trained in making bedsheets, pillow covers, handbags, wall hangings and other products. The finished products are sold in the market and profit shared by these women. They are able to earn Rs 3,000 per month.
"Today I can have a peaceful sleep. My family is happy and so am I," says Sheela Devi.
The programme aims to empower women to not only become independent, but also ensure education, health and hygiene for their children.
Under Yuva Shakti, more than 140 children of nearby villages were provided assistance. The belief is that if, youth in this rural community are provided a constant support mechanism that offers mentoring and resources, they will have a base which in turn will act as a catalyst for change in society as a whole.
"Over the last five years, we have helped provide training and employment to over 50 women in need. The programme includes health focus on women with regular medical checks, immunisation, computer training and teaching English," says Cheeni Swami.
These women have been organised into help groups, which gives them decision-making authority over their work. Help groups are trying to learn the basic skills in marketing.
Purkul's life is an example for others. Children are provided tuition fee, transport, meals and assistance after plus two to help them get admission in professional courses.
Recently, with help from the State Bank of India (SBI), Purkul Society organised an exhibition-cum-sale of items made by "Stree Shakti".The Purkul Youth Development Society has succeeded in making Purkul endeavour a sustenance model.