Bahuguna sets Himalayan task for Rahul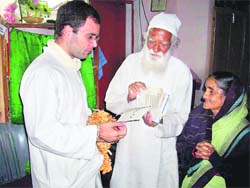 Dehradun, October 22
Noted environmentalist Sunder Lal Bahuguna has called for a separate Himalayan policy for the sustainable development of the entire Himalayan region of the country. Sunder Lal Bahuguna was talking to Rahul Gandhi, Congress General Secretary at his Tehri residence last evening.

Rahul Gandhi meets noted environmentalist Sunder Lal Bahuguna at his Tehri residence on Tuesday evening. A Tribune photograph
Nostalgic visit to Doon School
Rahul Gandhi, congress general secretary today went to prestigious Doon School where he studied for two years. His father former Prime Minister Rajiv Gandhi and uncle Sanjay Gandhi also studied in the school.
Saras Mela
Punjabi numbers steal the show
Dehradun, October 22
Punjabi numbers enthralled the audience at the Saras Mela, here today. Phagwara's Bhangra Giddha Group and Ravi Musical Group from Dehradun were the highlights of the day.
Sports
Sectt thump Urja Nigam
Dehradun, October 22 Secretariat thrashed Urja Nigam 5-0 in the Inter-Departmental District League at the Pavilion Ground here today. Kuldeep Singh Rawat scored a hat-trick. He also scored the fastest goal of the tournament.
Desperate for funds for sick child, woman attempts suicide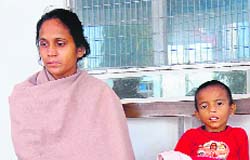 Dehradun, October 22
Peeved at the refusal of the state government to sanction aid for the treatment of her child, Haseena Bano, a widow, attempted suicide in the Civil Secretariat here this afternoon. She tried to jump from the top floor of the secretariat but security personnel prevented her from doing so. Subsequently, the Kotwali police arrested her.
Haseena Bano along with her seven-year-old son at Kotwali police station in Dehradun. Tribune photo: Anil P. Rawat
Winter here, but industry still powerless
Dehradun, October 22
The image of Uttarakhand as Urja Pradesh has taken a knock as the industry here is facing a critical power situation. The lack of power-related infrastructure has made things worse. The situation is so grim that industrial units are currently suffering about 15-20 trippings every month, allege industrialists.
Scorpio rams into jhuggi, four injured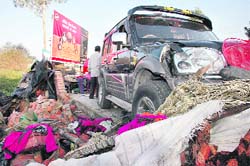 Dehradun, October 22
Four persons were injured when a Mahindra Scorpio rammed into a 'jhuggi' on the Chakrata Road near Indian Medical Association (IMA) Blood Bank. The mishap took place in the wee hours today. The injured have been identified as Kumari Baghi (4), Jyoti (6), Aman and Radha.
The accident site where a Scorpio rammed into a jhuggi on Chakrata Road in Dehradun on Wednesday. Tribune photo: Vinod Pundir
Dhoni ripe for Test captaincy, says coach


Dehradun, October 22
The skipper of India's one-day cricket squad Mahendra Singh Dhoni is now mature enough to handle the pressures of Test captaincy, says V.Venkat Rao, Dhoni's coach, who is on a personal visit to Uttarakhand.He says time has come to hand over the reigns of the Indian Test team to the youth brigade.
Event manager alleges assault
Mussoorie, October 22
Autumn festival is organised each year here with the aim to woo tourists from across the country. However, this year's festival has been marred by disputes over payments allegedly leading to the female event manager being physically assaulted.
'Thomso' begins today
Roorkee, October 22
'Thomso', the yearly cultural carnival of the Indian Institute of Technology (IIT), Roorkee, is all set to rock the deck as the extravaganza begins tomorrow.