Rs 1.5 crore goes up in flames
Major fire in Telephone Exchange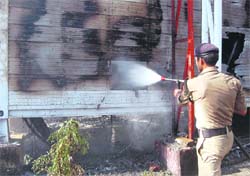 Dehradun, October 23
The Main Distribution Frame (MDF) of BSNL's Telephone Exchange near Uttarakhand Vidhan Sabha was gutted in a fire this afternoon, thereby affecting telecommunication services in the Doon valley. Initial estimates revealed that material worth Rs 1.5 crore was reduced to ashes.
Firemen douse the flames at the Telephone Exchange near the Uttarakhand Vidhan Sabha in Dehradun on Thursday. Tribune Photo: Anil Rawat
Cops need to be pro-active, says DGP
Dehradun, October 23
The Uttrakhand DGP Subhash Joshi today asserted that better police-public interface is the need of hour. While addressing the inaugural session of a workshop on Community Policing at Police Lines, Joshi candidly admitted that image of the state police in the eyes of the general masses is not "good". He said that despite best efforts to serve the public in a better way, the general sentiment among the masses is that cops are 'insensitive'.
Uttarakhand DGP Subhash Joshi addresses police officials at a workshop on Community Policing in Police Lines, Dehradun, on Thursday. photos by Vinod Pundir
sports
Kuhoo bags under-13 b'minton title
Dehradun, October 23
In the finals of the eighth Sub-Junior Badminton Championships at Pauri Garhwal today, Kuhoo (Dehradun) defeated Ashita (Almora) in the under-13 girls singles 21-13, 21-12.
Young11 beat Rishikesh Tigers
Dehradun, October 23
Young11 defeated Rishikesh Tigers in the ongoing Young Parivar Sewa Samiti (YPSS) T20 Knockout cricket tournament by 80 runs here today. Young11 scored 136 run, Aman was the highest scorer with 45 runs. Earlier in Rishikesh Tigers won the toss and elected to field. In another match Aryan Group crushed Baba Club and registered a thumping 86 runs win. Pankaj was the highest scorer with 50 runs. Aryan Group won the toss and elected to bat. They set a target of 167 for Baba Club.
Study Report
Dokriani glacier receding
Dehradun, October 23
Evidently indicating the impact of climate change, total estimation of Dokriani Glacier snout recession in the last 17 years has been about 271 meters with an average rate of 15.9 meters.
Drive to check food adulteration
Roorkee, October 23
With the onset of festive season, the Roorkee Municipal Council (RMC), is in no mood to take any chances with the safety of health of the residents.
'Triveni' weaves sheer magic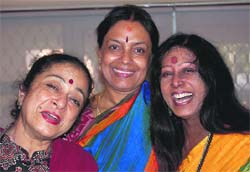 Dehradun, October 23
It is rare to find three dancers take centrestage, rarer still is to see the three, Triveni, come together even when their dance forms are so different. An amalgamation of tarana, taal and raga gets a unique expression when the three dance on stage, so too in life there is a deep bonding that gets translated into perfect body movements.
(From left) Kiran Sehgal, Bharati Shivaji and Shovana Narayan at Virasat 08 in Dehradun on Thursday. Tribune photo: Anil Rawat
Despite govt efforts, Ganga impure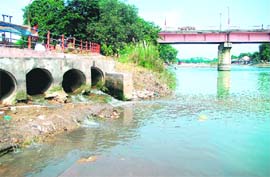 Haridwar, October 23
While the administration is spending a lot of money on the cleaning of the Ganga and maintenance of ghats and Hindu organisations launching a campaign to clean the holy river, yet waste water and filth through sewer pipes continue to pour into the Ganga.

A sewerage nullah dumps filth into the Ganga near Har ki Pauri in Haridwar
This Doesn't Add Up
Only 3,270 BPL students in state
Dehradun, October 23
Even as there is no cut off criteria for granting scholarships to students in the BPL category under the government-sponsored insurance scheme, the social welfare department seems to be moving inexplicably slow in identifying them.
Cricket players at mercy of UP selectors
Dehradun, 23 October
Even after eight years of its formation, Uttarakhand is struggling to get its' own cricket association. The delay in constitution of the State Cricket Association is depriving the state to host Ranji matches here. Besides, the budding cricketers of Uttarakhand have to go to the mother state of Uttar Pradesh to play at the national level.
Next river of sorrow?
Roorkee, October 23
The Ganga could well become the next river of sorrow for the people because of channel instability after what was witnessed during the Kosi deluge. Ongoing studies at the Indian Institute of Technology, Roorkee, done on the Ganga, reveal that there are several potential locations vulnerable to radical course change.