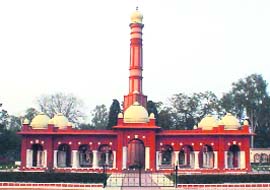 A befitting tribute to courage
Roorkee, October 24
The War Memorial at Bengal Sappers (Bengal Engineering Group) here is a replica of Mahmud's tower outside the fort of Ghazni in Afghanistan. The tower was built to commemorate the bravery of Subedar Devi Singh and his men who stormed the Ghazni Fort in Afghanistan. Subedar Devi Singh and 12 other rank of Bangal Sappers stormed this fort for which they were awarded IOM Class III in 1839.
Priding in Culture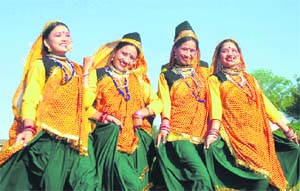 Village belles don traditional attire at a wedding ceremony. Tribune photo: Pradeep Tewari
Pheasant losing to poachers
As pheasants descend to lower areas during the winter, it makes them vulnerable to poaching
Dehradun, October 24
With winters round the corner, Uttarakhand, a state rich in avifauna, has a daunting task ahead - to prevent bush meat hunting of pheasants, a prevalent practice in the hills during this time of the year.These pheasants descend to certain lower areas, making them vulnerable to poaching.
Kasiga — school with a difference
Dehradun, October 24
Dehradun known as the "School capital of the country", will have another residential school that can boast of all the modern facilities. "Kasiga school", built in the sylvan surroundings in the foothills of Mussoorie aims to provide quality education to the students in the lap of nature. Established in 2007, this nascent school feeling proud of its' achievements will be celebrating its' first founders' day on October 25.
Students out on a rare job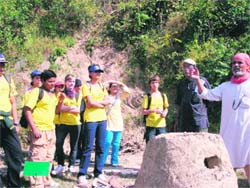 To uplift a hamlet near Dehradun
Dehradun, October 24
In a joint initiative, 15 students each from Ann Mary School here and Freiherr Vow Steiu School of Germany have decided to adopt East Hope Town village near Dehradun. The students who visited the village today plan to join hands to improve conditions in the village.


The students on a visit to the village. A Tribune photograph
Crumbling highways in Roorkee
Roorkee, October 24
The deplorable condition of roads in Roorkee and the surrounding areas truly reflect the apathy of the state government towards development of these areas.
Letters
Being an Army officers' wife means frequent postings, a lot of travel and scant time for reading. But The Tribune is one newspaper I always find time to read whereever I go. The reason is that I did my college from Chandigarh and read the paper regularly. Since then I have carried the habit.