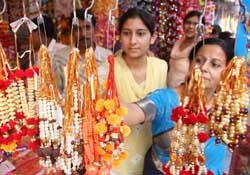 Diwali delight:

Ahead of the festival of lights, women purchase decorative material from a market in Bathinda on Sunday. Tribune photo: Kulbir Beera
Dengue claims cop's life, cases still on the rise
Bathinda, October 26
The number of dengue patients in Bathinda is increasing as 75 cases have so far been confirmed while 69 are believed to be suspected cases.
Dengue patients preferring pvt hospitals
Mansa, October 26
The awkward situation in civil hospitals in Punjab has compelled the dengue patients to go to private hospitals. Unfortunately, many of the poor patients cannot afford to pay the high charges levied by private hospitals. Although the Punjab government announced free treatment for dengue patients in government hospitals but no heed has been paid in this direction.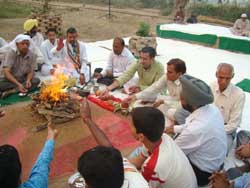 Residents remember founder of 'food basket of Rajasthan'
Sriganganagar/Abohar, October 26
The citizens of Sriganganagar remembered Maharaja Ganga Singh, the founder of this city. The border district town has more than thousands of Punjabi families as well.


District collector Bhawani Singh Detha along with others performs rituals near the Bikaner Canal in Sriganganagar on Sunday. A Tribune photograph

Aryavratiya continuities
Historic remains exhibited in Abohar
Abohar, October 26
The historical remains, antiques, coins, stamps and religious documents, including the holy "Janam Sakhi" that was printed during the last century, attracted hundreds of outsiders besides the locals at the Shashi Ahuja memorial exhibition titled "Aryavratiya Continuities" in the DAV College here.
Rs 115 cr to repair watercourses
Abohar, October 26
The state government has earmarked Rs 115 crore for reconstruction and repair of watercourses in Abohar, Balluana, Fazilka and Jalalabad assembly segments, informed Gurtej Singh Ghuriana, SAD legislator from the Balluana assembly constituency.
Students, bus operators tiff bothers commuters
Bathinda, October 26
The ongoing dispute between the students of three villages of Bathinda and the mini-bus operators has been causing inconvenience to the commuters for the last three days. Altogether four mini-bus operators, including Brar bus service, Sra bus service, Golden bus service and Baba Kala bus service, have decided to boycott the three villages, namely Mehma Sarja, Mehma Swai and Mehma Sarkari.
Cotton arrivals 38 pc down in state
Mansa, October 26
The Cotton Corporation of India (CCI) has started the purchasing of cotton from 22 stations in Punjab but four stations are still lying in wait.
Barnala assured of govt college yet again!
Barnala, October 26
Sukhdev Singh Dhindsa, member of parliament and SAD secretary general, laid the foundation stone of Sant Ram Panna Lal S.D. College at Patti road here today.
Youth fest: Abohar college chosen best in skit
Abohar, October 26
The Kenway College of Education here topped four competitions during the zonal youth and heritage festival that concluded recently at Lala Jagat Narain College of Education, Jalalabad west, about 60 km from here, principal S. Singh informed today.
Half-burnt bodies found in Faridkot
Bathinda, October 26
Recovery of half-burnt bodies of two youths this morning in Faridkot has panicked residents of the town that has witnessed a string of murders since yesterday.
Free cancer check-up camp on Nov 2
Bathinda, October 26
The Bathinda Vikas Manch (BMC) will organise a free cancer check-up camp at the Swami Vivekanand Girls' College here on November 2.
'Mansa overbridge to be ready by Nov 15'
Mansa, October 26
Traffic problems in the city would end soon as the overbridge would be completed by November 15, Xen, B & R department, Joginder Singh said.
Seven booked under NDPS Act
Bathinda, October 26
The district police has booked several persons under the Narcotic Drugs Psychotropic Substances (NDPS) Act on Saturday. The accused were booked for possessing illicit liquor, poppy husk and opium.