Red Ribbon Express to arrive on Oct 27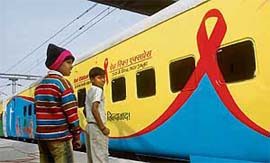 Bathinda, October 15
The 'Red Ribbon Express', a seven-coach train on a year-long journey across the country to spread HIV/AIDS awareness is all set to arrive at Bathinda railway station on October 27. The train will make a three-day stopover at Bathinda railway station.

A file photo of the Red Ribbon Express
Diet, lifestyle could reduce risk of fractures, say doctors
Bathinda, October 15
"Osteoporosis or weak bones are a major health problem. It contributes to 1.5 million fractures every year. Half of all women above 50 years of age, sustain an osteoporosis-related fracture sometime in their life," said S.P Gupta, an orthopaedic consultant at Anand Hospital here while interacting with patients at a one-day camp organised by the Rotary Club, Bathinda Cantt, in association with Anand Ayur and Naturopathy Yog Centre, Bathinda, to detect bone density.
Agitated farmers round up CCI inspector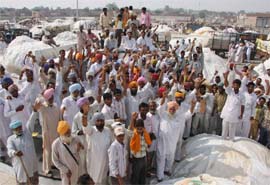 Bathinda, October 15
Activists of Bharti Kisan Union Ekta (Dakaunda) along with a number of farmers accused an inspector of the Cotton Corporation of India of high-handedness in the purchase of cotton and gheraoed him in the grain market to mark their protest today.
Farmers staging protest at the cotton market in Bathinda on Wednesday. Tribune photo: Kulbir Beera
DEO served show-cause notice over project
Bathinda, October 15
The Director General, School Education-cum-State Project Director, Sarva Shiksha Abhiyan Authority, has issued a show-cause notice to the District Education Officer (Elementary Education), Bathinda, Gurinder Kaur Dhillon.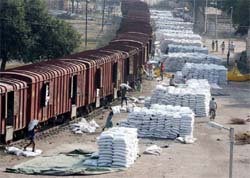 DAP fertilisers that was in shortage in the state for past some time is being offloaded at Bathinda railway station on Wednesday. Tribune photo: Kulbir Beera
Acid attack on Dalit woman
Special team to probe incident
Moga, October 15
Medical examination of the Dalit woman of nearby Ghal Kalan village, also a victim of sexual and physical harassment, has confirmed that she got burn injuries on her legs and left side of the abdomen. She was allegedly attacked with acid by one of the rapist and two of his associates on Monday night.
Paddy purchase
Committees to ensure transparency
Mansa, October 15
To bring transparency in the purchase of paddy, committees have been formed in the markets of the district. The committees comprise representatives of farmers, arhtiyas, employees of the market committee and purchasing agencies. Grievances of the farmers would also be heard at these committees.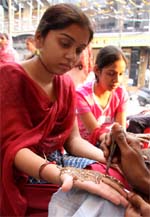 Girls get their hands decorated for Karva Chauth in Bathinda on Wednesday. Tribune photo: Kulbir Beera
Rajasthan Assembly elections
DC instructs candidates to follow model code of conduct
Abohar, October 15
Bhawani Singh Detha, district collector-cum-returning officer for Sriganganagar district, told the representatives of different political parties to strictly follow the model election code of conduct during the Vidhan Sabha elections slated for December 4.
Traffic check
Moga main square to be redesigned
Moga, October 15
The district administration has decided to redesign the main square of the town to ease out traffic blues. Besides, it would set up traffic lights at Bhuggipura bypass, constitute a traffic regulation committee and take stern action against misuse of loudspeakers and burning of paddy straw in the fields.
Youths donate blood on friend's birthday
Abohar, October 15
A dozen friends of a young social activist Jatin Dhawan donated blood at a camp in Nehru Memorial Civil Hospital here on Wednesday.  People in the district Ferozepur were highly influenced by Ramesh Verma's slogan (Donate blood during life and eyes after the death) and came forward to donate blood and eyes as well.
Conference on labour demands
Mansa, October 15
To dwell upon the adverse effects of globalisation on labour community and to discuss their demands, the All India Agriculture Labour Associations (AIALA) would hold a national conference at Balia in Uttar Pradesh. To make the conference a success, the Mazdoor Mukti Morcha would hold district and state-level conferences in Punjab.
Abohar MC to pledge property
Abohar, October 15
The municipal council during a meeting presided over by the president Shiv Raj Goyal on Wednesday resolved to mortgage its undisputed immovable property to avail of Rs 46.50 crore loan from HUDCO to install water treatment plant. The state government had already recommended the project, the councillors were told.
Abohar archers return to warm welcome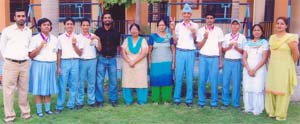 Abohar, October 15
The archers of the LRS DAV Senior Secondary School received a warm welcome as they returned after winning 21 medals, including 15 gold, at the state-level school games.
The archers pose with their medals at school campus. A Tribune photograph

Blood donation camp
Bathinda: Ex-Airmen's Club, Bathinda, organised a blood donation camp on the occasion of Air Force Day here on Wednesday. S.K. Bhatia, Regional Manager, State Bank of India, Bathinda, inaugurated the camp. 38 units of blood was collected at the camp. — TNS