Post of Improvement Trust chief
BJP stalwarts throw their hats in the ring
Bathinda, October 4
As per the agreement between the ruling coalition partners, SAD and BJP, the chairmanship of the Improvement Trust, Bathinda, is to go to the saffron party. And the reported desperation among the BJP stalwarts to get the chairmanship has been providing grist to the rumour mills.
Rampura Phul bus stand ready
'Bus passengers to get insurance cover'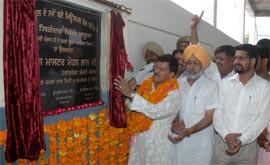 Rampura Phul (Bathinda), October 4
"Considering the frequent occurrence of road mishaps involving state transport buses, the government has decided to provide an insurance cover for the family of deceased, worth Rs one lakh. Passengers severely injured would get Rs 50,000 while the injured would get a compensation of Rs 25,000," said Master Mohan Lal, Punjab transport minister, here today.

Transport minister Master Mohan Lal inaugurating a bus stand at Rampura Phul in Bathinda district on Saturday. A Tribune photograph

Docs say sweets may sour your fest
Bathinda, October 4
Keeping the festive mood in view, the prices of some sweets have been slashed down. But this good news for consumers may not be all-so-good, as city doctors are cautioning residents about the quality of these sweets.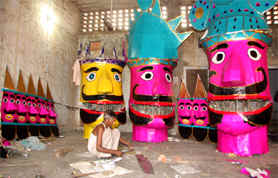 Decorating the Devil

: With Dussehra round the corner, an artist is busy giving finishing touches to the effigy of Ravan at Paras Ram Nagar in Bathinda on Saturday. Tribune photo: Kulbir Beera

Dist BJP leaders boycott minister
Rampura Phul (Bathinda), October 4
The visit of Master Mohan Lal, Punjab transport minister today exposed the differences prevailing among the district BJP leaders and the minister with the urban and rural leaders of the party deciding to boycott it.
Three killed in road mishap
Bathinda, October 4
Three persons were killed while two suffered serious injuries today in the evening when a bus and a car collided head-on at village Jodhpur Romana.
Bid to grab temple land foiled in Abohar
Abohar, October 4
Another bid to grab control over the Geeta Mandir Kutia, located next to the historic Sahitya Sadan complex in the heart of the sub-divisional town, was foiled by members of the managing committee with the help of the police.
Mansa markets witness fall in cotton arrival
Mansa, October 4
Mansa markets have been witnessing a substantial fall in the arrival of cotton for procurement in comparison to the corresponding period last year.
Hanumangarh put on high alert
Hanumangarh/Abohar, October 4
The Hanumangarh district administration has sounded an alert following communal violence and tension that brewed in Doongergarh and other parts of Rajasthan. On Saturday, district magistrate Mugdha Sinha delegated powers to some officials to work as executive magistrate fearing the tension that may arise during the weekly "Naam Charcha" being organised by Dera Sacha Sauda followers in different towns of the district, an official release indicated.
Award for college
Bathinda, October 4
The Giani Zail Singh College of Engineering and Technology, Bathinda, has received an 'award of honour' from the State Blood Transfusion Council, Punjab, for commendable voluntary contribution of 200 units of blood by volunteers of NSS units of this institution.
Efforts on to lift standard of education, says Nannu
Ferozepur, October 4
Under the auspices of Ministry of Human Resources Development, the Central Hindi Organisation (CHO) held a 21-day seminar on teaching Hindi language at the Government In-service Training Institute, which concluded here today.
Teachers meet DPI
Barnala, October 4
For the redressal of their grievances, a 51-member delegation of Adhaypak Dal, Punjab, met the director, education (secondary), Harcharnjeet Kaur Brar at her office in Chandigarh.
Blood donation camp organised
Bathinda, October 4
The United Welfare Society, Bathinda, in association with Sant Bhai Phuman Singh Sewa Dal, organised a blood donation camp on the 33rd death anniversary of Sant Bhai Phuman Singh at the Sports Club in Amargarh village here today.
'Kisan Mela got positive response'
Bathinda, October 4
The Punjab Agricultural University, regional station, Bathinda, organised a Kisan Mela here and more than 40,000 farmers from Punjab, Haryana and Rajasthan participated in it.
New block at Abohar hospital
Abohar, October 4
Daivi Sampada Mandal chief Maha Mandleshwer Sharda Nand Saraswati today laid the foundation of another block in Triveni Devi Sanatan Dharam Hospital on Sriganganagar road here. He also pressed an X-ray machine into service.