Youth Cong leader held on rape charges
Fazilka, October 5
The police today arrested a youth Congress leader and one of his companions for allegedly raping a minor. Their two other accomplices, including a woman, have been reportedly booked for abetting the crime.
BJP gears up for LS polls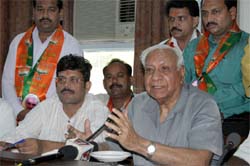 Bathinda, October 5
Opposition to the India-US nuclear deal, rising prices, continuing terror attacks in various parts of the country will be among the issues on which the party plans to fight the Congress in the Lok Sabha polls.

Chairman of the BJP election committee, Punjab, Balramji Dass Tandon, along with BJP's state general secretary Kamal Sharma, addressing mediapersons in Bathinda on Sunday. Tribune photo: Kulbir Beera
Weaving magic with thread & needles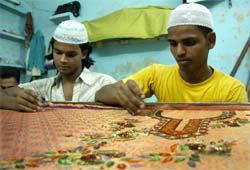 Bathinda, October 5
Around eight years ago, some youngsters from the Muslim community, with dreams in their eyes, tried to find a foothold in the Malwa heartland.





Needle workers from Bareilly in Uttar Pradesh who migrated to Bathinda at work. Tribune photo: Kulbir Beera
Trenches troubling commuters
Bathinda, October 5
Hardly a day passes, when a newly carpeted road or street is not dug up in the city. Though the avowed purpose behind this is to upgrade civic amenities but the trenches on the new roads and the delay in carrying out patch work prove to be a big inconvenience for people in the city.


Preparations for Dussehra in full swing
Bathinda, October 5
As the city gears up for Dussehra, artists from the suburbs are busy giving final touches to the effigies of Ravan, Meghnath and Kumbhkaran, that will finally be reduced to ashes to symbolise the triumph of good over evil.
An artist giving final touches to the effigy of Ravana in Bathinda. Tribune photo: Kulbir Beera
Revellers swirl & twirl at 'dandiya raas'
Bathinda, October 5
Songs of Phalguni Pathak wafted in the air and young couples performed "dandiya raas" using the 'alaap' and danced at the Moti Ram Kanya Mahavidyalaya here on Saturday night.
Members of the Gujarati Welfare Society performing dandiya at Moti Ram Kanya Mahavidyalaya in Bathinda on Saturday night. Tribune photo: Kulbir Beera
'Fish farming can end waterlogging woes'
Fazilka, October 5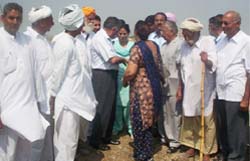 "The waterlogged land considered unfit for cultivation can be remunerative. Their owners can earn better than the farmers cultivating traditional crops of cotton and paddy," stated Vijay Taneja, vice-chancellor of the Guru Angad Dev Veterinary and Animal Science University, in village Shajrana of Fazilka sub-division. He visited the seepage-hit village on the instance of the Farmers' Organisation of Agriculture for Development, a Fazilka-based NGO.
Vijay Taneja, vice-chancellor of the Guru Angad Dev Veterinary and Animal Science University, Punjab, listening to the problems of the farmers in village Shajrana of Fazilka on Sunday. Photo by writer
INA soldier's cremation delayed for want of blank cartridges
Sriganganagar/Abohar, October 5
The cremation of an INA soldier at his native village Chak 23KD in Sriganganagar area on Saturday was delayed by six hours as the blank cartridges to be used by the police contingent were not available at the moment.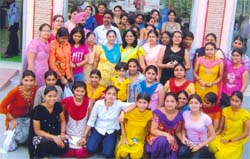 National Service Scheme (NSS) volunteers of the Gopi Chand Arya Mahila College, Abohar, who are conducting a camp in village Nihalkhera, pose along with teachers on Sunday. The students apprised the villagers of the fatal affects of Hepatitis-B and inspired them to go for preventive immunisation and vaccination besides improving hygiene in and around houses. Photo: Raj Sadosh
4 killed in mishap
Bathinda, October 5
Four people were killed and seven others sustained severe injuries in a head-on collision between a jeep and a car near village Maisarkhana late on Saturday evening.
Body of missing cop fished out of canal
Hanumangarh/Abohar, October 5
The body of a missing Punjab police head constable was found at Massetwali headworks under the Tibbi police station of Hanumangarh district on Saturday.
Missing girl's body found from sub-canal
Sriganganagar/Abohar, October 5
With the recovery of body of Sarika alias Seema from the NN sub-canal near village Chanan Dhaam of Padampur tehsil on Saturday, the mystery over missing youths stands resolved. Earlier, the police had found body of her alleged lover Mukesh Batra near Chak 8 village from the same canal on Friday.
Dera comes out with 'Dil Jod Mala' to solemnise marriages
Naam charcha passes off peacefully
Sriganganagar/Abohar, October 5
'Naam Charcha' in most of the towns and villages, including Gurusar Modia, the native village of Dera Sacha Sauda chief Gurmeet Ram Rahim Singh, passed off peacefully today. The district magistrates in Sriganganagar and Hanumangarh had warned the miscreants against disturbing the ritual and senior officers were designated as executive magistrates to ensure peace. Elaborate security arrangements were in place.
Major Ghuman clinches Gunners Golf Cup
Bathinda, October 5
The Gunners Golf Cup 2008 was organised at the Chetak Training and Environmental Park by Chetak Gunners. The tourney began on October 4. The two-day tournament saw an array of events and was conducted under the St. Andrews rules and CTEP by-laws. The series of awards included longest drive near the centre line and nearest to pin.
Balmiki community meeting held
Bathinda, October 5
A meeting of the Balmiki community was held at Pratap Nagar.
RSS foundation day
Followers stage march
Fazilka, October 5
To celebrate the foundation day of the RSS, more than hundred volunteers dressed in traditional attire took out a 'Path Sanchalan' (route march) through the main markets of town. Liladhar, organising secretary, Bharti Kisan Sangh, Punjab, led the march that commenced from S.D. Senior Secondary School today.