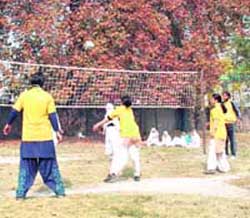 Girls in action during the inter-college volleyball final match organised by University of Kashmir in Srinagar on Wednesday. A Tribune photograph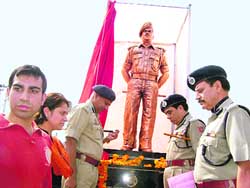 Jammu range IG K. Rajindera inaugurates a statue of DSP Devinder Sharma at R.S. Pura in Jammu on the latter's eighth death anniversary. Tribune photo
PDP to enter POLL fray
Srinagar, October 29
Three days after unveiling its self-rule framework for resolution of the Kashmir issue, the PDP decided to participate in the forthcoming elections and released the manifesto here yesterday. The manifesto has its thrust on "self-rule" for resolution of the Kashmir issue and governance and developmental agenda.
Cong luring candidates from other parties
Udhampur, October 29
Even as a number of "leaders" have been staking their claims on the three Assembly seats of Udhampur district, the Congress is desperately luring some potential candidates from other parties to take on the Panthers Party and the BJP in the district.
BJP, Panthers, PDP for a 'big' fight
Jammu, October 29
The BJP, Panthers and PDP have decided to contest on more seats in the ensuing Assembly elections than they did in 2002. The Panthers has released the list of candidates for 59 constituencies and within a week, it is going to select candidates for the Jammu west, Jammu east, Gandhi Nagar and Kalakot constituencies. This means the Panthers will field candidates in 63 constituencies when in 2002, it had contested on 36 seats and won four.
Shah-led ANC to contest all seats
Srinagar, October 29
As the poll process has formally begun with the notifications out for the first two phases, the Awami National Conference of former Chief Minister Ghulam Mohammad Shah has announced its decision to contest all seats.
People enthusiastic
Rajouri, October 29
The majority of people in Poonch and Rajouri districts might be identifying themselves with the people of Kashmir and their interests, but when it comes to the elections, they have a different opinion.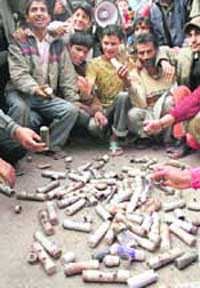 Residents of Saidapora Achan display used tear gas shells fired by security forces during protests over garbage dumping on Wednesday. Tribune photo: Mohd Amin War
After worst, NC hopes for the best
Jammu, October 29
Following its worst performance in the last Assembly election, the NC is now hoping to bounce back to power with a clear majority and regain the largest space in the state's electoral politics.
Day VI: Baramulla remains shut
Srinagar, October 29
Normal life remained paralysed in Baramulla as shops and business establishments in the town remained closed for the sixth consecutive day today against the alleged highhandedness of security forces.
Hizbul top gun killed; arms seized
Srinagar, October 29
A self-styled district commander of the Hizbul Mujahideen outfit was killed in an encounter with security forces in Pulwama district today, official sources said.
Jammu traders to visit PoK
Jammu, October 29
Following the start of the cross-LoC trade from Uri-Muzzafarabad and Poonch-Rawlakote routes on October 21, a delegation of the Jammu Chamber of Commerce and Industry (JCCI) is likely to visit PoK in the second week of November.
Infiltration from PoK down: Gen
Srinagar, October 29
Even though the infiltration from Pakistan-occupied-Kashmir (PoK) has come down, troops remained on high alert to foil any attempt by militants to sneak into this side from across the border, a senior Army officer said.
Cross-LoC trade to benefit SAARC nations: NC
Srinagar, October 29
NC patron and former chief minister Farooq Abdullah said the cross-LoC trade would not only help develop better relations between India and Pakistan, but would also benefit the SAARC countries.
Praja Parishad expels party chief
Jammu, October 29
Taking strong exception to alleged anti-party activities, the state Praja Parishad has decided to expel its president Chander Mohan Sharma.
HC: Heirs of VDC members entitled to ex gratia relief
Jammu, October 29
The J&K High Court has directed the state government to consider release of ex gratia relief to legal heirs of Baldev Singh, Chatter Singh, Bharat Singh and Kesho Ram, members of a village defence committee, who were killed in a militant attack on January 6 and 7, 2002, in terms of the government order No. 762-GAD of 2001 dated July 11, 2001, minus the amount already paid to them by the DC, Ramban.
All-time low intake in aviation institutes
Jammu: The ripples of recession in the aviation industry have started surfacing in the Jammu region as all the training institutes of cabin-crew and hospitality have enrolled all-time low candidates this time.
Beggars on the rise in city
Jammu: While the number of beggars in the city has been rising, neither the authorities concerned nor any social organisation has come forward to tackle the issue. The menace has also given rise to various crimes in the city.
UP team to rid Mubarak Mandi of monkeys
Jammu, October 29
A special team of professionals from UP has been hired to rid the Mubarak Mandi complex, an epitome of Dogra cultural heritage, of monkeys. The complex is being renovated to upgrade it as a major tourist destination at an estimated cost of Rs 53 crore.
Unit II of Baglihar project starts
Jammu, October 29
The second unit of the Baglihar hydroelectric project having a capacity of 150 MW power generation, started its commercial operation. With this, the project has started generating a peak power of 300 MW, a spokesman of the Jammu and Kashmir State Power Development Corporation (JKSPDC) said on Wednesday.
VC's 5-point approach for higher studies
Jammu, October 29
Jammu University vice-chancellor Prof Amitabh Mattoo has advocated a five-point approach for making higher education easily available to students in their respective places.