Young World
'Decline in reading a dangerous trend'
Jalandhar, October 30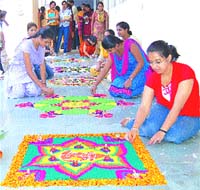 The HMV College, Jalandhar, organised a talk programme on October 27 on various topics. The delegates including Jean Thomas, Carol Mitchell, Anna Mclvor and Christine Chapman shared their views on different subjects. Jean Thomas spoke on "retirement and Parkinson's disease". Speaking on the topic, she mentioned ways as to how this neurological disorder, in which the brain stops getting clear messages, could be curbed. Carol Mitchell, a library volunteer from U.K., in her talk, encouraged her students to develop reading and writing habits. Decline in reading is a dangerous trend, she added.
Rangoli contests marked Diwali celebrations in city education institutes. — A Tribune photograph
Youth Fest
Apeejay continue winning spree
Jalandhar, October 30
The Apeejay College of Fine Arts, Jalandhar, has won the Guru Nanak Dev University zonal youth festival trophy again this year. The event was held at Amritsar from October 24 to 27.
7-year-old goes missing
Jalandhar, October 30
Manisha, the seven-year-old daughter of a Rajasthan-based migrant labourer has been missing since October 26 from Indira Colony near Milk Plant, Jalandhar. According to information available with The Tribune, the girl was playing near her home but did not return.
Badminton tourney begins
Jalandhar: The North Zone Inter-University Badminton Championship started at Dr BR Ambedkar National Institute of Technology (NIT) here today. The five-day long event would culminate on November 3. NIT Jalandhar is the first among the country's 20 NITs to host North India's biggest badminton tournament. As many as 431 players from 36 universities across the region are participating in the competition. — TNS