Clouds of uncertainty over Rs 4,100-crore Prideasia
Chandigarh,November 6
Clouds of uncertainty are hovering over Prideasia, the Rs 4,100 crore state-of-the-art luxury housing complex launched by the real estate major Parsavnath Developers Limited under public-private partnership with the Chandigarh Housing Board (CHB) in the IT Park here.
SOPU leader injured in assault outside VC's house
Chandigarh, November 6


Lapses in Panjab University security once again came to fore when a group of unidentified youth attacked SOPU leader Brinder Dhillon right in front of the vice-chancellor's residence. Dhillon had gone to invite the VC for a students cultural programme slated for tomorrow.
An injured Brinder Dhillon, who received head injuries immediately after the attack. Tribune photo: Himanshu Mahajan
To sir with lots of dough
Chandigarh, November 6
The students of UILS (University Institute of legal Studies), Panjab University, not only collected a huge sum of Rs 50,000 for a lavish farewell party held today but also gave expensive gifts to the outgoing director, Prof R S Grewal.
Inter-faith 'marriage' creates bad faith
Chandigarh, November 6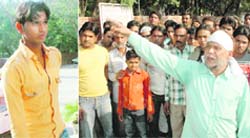 An inter-faith 'marriage' turned sour when the 22-year-old Manoj was booked by local police on the charges of kidnapping an allegedly minor girl, whom he claimed to have married last month.

Manoj while going to lodge his complaint. The girl's father Mohammad Ashraf, while demanding action against the alleged kidnappers of his daughter. Tribune photo: Manoj Mahajan
Tagore Theatre out of artistes' reach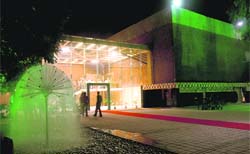 Chandigarh, November 6
A hefty increase in the rents of the renovated Tagore Theatre has left the artistic fraternity fuming sparking off allegations of giving a raw deal to art and culture against the Chandigarh Administration.


The maximum rent proposed for commercial events like film shootings have been pegged at Rs 50,000 for a day. Earlier, the maximum rent was Rs 15,000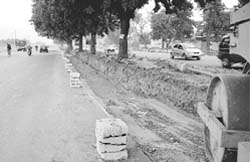 Lack of Coordination
Rs 1 cr goes down the drain
MC asks GMADA to compensate the loss
Mohali, November 6
What the municipal council makes, GMADA unmakes even as funds worth Rs 1 crore of the financially starved civic body has gone down the drain.
The central verge, developed by the municipal council, being dismantled by GMADA in Mohali. A Tribune photograph
Pollution: Portion of Hotel KC Cross Roads sealed
Panchkula, November 6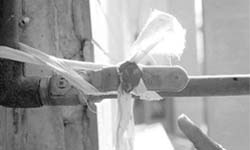 Officials of the Haryana State Pollution Control Board (HSPCB) sealed a plant and machinery unit of Hotel KC Cross Roads for not installing effluent treatment plant here today. Though the authorities did not take much time in removing these, the pantries, laundry, and the generator sets of the hotel were once again found running after lying idle for a few hours.
Officials of the Haryana State Pollution Control Board seal a pipe supplying gas to the pantry of Hotel K.C. Cross Roads in Panchkula on Thursday. A Tribune photograph.
Long-haul flights can be fatal, say experts
Chandigarh, November 6


"Ignorance of a Deep Vein Thrombosis (DVT), a vascular disease threatening almost all 'high fliers', can be fatal", warns Dr KR Suresh, president of the Vascular Society of India and head of Jain Institute of Vascular Science, Bangalore, who was here today to attend the 15th annual conference of Vascular Society of India.

K.R. Suresh, president, Vascular Society of India, who was in Chandigarh to attend the 15th annual conference of the Vascular Society of India. A Tribune photograph
New sewerage pipeline causes nuisance in Sec 55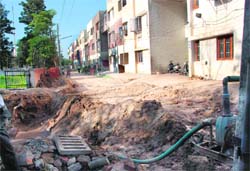 Chandigarh, November 6
Laying of new sewerage pipeline by the Chandigarh Municipal Corporation authorities in Sector 55 is causing inconvenience to the residents of the Chandigarh Housing Board colony.





Roads dug out to lay sewerage pipeline at Sector 55 in Chandigarh. A Tribune photograph
Protest against MNS; memo submitted to Governor
Chandigarh, November 6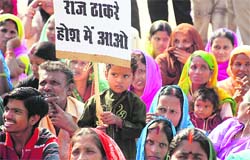 The Iqra Foundation of Minorities today protested against the discrimination of Raj Thackeray's Maharashtra Navnirman Sena(MNS) against non-Maharashtrians. Members of the foundation assembled at the Sector 22 Nehru Park to underline the need for communal harmony.The divisive forces such as the MNS were playing havoc with the unity and integrity of the country in the name of the religious discrimination, speakers said.
Members of the Iqra Foundation protest against Raj Thackeray in Chandigarh on Thursday. Tribune photo: Himanshu Mahajan

Roojam joins as rights panel member
Chandigarh, November 6 After serving as the president of district consumer disputes redressal forum, L.R. Roojam has joined as a member of the Punjab State Human Rights Commission (PSHRC) on November 3. While talking to The Tribune, he said, "There are a number of complaints of inaction by the police and with the awareness of people, such complaints are on the rise.


L.R. Roojam
Railway police fails to nab suspects
Chandigarh, November 6
Even after a lapse of 48 hours after Parshotam Chand, a railway employee, was bludgeoned to death by four labourers at the railway complex, here, the Government Railway Police has failed to nab the suspects.
Petition against commercial complexes
Chandigarh, November 6
In a petition filed before the Punjab and Haryana High Court, a city resident has alleged the violation of municipal corporation bye-laws by some of the upcoming commercial complexes across the city.
JE repatriated from MC
Chandigarh, November 6
The municipal corporation Commissioner, Dr Roshan Sunkaria has ordered repatriation of Jitesh Sharma, junior engineer (JE) with the roads division-II, for dereliction of duties. He was on deputation with the corporation from PWD, Himachal Pradesh.
Harjinder is chairperson of Punjab Arts Council
Chandigarh, November 6
Former city mayor Harjinder Kaur has been unanimously elected as the chairperson of the Punjab Arts Council for the remaining term at the annual general body meeting of the council here today.
Letters
Registration for vehicles' sale


Nine auto-rickshaws ferrying school kids challaned
Carry more than allowed number of students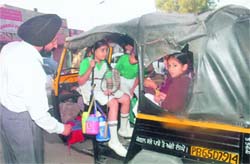 Mohali, November 6
The district transport officer (DTO), Mohali, today cracked its whip on the three-wheelers, which were illegally ferrying schoolchildren. At least nine three-wheelers were challaned for ferrying more than permitted number of children.


Balbir Singh, DTO, Mohali, challans an overloaded auto-rickshaw, ferrying schoolchildren, in Mohali on Thursday. A Tribune photograph
AIL to represent country in Stetson world moot court
Mohali, November 6
A team from the Army Institute of Law (AIL), Mohali, will represent the country in the final of the Stetson International Environmental Moot Court competition being held at Florida.
DC, SSP fail to pacify students
Fatehgarh Sahib, November 6
The students of Baba Banda Singh Bahadur Engineering College today continued their strike against the alleged disrespect to Guru Granth Sahib by the college principal.
'The Crucible' unravels a feast of poetry
Chandigarh , November 6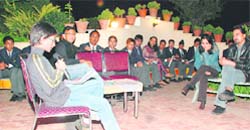 "How shameless a creature is man abusing the nature as much as he can:" these lines summarising man's reckless attitude towards nature in the most simple manner possible were taken from "Mournful Mankind" a poem by Varun Sayal a budding poet

A student recites a poem at the poetry reading session of a creative writing venture. A Tribune photograph