Passport plea against Daler dismissed
Patiala, November 10
A local court today dismissed the application of Bakshish Singh, a complainant in a case pertaining to an alleged immigration racket floated by pop singer Daler Mehndi.
In Ludhiana City Centre case
Capt seeks time for studying file
Ludhiana, November 10
Former Chief Minister Amarinder Singh, an accused in the alleged multicrore City Centre scam, has moved an application seeking more time for the inspection of case file, before hearing the arguments on framing of charges in the case.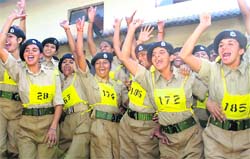 Rural women take up BSF challenge
Hoshiarpur, November 10
While scope for government jobs is quite bleak nowadays, educated girls from rural areas have been coming forward to take up the job of constables (general duties) in the BSF.
Women recruits of the first batch of 200 BSF constables in a cheerful mood at the inauguration of their training at Kharka Camp, near Hoshiarpur, on Monday. Tribune photo: Pawan Sharma
Dera gets anti-SAD feedback in Malwa
Chandigarh, November 10
The Dera Sacha Sauda sect may have announced that it is still to decide on which party to support in the coming parliamentary elections in Punjab, but its followers are clearly anti-Akali and have spoken as such during recent meetings organised by the sect's political wing in the Malwa region.
Akalis to contest 4 Delhi seats
Ludhiana, November 10
MP and SAD supremo Sukhbir Singh Badal today said the Akalis would be contesting four seats in the Delhi Vidhan Sabha in alliance with the BJP.


Now, farmers to sow seeds of social values at grass-roots level
Ludhiana, November 10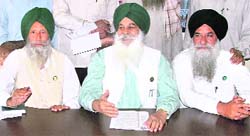 In a new face to the farmers movement in Punjab, the Bharti Kisan Union (BKU) has launched a mission of spreading the message of social and political consciousness among rural masses, particularly against misuse of drugs, alcohol and foeticide.

Ajmer Singh Lakhowal, president, BKU, and chairman, Mandi Board, addresses a press conference in Ludhiana on Monday.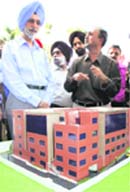 Proclaimed Offenders
Police to review cases of NRIs
Mohali, November 10
The Punjab police has set the ball rolling to review the cases of the NRIs who have been declared proclaimed offenders. After finalising the list, the applications for cancellations of the FIRs would be put up before the concerned courts.




Punjab police DGP N.P.S. Aulakh (left) looks at the model of cyber crime police station and forensic science lab in Mohali on Monday. Tribune photo: Vicky Gharu
Five dengue cases detected
Sangrur, November 10
Though there are reports about thousands of suspected dengue cases in Sangrur district, yet the district health authorities are not accepting it by saying that only five confirmed dengue cases have come to their notice so far, while one patient has lost his life due to the disease.
Dengue cases on rise
Patiala, November 10
There is no respite in sight from the spectre of dengue with a rise in the number of dengue patients pouring in at the local Rajindra Hospital for treatment, which, apparently defies claims of the Punjab health department that onslaught of dengue has shown a decline due to fall in temperature.
Coordination centres for Nanak Panthi Sikhs
Patiala, November 10
In a bid to bring over two crore "Nanak Panthi" Sikhs scattered in 104 Parliamentary constituencies all over south and central India in the Sikh mainstream and to get them due recognition, the All-India Shiromani Akali Dal (AISAD) has decided to set up two coordination centres at Nanded in Maharashtra and Bilaspur in Chhattisgarh.
'Khalistan' map found from escaped terrorist
Amritsar, November 10
The Ferozepur police today raided the house of Harmit Singh, a terrorist who was on the run in the smuggling of arms, ammunition and narcotics through the riverine belt of Ferozepur district, and reportedly found several incriminate documents, including map of 'Khalistan'.
Jet Airways to stop flights to London from Dec 1
Amritsar, November 10
A big question mark on the sustainability of the international airport has been raised and fingers have been pointed at the lack of financial viability which has made the management of Jet Airways to completely shut down the international flight schedule from December 1.
Hans' kin chief of Kapurthala MC
Kapurthala, November 10
It may be a mere coincidence that a day after singer Hans Raj Hans joined the SAD, his brother-in-law Paramjit Singh Pamma was elected Kapurthala Municipal Council (MC) president at a meeting of 27 councillors here today.


Purchase of security equipment
Costs imposed on Punjab
Chandigarh, November 10
If the State of Punjab is trying to gain time by not furnishing the details of equipment purchased for the intelligence and other wings of the police, the attempt has cost it dear.
PO case
Chandigarh, November 10
The case pertaining to the CBI probe into alleged elimination of proclaimed offenders (PO) in the Saini blast case will come up for hearing before the Supreme Court on December 19.