Four killed, three hurt in mishap
Kalka, November 12
Four persons, including a 10+2 student, died and three were seriously injured in a collision between the Haryana roadways bus and a three wheeler on National Highway 22, near BDPO office. According to the information, the accident took place at around 9.30 am today.
Govt apathy annoys residents
Bassi Pathana, November 12
The residents of Bassi Pathana sub-division are facing a great difficulty in getting their work done due to the transfer of SDM.
10,000 cases to be taken up at lok adalat
Ambala, November 12
Around 10,000 cases pending in the various courts here will be disposed of in Mega Lok Adalat, which will be organised on December 20 and 21 in the Ambala Court Complex.
4 arrested for smuggling poppy husk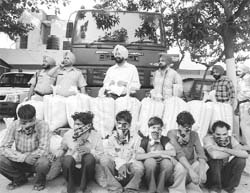 Rajpura, November 12
The Rajpura police today arrested four people with five quintal of poppy husk while they were transporting the contraband in an Army truck. A Jabalpur-based firm was supposed to hand over the truck to the Army men in Udhampur.





Poppy husk smuggling accused sit beside the contraband in Rajpura on Wednesday.
A Tribune photograph
PNB opens branch at Rajpura
Rajpura, November 12
A branch of Punjab National Bank was inaugurated today near the Gagan Chowk by deputy general manager of PNB S.K. Mohla.
Youths throw acid on man
Kharar, November 12
Chandar Shekhar Aggarwal, a commission agent, sustained burn injuries today when two unidentified youths threw acid on him.
12-year-old girl abducted, let off
Kharar, November 12
A 12-year-old girl was allegedly abducted from Mannkheri village here at 8.15 am today. The accused took her on a motorcycle to some nearby place and later gave her money to board a bus back home. The girl returned at 11.15 am.
One held with drugs
Fatehgarh Sahib, November 12
The Fatehgarh Sahib police today arrested one person with illegal drugs during a special naka near Rajindergarh village on the G.T. Road.
Free eye camp from Nov 15
Patiala, November 12
The Vishwakarma Mandir Committee of Sanaur, a satellite town of Patiala, is organising a free eye camp on the temple premises from November 15. Raj Kumr Babbu, president, and Dr Anil Rooprai, vice-president of the Vishwakarma Mandir Committee, said here that a team of doctors from the Patiala Eye Hospital and Lasik Laser Centre, led by its chief consultant Dr Sukhdip S. Boparai and Dr Anuradha Raj, would examine the patients and also perform phaco surgeries.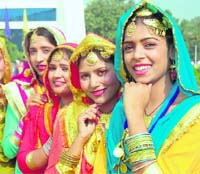 Pammi Bai regales audience
Patiala, November 12
The Punjabi University Inter-Zonal Youth Festival got off to a colourful start at the University's Guru Tegh Bahadur Hall here today.





Girls wait for their turn on the inaugural day of the three-day Punjabi University Inter-Zonal Youth Festival in Patiala on Wednesday. Tribune photo: Rajesh Sachar
UCO Bank gives Rs 1.43-cr loan to farmers
Ropar, November 12
Loan worth Rs 1.43 crore was distributed to farmers by the UCO bank.


FIR by cop against dog owner
HC orders top-level inquiry
Chandigarh, November 12
Taking a serious view on the terror a Punjab police constable unleashed by registering a case against his neighbour for committing the "offence" of keeping a dog, Justice Ranjit Singh of the Punjab and Haryana High Court has directed a top-level inquiry into the episode. Lapse on part of the cops, if established, would be reflected in their annual confidential reports.
Officer directed to be present in court
Chandigarh, November 12
Justice Permod Kohli today directed United India Insurance Company's regional general manager G.C.Sharma to appear in person in the court on December 17.
Telecom co penalised Rs 5,000
Chandigarh, November 12
Overcharging Rs 92.4 has cost Vodafone Essar South Limited, Sector 35, dear as the District Consumer Disputes Redressal Forum has asked the telecom company to pay a compensation of Rs 5,000 to a resident of Mohali for overcharging along with Rs 500 as the cost of litigation.
Notice to Arya Samaj Samiti
Chandigarh, November 12
Justice Ranjit Singh of the Punjab and Haryana High Court has issued notice to the city-based Arya Samaj Samiti asking it why action should not be initiated against it for issuing marriage certificate to a runaway couple.
Man gets 3-yr jail for abetment to suicide
Chandigarh, November 12
Additional district and sessions judge R.S. Attri today sentenced Ajay Kohli, a Sector 38 resident, to three-year imprisonment for abetment to suicide.
Bail plea rejected
Panchkula, November 12
The local district and sessions court has denied the anticipatory bail to one of the youths wanted by the police for questioning in the gang rape case here today. The youth, Kushal Kaushal, filed a petition for anticipatory bail in the court of Additional Sessions Judge Sanjiv Jindal after the victim in her complaint alleged that he took her in his Swift car with Jatin and Chhavi to The Tribune chowk from where she was taken to a village in Punjab.
HC judge bereaved
Chandigarh, November 12
M.P. Gupta (80), former IFS officer-cum-principal chief conservator of forest, Himachal Pradesh, died today after a brief illness. He was the maternal uncle of Justice Hemant Gupta of the Punjab and Haryana High Court. Gupta is survived by his wife, two sons and a daughter. — TNS


Theft at Sector 19 chemist shop
Chandigarh, November 12
Ashwani Bansal, a chemist shop owner of Sector 19, lodged a complaint with the police alleging that Rs 11,400 and cosmetics worth Rs 50,000 were stolen from his shop, during the intervening night of November 11-12.
Shots fired during nagar kirtan
Accused lost his cool when his vehicle couldn't get through the procession
Panchkula, November 12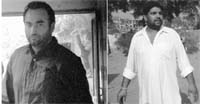 Panic gripped Saketri village when a youth allegedly fired two shots during a scuffle after his Balero got stuck in a nagar kirtan procession here today. No one was injured in the incident.


The accused, Gurpartap Singh; and (right) the complainant
Girl dies in Mohali accident
Mohali, November 12
A minor girl was killed in an accident near Sector 69 here today after she was allegedly hit by a speeding car.
Man assaulted in Mohali
Mohali, November 12
A resident of Bairampur Bhagomajra sustained injuries after he was allegedly beaten up by some persons near Saneta village.


27 selected for archery meet
Patiala, November 12
Punjab Archery Association conducted trials for junior national archery championship that would be held in Jamshedpur, Jharkhand, from November 25 to 30.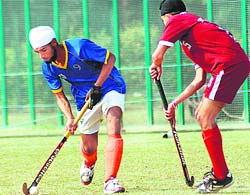 Gurusar college emerge champs
Chandigarh, November 12
GHG Khalsa College, Gurusar Sadhar, prevailed over LLR Government College, Dhudike, 3-0 on the third day of the Panjab University Inter-College Hockey (Men) Tournament played on league basis at PU grounds here today.




SCD Government College, Ludhiana, take on Guru Nanak National College, Doraha, at PU grounds on Wednesday. Tribune photo: S.Chandan.
Norms flouted during skating trials
Panchkula, November 12
Norms were flouted during the selection of the district roller-skating trials that were conducted at Manav Mangal School, Sector 11, Chandigarh, today.
Chintan bats PU to victory
Chandigarh, November 12
A 69-run opening wicket partnership between all-rounder Chintan (44) and Sakun Jindle (29) helped Panjab University outplay Engineering College, Sector 26, by seven wickets in the opening group A match of the Inter-College Cricket Tournament for Administrator's Cup at the Sector 16 Cricket Stadium here today.
All-India police shooting meet
Panchkula, November 12
Indo-Tibetan Border Police Force is to organise the 52nd All- India Police Duty Meet Shooting Competition at Basic Training Centre, Bhanu, near here.