Reforms panel for submission of feedback report
Chandigarh, November 12
Trainings on foreign shores for officers in Haryana may not be all fun after all if the recommendations of the Administrative Reforms Commission holds any weight.
Villagers rue non-supply of drinking water
Rohtak, November 12
As many as four villages of the district- Sundana, Ballam, Masoodpur and Timarpur- are facing an acute shortage of drinking water for the past 10 days.
Dist panels to rescue farmers
Sirsa, November 12
To free farmers from private moneylenders, Debt Conciliation Board has been constituted under the chairmanship of the additional district commissioners in all districts of the state.
Rwanda to adopt NDRI technology
Karnal, November 12
Rwanda will adopt dairy technology developed by the National Dairy Research Institute (NDRI), Karnal, and send its scientists, students and researchers to India for training and skill development, Rwandan agriculture minister Christophe Bazivamo said yesterday.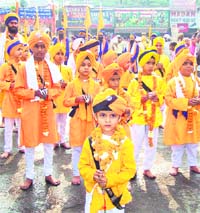 Nagar kirtan in Sirsa, other towns
Sirsa, November 12
Hundreds of persons participated in a nagar kirtan organised here today on the eve of the parkash utsav of Guru Nanak Dev. The nagar kirtan started from Gurdwara Chila Sahib situated on the Rania road and after passing through Rania Bazar, Chandni Chowk, Hisaria Bazar, Arya Samaj Road, Sadar Bazar, Suratgarhia Bazar and other markets, culminated again at the gurdwara.


Children participate in a nagar kirtan procession on the eve of the parkash utsav of Guru Nanak Dev in Karnal on Wednesday. Tribune photo: Ravi Kumar
Ramdev to form body for fighting corruption
Karnal, November 12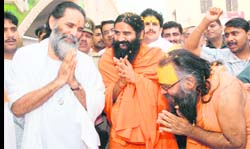 While political parties and watchdog agencies have failed to make campaign against corruption and social evils, yoga guru Swami Ramdev has announced to form Bharat Swabhiman Sangathan (BSS) to eradicate corruption.


Swami Ramdev and Swami Gyananandji Maharaj (left) at the inauguration of a gaushala in Karnal on Wednesday. Tribune photo: Ravi Kumar
Pilgrims throng Kapal Mochan on last day
(Kapal Mochan) Bilaspur, November 12
The town today witnessed about six lakh pilgrims on the last day of the Kapal Mochan mela till evening who have come here to take a holy dip in three sarovars at midnight on the occasion of Kartik Purnima.
'Wrong to call Pragya a terrorist'
Ambala, November 12
Swami Avdheshanand Giri, Mahamandleshwar of Joona Akhara, has said that he had given "deeksha" (religious process of conversion into sadhvi) to Pragya Singh Thakur at a Kumbh Mela a few years ago in Allahabad. Pragya Thakur has been arrested by the Anti-Terrorism Squad (ATS) of Maharashtra for her alleged involvement in the Malegaon blasts.
Cong deputes leaders for campaigning
Rohtak, November 12
Several prominent leaders of the state unit of the Congress have been directed to campaign for the party candidates in the coming Assembly elections in the neighbouring states of Delhi and Rajasthan.
CPM flays honour killings
Rohtak, November 12
The CPM has expressed anguish over reports of two young girls having been burnt alive in Kaluvas village in Bhiwani district on Diwali.
ABVP activists hold protest
Rewari, November 12
In response to a nationwide call given by the Akhil Bharatiya Vidyarthi Parishad (ABVP) for the closure of educational institutions in protest against large-scale infiltration of Bangladeshis into India, activists of the ABVP, led by their state joint secretary Varun Chaudhary, held a demonstration here today.
3 fake teachers held
Sirsa, November 12
In an interesting case registered in the Chautala police station in the district in February this year, the police today claimed to have arrested three persons who duped the government by drawing salary from the state exchequer posing as teachers.
3 held in bank robbery case
Fatehabad, November 12
The police has arrested three persons in connection with a robbery at the Saniana branch of the State Bank of Patiala on July 28.
2 killed in road mishaps
Karnal, November 12
Two persons were killed in two separate road accidents in Assand in Karnal district today. Kamlesh, wife of Balbir, a resident of Jalwana, was knocked down by a bus (HR 45-6957) near her village. She died on the spot.
ACP Murder Case
Statements recorded
Ambala, November 12
The statements of two witnesses in the ACP Rajbir murder case of Gurgaon were recorded in the court of CBI Judge A. K. Verma here yesterday.
Probe ordered into custodial death
Chandigarh, November 12
The Bench of Justice Hemant Gupta and Justice Nawab Singh has ordered judicial probe into the alleged custodial death of 16-year-old artiste Virender Kumar of Manana villahge in Panipat district. The Bench has asked the sessions judge concerned to get the probe conducted.