M A I N N E W S
BIMSTEC Summit today
Tribune News Service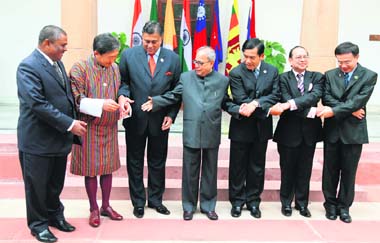 FOREIGN MINISTERS HAND-IN-HAND: (From left) Nepal's Upendra Yadav, Bhutan's Khandu Wangchuk, Sri Lanka's Rohitha Bogollagama, India's Pranab Mukherjee, Myanmar's Nyan Win, Bangladesh's Iftekhar Ahmed Choudhury and Thailand's Sukhumpong Ngonkam shake hands as they pose for the media prior to a meeting of foreign ministers in New Delhi on Wednesday. Heads of state and ministers from these countries are in India to take part in the Second Summit of the Bay of Bengal Initiative for Multi-Sectoral Technical and Economic Cooperation to be held in New Delhi on Thursday.
New Delhi, November 12
Sri Lankan President Mahinda Rajapaksa and Nepal Prime Minister Pushpa Kumar Dahal 'Prachanda' have arrived here for the Bay of Bengal Bengal Initiative for Multi-Sectoral Technical and Economic Cooperation (BIMSTEC) Summit to be held here tomorrow to firm up a strategy to combat terrorism and to work out a free trade agreement among the seven members of the grouping.
Bangladesh chief adviser Fakhruddin Ahmed, Bhutan Prime Minister Jigmi V. Thinley, Myanmar military ruler Gen Thein Sein and Thailand Prime Minister Somchal Wangsawat are the other leaders who will attend the summit, being hosted by Prime Minister Manmohan Singh.
The foreign ministers of seven countries today finalised the agenda of the summit. External affairs minister Pranab Mukherjee held talks with his counterparts from Sri Lanka, Bangladesh, Nepal, Myanmar, Thailand and Bhutan on a wide range of issues.
The ministers also gave finishing touches to a convention on combating terrorism, which is likely to be signed at the summit, official sources said.
The Prime Minister is also scheduled to discuss with the Sri Lankan President the situation in Sri Lanka on the margins of the summit tomorrow. Singh will also hold bilateral talks with other visiting leaders.