M A I N N E W S
Home truth: Meltdown in steel capital of Punjab
Ruchika M. Khanna
Tribune News Service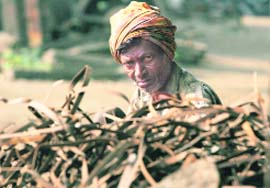 A worker at a steel rolling mill in Mandi Gobindgarh watches through a pile of iron scrap. The factory stopped production last week. Tribune photo: Kamal Kishore
Mandi Gobindgarh, November 12
Global meltdown has now started taking its toll closer home. Volatile steel prices and fall in the demand of steel have now forced at least 40 units manufacturing hot rolled flats (HR flats) in this steel town to close shop.
Hit by a sluggish demand, steel furnaces and other steel rolling mills, which produce TMT, angles and structures, too, have slashed their production by almost 50 per cent. Till two months back, this town was witnessing a boom because of the escalating steel prices. Today, it stands a witness to the worst-ever slowdown, with units closing down one after the other and labour waiting in vain to be picked up by the factory owners. Since a number of companies employ labour on a daily wage basis, a temporary shutdown means that they have no job.
"This is the worst crisis that I have witnessed in the past four decades. Everyday, we hear about two or three companies shutting shop for a few days. With the steel prices having hit the rock bottom and a dip in demand, almost everybody here has either stopped production for a few days, or is working on just a shift a day," says Sansar Chand Gupta, managing partner of Punjab Steel Rolling Mills.
Punjab's steel industry has a 20 per cent share in secondary steel production, with a total capacity of 8,000 tonnes per day. Over the past 45 days, the steel prices have continued to drop and demand has declined in the infrastructure and real estate sectors, forcing steel units to bring down their production to 4,000 tonnes a day. With the light engineering industry, including bicycle, hand tools, forging, machine tools having cut down their orders considerably in view of reduction in their export orders, the steel industry here is suffering.
Vinod Vashisht, president of the All-India Steel Re-Rolling Mills Association, says: "The price of steel has fallen from Rs 42,000 a tonne to Rs 29,000 a tonne now. Since most of secondary steel producers here bought the raw material (iron scrap) at high rates and the cost of making ingots or rolled products was also high, no one wants to sell at today's price, which is the lowest. Most companies have inventories of anything between 200 tonnes and 1,000 tonnes, no one wants to increase their inventories with a slowdown in demand. Thus units here are left with no option but to close down operations".
Adds Rohit Gupta, managing partner of Vishnu Steels: "Though the steel prices have crashed to Rs 29,000 a tonne, we are still getting our raw material (scrap) at Rs 33,000 a tonne. This is because we placed the orders for scrap two months ago at this price. Though the price of scrap, too, has declined by Rs 10,000 a tonne now, we have to pay the price at which the order was placed. This has led to the working capital getting exhausted. Also, because of future trading, there is a lot of volatility in the steel prices, with prices varying by Rs 2,000 a tonne a day".
With companies feeling a squeeze in their working capital, they are now reducing the labour costs and have also refused to work on credit. Against a credit period of 20 days earlier, units here are refusing to sell goods on credit now.
To be concluded