News Analysis
Karimpuri's election to Rajya Sabha may benefit BSP
Chandigarh, November 15
The election of Punjab Bahujan Samaj Party (BSP) leader Avtar Singh Karimpuri as member of the Rajya Sabha from Uttar Pradesh yesterday may act as a catalyst for galvanising Dalits into a single large decisive unit in the ensuing Lok Sabha elections.
SAD seeks review of cases against NRIs
Chandigarh, November 15
The SAD, which, along with the BJP, has been demanding a Central review of the blacklist prohibiting certain non-resident Indians (NRIs) from visiting their country of birth, has now decided to press for a review of cases registered against NRIs in Punjab.
Sukhbir to call shots in SGPC affairs


Calls meeting of SGPC members on Nov 21
Chandigarh, November 15
It is time for Sukhbir Singh Badal to take over from his father and Chief Minister Parkash Singh Badal and decide the next chief of the Shiromani Gurdwara Parbandhak Committee (SGPC). Till now Sukhbir, after his election as Shiromani Akali Dal (SAD)president, had been taking only political decisions. Now he has been authorised by the SAD to take decisions that empower him on the affairs of the Sikhs' highest religious body, the SGPC.
Rahul to visit Amritsar on Nov 18
Amritsar, November 15
Rahul Gandhi, general secretary of the All-India Congress Committee, along with former Chief Election Commissioner J.M. Lyngdoh will visit Amritsar on November 18 for announcing the poll schedule for the Punjab Youth Congress (PYC).


Now, Punjab websites in Punjabi
Chandigarh, November 15
Having made the use of Punjabi language compulsory for all official work, Punjab government will finally introduce Punjabi in all its websites.
'Govt violating directions on preparing estimates'
Chandigarh, November 15
Assistant municipal engineers of the Punjab government yesterday reminded the state government that it could not violate its own guidelines to meet political exigencies, and development works could not be done without preparing estimates for the same.
Implement pay panel report: Docs
Hoshiarpur, November 15
There is resentment among state government employees over the delay in the implementation of the Fifth Punjab Pay Commission report and release of the dearness allowance (DA) due since July 2008.
Farm workers' rally flagged off
Amritsar, November 15
A rally of the All-India Agriculture Workers Union (AIAWU) was flagged off today from the Jallianwala Bagh which will reach Hyderabad after passing through various states in 17 days, to commemorate its 25th foundation day on December 2.
Grandparents deny confining kids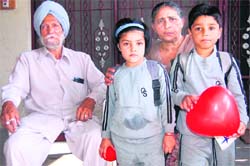 Alowal (Hoshiarpur), November 15
Baldev Singh and his wife Santosh Kaur denied the allegations levelled by their UK-based daughter-in-law Paramjeet Kaur Toor that they had unlawfully confined her son Arman Preet Singh (6) and daughter Sazel Preet Kaur (4) at their house in Alowal village on the Hoshiarpur-Tanda road in Hoshiarpur district.
Arman Preet Singh and Sazel Preet Kaur with their grandparents Baldev Singh and Santosh Kaur at Alowal village in Hoshiarpur on Saturday. Photo: Suryakant
Principal's Transfer
Police 'manhandles' agitating girls
Fathegarh Churian (Gurdaspur), November 15
Children's Day that was celebrated throughout the country yesterday left hundreds of girl students of the local Government Senior Secondary School for Girls hurt and agitated.
Nursing students to continue agitation
Demands better working conditions, revival of stipend
Patiala, November 15
The students of the three-year B Sc Nursing course, being conducted by Rajindra Hospital, Patiala, yesterday, decided to intensify their on-going agitation to protest against alleged apathy of the Punjab government to urge their demands.
Pension Issue
No date fixed for teachers' meeting
Sangrur, November 15
Despite Chief Minister Parkash Singh Badal's directions to his principal secretary on November 4 to convene a meeting in connection with a major demand (revival of the pension scheme from June 1, 2003) of teachers and other employees of 484 government-aided schools of the state, the Chief Minister's Office (CMO) has reportedly not fixed a date for the meeting.
Beas board ties up with Danish firm
Chandigarh, November 15
The Bhakra Beas Management Board (BBMB) has signed a contract with DHI Water Environment Health, a Danish firm specialising in water resources management, for development of real-time decision support system for operational management of Bhakra and Pong reservoirs.