Drive against taboo on condom use
New Delhi, November 15
With the World AIDS Day round the corner, the Condom campaign, a collaborative effort of the National Aids Control Organisation (NACO) of India and the BBC World Service Trust (BBCWST) has reached its culmination with the launch of the fourth phase of the campaign in the Capital.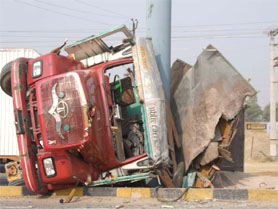 A truck that hit Kherki Daula toll plaza at Expressway on Saturday morning. Tribune photo: Rajesh Kumar Yadav

Sanskriti awards given
New Delhi, November 15
The Sanskriti Awards, known for recognising promising talents in arts, literature, journalism, music-theatre-dance and outstanding social and cultural achievement, were presented yesterday evening to six young persons at India International Centre in the Capital.
Sheila, Speaker differ on BRT stretch
New Delhi, November 15
Chief Minister Sheila Dikshit and Delhi assembly Speaker Chaudhary Prem Singh are singing different tunes on the much controversial Bus Rapid Transport system (BRT).
Now, poll inquiries just a call away
New Delhi, November 15
With an objective to provide requisite information to the electors, chief electoral officer (CEO) of Delhi, Satbir Silas Bedi, has established an inbound call center at Old St. Stephen's College Building, Kashmere Gate. The centre will function from November 15 to December 15 from 7 am to 10 pm.
Cows slaughtered in Swaroop Nagar
New Delhi, November 15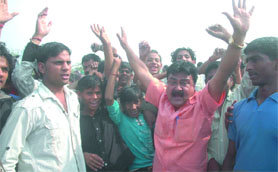 The residents of Swaroop Nagar in north-west Delhi woke up in the morning today to the news of scores of cows being found slaughtered in their vicinity. According to information, cows were reportedly stolen from the area during the last couple of days. It happened yesterday also. As a result, the owners were looking for their animals.

BJP activists protest against the Delhi police where around 30 cows were found slaughtered at Swaroop Nagar in North West Delhi on Saturday. Tribune photo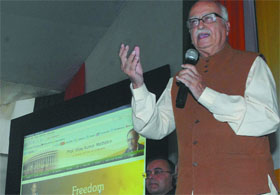 Advani opens Malhotra's website
New Delhi, November 15
Leader of the opposition in Parliament L. K. Advani today inaugurated the website developed for BJP chief ministerial candidate Vijay Kumar Malhotra to interact with the citizens of Delhi.

BJP leader L.K. Advani addresses the media after launching the website for the party's chief ministerial candidate V.K. Malhotra at the party office in New Delhi on Saturday. Tribune photo: Mukesh Aggarwal

Youth blown to bits by train
Noida, November 15
An MSc student riding a bike was blown to bits by Rajdhani Express while crossing a closed railway line at Dadri railway station yesterday.
Body thrown from moving car
New Delhi, November 15
A body was thrown off a moving car last night near Majnu Ka Tilla in North Delhi. While the criminals managed to escape, a passerby managed to note down the number of the car and passed on the information to the police.
Speaker lauds Haryana govt
Faridabad, November 15
"The Congress government in Haryana has been ruling the state in a commendable state," says the Speaker of the Haryana Vidhan Sabha, Raghuvir Singh Kadian.
MOIA joins hands with JNU for migration research
New Delhi, November 15
The ministry of overseas Indian affairs (MOIA) has signed an agreement of partnership with Jawaharlal Nehru University (JNU) to sponsor a major long-term project on International Migration and Diaspora Research at School of Social Sciences of the university.
Custodial death: 6 cops sent to judicial custody
Noida, November 15
The court of additional district and session judge of Noida has sent six policemen to 14-day judicial custody for absconding for one month in a case of custodial death. The policemen had applied for bail, which was turned down by the court.
DU-Jehangirpuri Metro trial run
New Delhi, November 15
The Delhi Metro on Friday began a five-week trial run between Delhi University and Jahangirpuri in North Delhi, covering a distance of more than 6 km.
Police should be accountable to state govt: Kanth
New Delhi, November 15
The Delhi police should be accountable to the state government, said Amod Kanth, former police officer and is a Congress contender from Sangam Vihar, south Delhi.