Canadian machine for skating rink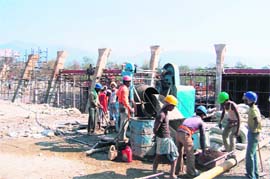 Dehradun, November 16
To monitor installation of a Canadian machine at Maharana Pratap Sport College, where construction of the first state-of-the-art ice skating rink is underway, a two- member Canadian delegation is in town. " About 65 per cent of the work has been completed. Our aim is to complete the remaining works by the first week of January," said Subhash Sehni, engineer of Pine and Peak Developers, a Delhi company.
He too contributes to knowledge bank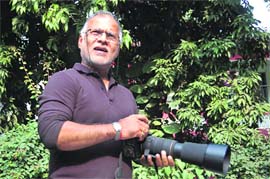 Dehradun, November 16
For wild life photographer, Uttarakhand is sheer delight and this compels Rakesh Sahai, an internationally acclaimed wild life photographer, to visit Uttarakhand hills again and again. Rakesh Sahai, has been a regular participant in Winter Bird Count project in the hill state and he ends up with some rare wild life pictures every season.
Wild life photographer Rakesh Sahai in Dehradun. Tribune photo: Anil P. Rawat
City stands defaced, but who cares?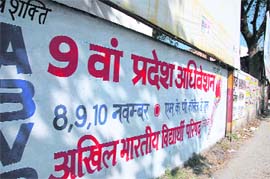 Dehradun, November 16
Notwithstanding stern warning by the district administration against defacement of public property, the practice continues, the chief violators being political parties, trade unions and advertisers. The problem has acquired such an alarming proportion in the state capital that one can spot posters in every nook and corner of the city.
A defaced wall near Survey Chowk in Deheradun. A Tribune photograph
This school is on the move
Dehradun, November 16
This school is unlike any other that you may have seen, functioning from a makeshift tent near a river- bed in Raipur. Aptly called Muskan, it has brought smile on faces of labourers who earn a living by working at the site, moving place to place in search of livelihood.
Electronic barriers for Mussorie's Mall
Mussoorie, November 16
In a bid to reduce the problem of frequent traffic jams on both the entrances to the Mall road, the Nagar Palika has finally decided to change the manual barriers with the electronic ones on both sides of the Mall.
Only two BPL families, officially
Mussoorie, November 16
The lackadaisical attitude of the government has deprived a large number of extremely poor families from Mussoorie from receiving the benefits provided by the government to Below Poverty Line (BPL), families in the country.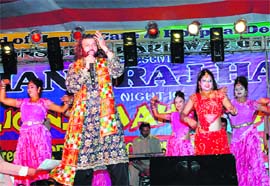 Hans has crowds in ecstasy
Haridwar, November 16
Haridwar city is in festive spirits. After the recently concluded Haridwar Mahotsava followed by a three- day Yuva Festival and khadif ashion show, it was the turn of famous Punjabi singer Hans Raj Hans to enthrall residents.

Punjabi folk singer Hans Raj Hans performs at the Lions Club Charity Nite at Haridwar. Tribune photo: Rameshwar