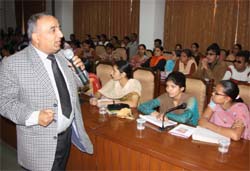 Dr Gulshan Sharma from Chandigarh addressing a camp for youth on career development for employment in Bathinda on Thursday. A Tribune photograph
Protest against govt
Residents suffer as Moga sweepers go on strike
CM's effigy burnt, SHO of city police station roughed up
Moga, November 20
Residents of the local town were forced to live under unhygienic conditions since Wednesday after the municipal council sweepers began their three-day protest against the state government for not considering their long-pending demands.
Abohar MC workers protest against BJP
Abohar, November 20
The ruling BJP had to cut a sorry figure due to alleged misconduct of its workers in the municipal council (MC) here today.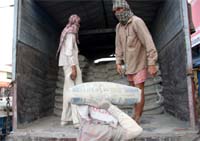 Pak cement sale picking up in city
Bathinda, November 20
After the Elephant brand, sale of the West Way ordinary Portland cement (OPC) manufactured in Pakistan is gradually picking up here.



Import of Pakistani cement has increased due to large-scale construction activity. Tribune photo: Kulbir Beera
Breach in Malukpura sub-canal floods 100 of acres
Abohar, November 20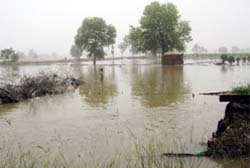 About 100-feet wide breach in the Malukpura sub-canal near here inundated hundreds of acres of agricultural land of nearby farm houses today. As per official record, the farmers informed the irrigation department about the breach at 3:30 in the morning and assisted the staff in stopping the flow of water to other areas.

Agricultural land that was affected by the breach in Malukpura sub-canal near Abohar on Thursday. Photo: Raj Sadosh
Womenfolk cheer as TV strike off
Bathinda, November 20
Womenfolk have a reason to cheer now as the strike called by television workers and producers is on the verge of ending.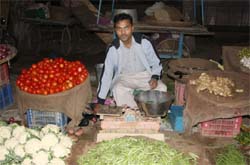 Ram Lakhan finds his calling
Bathinda, November 20
Never in his 17 years of academic career did he thought that he would end up selling vegetables on the roadside to eke out a living for himself.



Ram Lakhan is enrolled with IGNOU for a BA degree and has also done a computer course. Tribune photo: Kulbir Beera
Students demand bus passes at rally
Bathinda, November 20
To implement bus passes in private buses, Punjab Students Union (Shaheed Randhawa) conducted a rally at the ITI in the city today. During this rally, fund was also collected from the students. District general secretary Manpreet Singh said the rally was conducted to demand passes in private buses, scheduled route for buses and check hooliganism of private bus owners. Students would hold a mass rally to support the three demands they have on November 25. Manpreet claimed that the real face of the private bus owners would be revealed during the protest on November 25.
Two get jail term on graft charges
Bathinda, November 20
In a case related to bribery, Kuldeep Singh, sessions judge with the district court, today sentenced two officials with the Railway department, Barnala, to two years of imprisonment along with a fine of Rs 5,000 each. According to information available, complainant Shashi Kant Sharma, a contractor, contacted Surinderpal Singh, section engineer with the Railways, to get his security with the Railways refunded. For the job, Surinderpal asked Rs 3,000 but the deal was struck at Rs 2,500.
Four of a family die in road mishap
Ferozepur, November 20
Four members of a Ludhiana-based family died on the spot following a road accident in the morning today when the Maruti car bearing registration number PB 10 AX 7366 in which they were travelling, collided with a tractor-trailer.
One commits suicide in Abohar village
Abohar, November 20
One Raju, son of Teja Singh of village Gobindgarh near here, reportedly committed suicide today by hanging himself from a tree on the road that linked the village with Abohar town. His bicycle, blanket and shoes were found near the tree.
Wife, paramour accused of murder
Abohar, November 20
A man has complained to the police here today that his son, who was believed to have died a natural death recently, was actually murdered allegedly by his daughter-in-law and her alleged lover.
'Less jobs, illiteracy root cause of drug addiction in Mansa'
Mansa, November 20
"Unemployment and illiteracy are the major reasons for the increasing trend of drug addiction in Mansa region". Dr Sanjeev, Medical Officer, disclosed it at drug de-addiction centre, Mansa.
'Implement Pbi as official language'
Mansa, November 20
Punjabi language should be implemented as an official language in all the government offices, this was decided in the meeting of district officials that was presided over by deputy commissioner Kumar Rahul yesterday.
PSEB beats Sriganganagar club
Abohar, November 20
Finding Ranji Trophy stars playing at the Nehru Stadium here might have been a distant dream. But the Chander Cricket Club has been able to invite the well-known cricketers as a part of the 32 teams from different parts of Punjab, Haryana, Delhi, Rajasthan and Chandigarh. The teams are participating in the 20-20 National Open Cricket Tournament that had been going on since November 9.