Night food street idea doesn't sprout
Chandigarh, November 29
Unsuitable business location of the MC's much-hyped pilot project of night food street near the PGI seems to be an impediment in attracting restaurateurs and others in the food business to set up shop there.
Kidnappers free 6-yr-old boy
Chandigarh, November 29
In a dramatic turn of events, the kidnappers of six-year-old Japjit Singh dropped him at Rose Garden here late this evening.
Civil hospital without ultrasound machine
Chandigarh, November 29
The 50-bed civil hospital in Mani Majra, frequented by hundreds of patients daily, does not even have the basic ultrasound diagnostic facility.




'Russia wants constructive ties with US'
Chandigarh, November 29
Russian Ambassador to India Vyacheslav I. Trubnikov today said his country hoped the new administration in the United States would recognise the legitimate means being used by Russia to play a major role in the new multi-polar world even as he said the west should be cautious in expanding NATO in eastern Europe.
Russian Ambassador Vyacheslav I. Trubnikov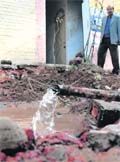 Water pipeline damaged in Sector 24
Chandigarh, November 29
Negligence on the part of a contractor in laying a sewerage line has damaged the water pipeline in Sector 24. According to area residents, the contractor started digging work in Sector 24 to lay sewerage pipeline on Thursday night. While working, the workers dug up to the water meters without caring about the damage.



Water oozes out of a damaged water pipe in Sector 24. A Tribune photograph
Polythene ban only in name
Chandigarh, November 29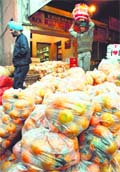 More than a month after the Chandigarh administration imposed a ban on the use of polythene bags, traders are fearlessly flouting the rules. A visit to the apni mandi and the main grain market revealed that most vegetable sellers were using polythene bags for packaging. The administration had made tall claims that it would ensure strict compliance of the ban. A fruit vendor said they had to meet the demands of customers otherwise they would lose business. — TNS


Polythene bags being used by vegetable vendors in Grain Market, Sector 26, Chandigarh. Tribune photo: Vinay Malik
Dappar toll plaza from next week
Zirakpur, November 29
With the clearance from the ministry of surface transport, decks have been cleared to make the Dappar toll plaza operational by the first week of December. The toll would be charged for the costs incurred by the National Highway Authority of India (NHAI) in the four-laning of the Chandigharh-Ambala national highway.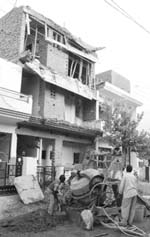 3 critically hurt in roof collapse
Panchkula, November 29
Three labourers were injured seriously while around half a dozen others escaped with minor injuries when cantilevers of an under-construction house collapsed here today. The injured, identified as Hemraj (25), Chini Lal (40) and Dinesh (21), were admitted at General Hospital, Sector 6, where doctors said their condition was stable. According to Lallan, one of the labourers, around 12 people were working on the site at house No. 1896 in Sector 15 at the time of the mishap.



The dilapidated structure of the building that collapsed in Sector 15 of Panchkula on Saturday. A Tribune photograph
Police to move HC for setting up of fast-track court
Chandigarh, November 29
The UT Police has decided to approach the Punjab and Haryana High Court urging it to set up a fast track court in the city for speedy justice.
Concern over rise in obesity
Chandigarh, November 29
The VLCC chain of parlours celebrated the Anti-Obesity Day on Wednesday at its Sector 35 centre with the launch of a book "Transformation towards wellness" by Dr Raj Bahadur, director principal of GMCH-32.
Nightmare not over for Gen Kang
Mohali, November 29
Even as rejoicing followed the release of hostages from the Taj Hotel in Mumbai today, the nightmare was not over for Maj-Gen J.S. Kang (retd).
Conference on library, info science ends
Chandigarh, November 29
The XXV IATLIS (Indian Association of Teachers of Library and Information Science National Conference), which began at Panjab University on November 27, concluded today.
Street theatre reaches village with powerful plays
Panchkula, November 29
The Chandigarh Sangeet Natak Akademi has expanded its cultural activities to the semi-urban and rural audience with the staging of a festival of socially relevant plays at Kaimbala village and now at Mani Majra.
Artistes enliven musical soiree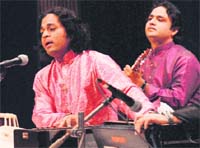 Chandigarh, November 29
The Pracheen Kala Kendra organised a special musical soiree featuring Delhi-based duo of Amjad Khan in solo tabla recital and Kashif Ahmed in ghazal concert at Randhawa Auditorium here today.



Ghazal singer Kasif Ahmad performs at the Punjab Kala Bhawan, Sector 16,Chandigarh on Saturday. Tribune photo: Pradeep Tewari
Punjabi plays steal the show
Chandigarh, November 29
The Punjab civil secretariat cultural society presented a musical bonanza at the Punjab Kala Bhavan here.


Playback singer Kailash Kher performs at Sector 10 in Chandigarh on Saturday. A Tribune photograph
BJP leaders take out 'padyatra'
Mohali, November 29
On the invitation of Social Welfare Committee, Jai Ram Joshi, a former president of the BJP, Chandigarh, undertook 'padyatra' in the Mauli Jagran Complex.
Camp to benefit the disabled
Chandigarh, November 29
In view of the World Disability Day on December 3, the Max India Foundation and the Manav Seva Sannidhi has planned to provide artificial limbs and polio calipers during a camp at Guru Harikishna Charitable Eye Hospital Gurdwara, Sector 77, Mohali, from December 3 to 8. — TNS
A clarification
In story carried under headline "PNB manager acquitted in cheating case", the name of the bank was erroneously mentioned as Punjab National Bank (PNB). In fact, the manager of Punjab and Sind Bank, Sector 9, was acquitted. The error is regretted. — TNS


From Schools & Colleges
Fun and frolic marks freshers' day at SAS institute
Mohali, November 29s
Freshers' day was organised at SAS institute of technology and research here.
Students at their creative best
Chandigarh, November 29
The department of physics, Government College, Sector 11, organised a poster-making competition today in which more than 30 students displayed their creative skills.
GMCH-32 principal's term ends today
Chandigarh, November 29
While Dr Raj Bhadur's one-year term as the director-principal of Government Medical College and Hospital, Sector 32, ends on November 30, there is no official nod from the administration about his continuation.