(Left to right) Nirmal Singh (BJP), Sham Choudhary (BJP), and Rajesh Chuni (ANC), who filed the nomination papers from Gandhi Nagar (Jammu), RS Pura and Jammu West constituencies, respectively, on Tuesday. Tribune photos: Anand Sharma
Gandhi Nagar
Sikhs hold the key here
Jammu, December 2
With a vote bank of over 32,000 out of the total of 1.82 lakh electors Sikhs hold the key in the Gandhi Nagar Assembly constituency, which, along with 21 other constituencies in the districts of Jammu, Srinagar Samba and Kathua go to the polls on December 24.
Omar for joint Indo-Pak mechanism to rein in terror
Srinagar, December 2
National Conference president Omar Abdullah has asked India and Pakistan to work together to remove the air of suspicion and mistrust, stressing the need for developing a joint mechanism to tackle the menace of terrorism.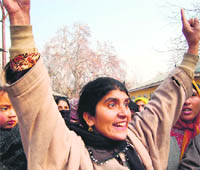 Kashmiri women protest in Srinagar on Tuesday against the Army for injuring a youth in shooting at Budgam on Monday. Tribune photo: Mohd Amin War
Poonch grid station functional
Jammu, December 2
To stabilise and improve voltage in Poonch district, the first 132/33 KVA grid station has been commissioned. A 20 MVA transformer has been deployed at the 132/33 KVA Draba-Poonch grid station under the State Plan.
Ailing BSF jawans getting requisite drugs for PF malaria
Jammu, December 2
After death of two BSF jawans and sudden illness of 66 others put the state health authorities in a tizzy, the latter claimed to have arranged requisite medicines in sufficient stocks to treat the BSF personnel of "plasmodium falciparom" that caused the "fatal" malaria.
Panthers' dharna in Delhi on Dec 6
Jammu, December 2
Accusing the state administration of adopting a biased attitude towards the Panthers Party candidates in providing security during the Assembly elections, the party today decided to stage a dharna outside the EC office in New Delhi on December 6.
Mufti seeks clear mandate for PDP
Srinagar, December 2
Former Chief Minister and PDP patron Mufti Mohammad Sayeed has sought a clear mandate to enable the party push its agenda of ushering peace, dignity, stability and prosperity in the state.
Sonia in valley today
Srinagar, December 2
Congress president Sonia Gandhi will hit the assembly poll campaign trail in the state on Wednesday by addressing elections rallies in Baramulla and Doda districts.
Cong, BJP, NC banking on Gujjars
Sangaldan (Reasi), December 2
Sitting MLA and former minister of the coalition regime Aijaz Ahmed Khan has been locked in a triangular contest in Gool-Arnas Assembly segment from where he had emerged victorious in a virtually one sided fight in the 2002 Assembly elections.
Mumbai Attacks
Cong flayed for ignoring RAW warnings
Jammu, December 2
The BJP, which has been targeting the Congress for its soft approach on terrorism, has sharpened its attacks in the aftermath of Mumbai terror attacks.
Visit to historic places, courtesy Army
Srinagar, December 2
After visiting religious, historic and tourist places for the first time in their lives, 40 senior citizens from remote and far-flung areas of north Kashmir are back to dark nights, muddy roads and winter chill.
PDP reaches out to people on FM Radio
Srinagar, December 2
The PDP has for the first time in the history of the state used an FM radio station to put out advertisements seeking support for its candidates in the ongoing seven-phased elections in the state.
Discussion on elections
Jammu, December 2
The Department of Strategic Studies and Regional Studies, Jammu University, organised a panel discussion on the ongoing state assembly elections here today.
Seminar on media held
Jammu, December 2
A daylong seminar on "Media in Jammu and Kashmir" was organised by students of the Symbiosis Institute of Media and Communication, Pune, at Abhinav Theatre here today.
One held on murder charge
Jammu, December 2
Following heated arguments over a trivial issue, a fruit stall owner, part of the marriage caterers, murdered a barati in a marriage ceremony at RS Pura near here late last night.
Jawan commits suicide
Srinagar, December 2
An Army jawan here today allegedly committed suicide by hanging himself in Badamibagh cantonment, official sources said.