Anshu Kumar
Cadet Anshu tops merit list
Dehradun, December 3
Cadet Anshu Kumar of Rashtriya Indian Military College (RIMC) has topped the All-India Merit List as well as the Air Force Merit list in the recently declared National Defence Academy (NDA) Merit List. Other RIMC cadets in the top order of the merit list include cadet Akash Shekhawat, cadet Pranit Newar, cadet Siddhant Wankhade and cadet Suhel Prahlad Kadu, who secured fifth, 10th, 12th and 15th position respectively.
Class III and IV jobs with a rider
Dehradun, December 3
Manpower shortage for certain government departments is likely to continue for some time as the Dehradun district magistrate has instructed them to get police verification of the selected candidates done before issuing them appointment letters.




Olivia Taghioff
Switch to millets to save environment: Expert
Mussoorie, December 3
Growing millets could help in climate change mitigation and provide greater nutritional security to the people of Uttarakhand believes Olivia Taghioff, India Representative of Swedish funding agency Swallows. Olivia, who was on an official visit to Mussoorie, said that about one-fourth of India's total emissions of green house gases comprises methane released from standing water.
Four directors join Navratna ONGC
Dehradun, December 3
Four more independent directors have been inducted in the Board of Navratna public enterprise Oil and Natural Gas Corporation (ONGC). They are Chanda Kochhar, S.S Rajsekar, S Balachandran and Santosh Nautiyal.
Year gone, no law to streamline para medical courses
Dehradun, December 3
The proposed Uttarakhand Medical Council Act, 2007 is expected to streamline para medical education in the state, creating an infrastructure that gives fillip to paramedical education in the state. Awaiting enactment by the Uttarakhand assembly, the act has already been drafted, with this Uttarakhand would join the ranks of Kerala, Rajasthan and Madhya Pradesh that have their own para medical council acts.
Of man, dog bonding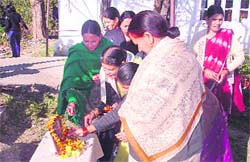 Mussoorie, December 3
The stories of bonding between a man and a dog are not new to this world but a unique incidence of love and attachment between a dog and his master has come to light in Mussoorie. The last rites of a pet dog were performed as per the conventional Hindu tradition in the city by the dog owner, Sudhir Thapliyal, yesterday.
Homage paid to the deceased dog. A Tribune photograph
Abhay adjudged best
Dehradun, December 3
Abhay Rana of Draona's International School did the state proud by winning a gold medal at the National CBSE Judo Championship.
Emphatic win for Tanush Academy
Dehradun, December 3
Tanush Cricket Academy registered an 84-run victory over Doon Wonder's at the Dehradun District Cricket League at Matawalabag here today. Tanush Cricket Academy won the toss and elected to bat first. They piled a huge total of 216 runs in their allotted 30 overs.
2 robbers gunned down
Dehradun, December 3
In a joint operation, Haldwani and Nainital Special Operation Group (SOG) personnel gunned down two robbers hiding in a house in Rudrapur on Tuesday morning and nabbed a woman accomplice. However, one robber managed to flee.