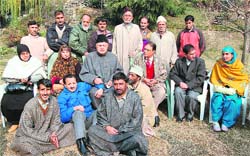 Former Chief Minister and NC patron Farooq Abdullah with leaders and 11 municipal councillors of the PDP from Anantnag, who joined the NC, at his residence in Srinagar on Saturday. — PTI
CPM for scrapping of AFSPA
Srinagar, December 6
Demanding implementation of the Working Group (WG) recommendations on scrapping of the Armed Forces Special Powers Act (AFSPA), the CPM said withdrawal of such laws and other draconian measures would have positive impact on the ground in the valley.
Omar: Root out communal forces
Jammu, December 6
NC president Omar Abdullah today appealed to the people of the state to be wary of political parties playing religious or regional card for vote bank politics.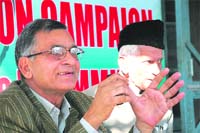 Hari Om denounces BJP policies
Jammu, December 6
Hari Om, who defected to the Congress from the BJP last month, here today lambasted his former party for being bereft of any plan to integrate the state with the rest of the country.


Congress leader Hari Om addresses mediapersons in Jammu on Saturday. A Tribune photograph
Jammu discriminated against: BJP
Jammu, December 6
The BJP state unit today said political parties having Kashmir centric ideology, including the Congress, the PDP and the NC had discriminated against the Jammu region in all aspects.
Clashes on poll-eve
Reasi, December 6
On the eve of polling, workers of various political parties clashed with each other at different places and levelled allegations and counter allegations to impress the voters.
'Bring educated youth to power'
Jammu, December 6
Skies Club Jammu — an organisation of students — has urged people of the state to caste their vote in favour sof "young and educated candidates" for bringing a "positive change" in the system. Addressing a press conference here today, joint secretary of the organisation Sachin Bhagat said to generate awareness amongst 'adult franchise' their teams were visiting several places and holding discussion with the youth.
2 Independents withdraw nomination
Jammu, December 6
On the last day of withdrawal of candidature, as many as 33 candidates are now left in fray for the two Assembly constituencies of RS Pura and Suchetgarh in Jammu district.
Fearing shutdown, people go Eid shopping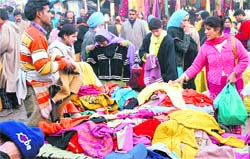 Srinagar, December 6
As the Valley goes to polls for the fourth phase of elections on Sunday, markets here today buzzed with shoppers making advance preparations for Eid-ul-Azha, which is being celebrated on Tuesday.



Women buy clothes ahead of Eid-uj- Zuha at Lal Chowk in Srinagar on Saturday. Tribune photo: Mohd Amin War
Tyabji for reviving JK industry
Jammu, December 6
H.H. Tyabji, adviser to the Governor, has said earnest efforts will be made to revive the sick industrial units so as to bring JK Industries Limited back on rails.
Student community a worried lot
Jammu, December 6
The student community from the state studying in various institutions across the country alleges that the local police was unnecessarily creating problems for them.
Pvt BEd colleges 'selling' degrees
Jammu, December 6
Sangarsh, an organisation of Jammu University students, has alleged that the Directorate of Colleges Development, Jammu University (JU), has been turned into a "money-minting unit" as most of the private BEd colleges in the region are virtually selling degrees to aspirants.
Sahni is Jammu varsity VC
Jammu, December 6
Prof Varun Sahni, Professor of International Politics at Jawaharlal Nehru University (JNU), New Delhi, has been appointed as the new Vice-Chancellor of Jammu University (JU) for a period of three years.
Independent candidate escapes bid on life
Srinagar, December 6
Militants made an abortive bid on the life of an Independent candidate when they hurled a hand grenade towards his house at Wathoora in the central Kashmir district of Badgam, going to polls tomorrow.
2 militants killed in Kupwara
Srinagar, December 6
The police have shot dead two militants of the Harkat-ul Mujahideen at Dardpora village in the Lolab area of Kupwara district. The slain militants include a top commander of the outfit, who hailed from Pakistan, the police said.
2 Pak nationals arrested
Jammu, December 6
The BSF troops have arrested two Pakistani nationals, who had crossed over to the Indian side of the International Border in Jammu province, a BSF spokesman said here today.
1 held for selling SIMs in black
Jammu, December 6
Vinod Bawa of Shakti Nagar was arrested by a team of the District Special Branch for allegedly black-marketing the SIM cards of a private telecom company in the heart of the city, sources here said today.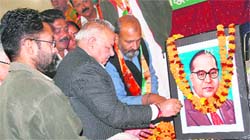 Tributes paid to Ambedkar
Jammu, December 6
Rich tributes were paid to Dr Bhim Rao Ambedkar on his 52nd death anniversary at a function organised by the Ambedkar Studies Centre of Jammu University here today.
Senior BJP leader Chaman Lal Gupta pays tribute to Dr Bhim Rao Ambedkar on his 52nd death anniversary in Jammu on Saturday. Tribune photo: Anand Sharma