2 MC officials charged with bungling of funds
Mussoorie, December 8
Serious discrepancies in the Nagar Palika funds during 2003 have been unearthed, thanks to the use of Right to Information by a former Palika member Shashi Rawat. Former executive officer and accountant have been charged with the bungling of funds.
Part-time lecturers seek regular jobs
Dehradun, December 8
Part-time and contractual teachers of Hemwati Nandan Bahuguna Garhwal University (Tehri, Pauri and Srinagar campuses) have called upon the Uttarakhand government to introduce a Bill regularising their services in the forthcoming assembly session.
Slash fuel prices further, demands BJP
Dehradun, December 8
The state BJP activists staged a demonstration against the economic policies of the Congress-led UPA government at the Centre, here today.
Petrol, diesel may come under tax hammer
Dehradun, December 8
The benefit of cheaper petrol and diesel may be neutralised in view of the state government's compulsion of maintaining revenue collection in the ongoing fiscal crunch situation.
Search operations in IMA vicinity
Dehradun, December 8
With just four days left for the Indian Military Academy (IMA) passing out parade (POP), the police administration has further intensified search operations and identification drive in the villages surrounding IMA.
Cricket players on the mat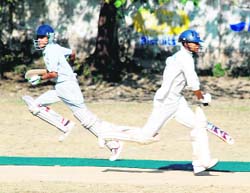 Dehradun, December 8
Albeit the state has four cricket turfs in Dehradun, none of them are being used during district tournaments by any of the cricket associations here. Hence, players going to other states find it tough to adjust to turf wickets. The turfs are there at the Indian Military Academy, Maharana Pratap Sports College, Abhimanu Cricket Academy and Doon School. While the ones at IMA, Abhyimanu and Doon School are for personal use of the respective institutions, the one at Maharana Pratap Sports College is too far away from the city to be of any use to players or for holding tournaments.
National hockey tourney from tomorrow
Haridwar, December 8
The Gurukul University will host the Inter-University North Zone hockey tournament from December 10 to 16. The varsity is gearing up for the national tournament that will see the best of the talent from the northern region.
Cricket
Thumping win for Rao Academy
Dehradun, December 8
Rao Cricket Academy registered a thumping victory over Valley Boys Gujrada by a margin of 146 runs in the 57th District Cricket League tournament underway at Survey Stadium, here today. Rao Cricket Academy openers put up a stand of 59 runs for the first wicket. Dipankar Ramola scored 25 and Manish 15 runs, respectively. Thereafter, they lost some wickets in quick succession and were 81 runs for the loss of 5 wickets at one stage. However, the lower came good, thanks to a fine knock 28 runs by Sanjay. The Academy finally put up a score of 185 runs.
Uttarakhand score easy win
Dehradun, December 8
LMCC Uttarakhand crushed Varanasi (UP) by 141 runs in the 23th Late Bankelal Shah Memorial Inter State Cricket tournament underway at Rangers Ground, here today.
'Guard Trishul' expedition returns
Dehradun, December 8
A team of two officers, one JCO and 12 other ranks that went for "Guard Trishul", a multi-activity expedition in three disciplines - mountain cycling, trekking and white water rafting - was flagged in at GK Auditorium, Clement Town, by GOC, 14 RAPID (S), here today.