'Earn while you learn' picks up in city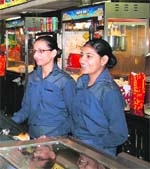 Ludhiana, December 10
"Earn while you learn" is no more the way of the west only, as the trend is fast catching up with the youth in the city, and in Punjab at large. A large number of young boys and girls are working in the city cafes, multiplexes, shopping malls and various other showrooms to earn their pocket money without giving up their studies. Barista Coffee, Costa Coffee, Café Coffee Day, PVR cinema, Waves cinema, Flames mall, West-End Mall and Ansal Plaza are some of the outlets that are accommodating hundreds of youth from the city and adjoining areas in regular and part-time jobs.
IMA Poll
Contestant for top post asks rival to sink differences
Ludhiana, December 10
The IMA district body elections once again took an interesting turn as D Narotam Dewan (the contestant for the post of president) approached his opponent Dr Arun Mitra to give up all differences and work in favour of the IMA at large.
Celebrations turn sour at marriage
Khanna, December 10
Pradeep Kaur (26) was shot dead by her drunk brother-in-law during a marriage party at Dau Majra village last night.
Fire tender charges outside MC limits
3-time hike proposed
Ludhiana, December 10
The municipal corporation, which has been trying new methods to earn revenue, has come up with yet another proposal of hiking fire tender charges.


City Concerns-II
Root out corruption to check adulteration
The root cause of the problem is corruption. If the enforcement agencies play a fair role, this menace can easily be curbed. Even compulsory ISI mark is not going to check this adulteration as one can have this mark by bribing the officials.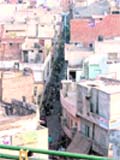 Different bylaws for old city
Ludhiana, December 10
A ray of hope has been seen in the unplanned and congested streets of the old city, where it is "tough" to implement the building byelaws, as there is a proposal to have different byelaws for the old and new city areas. According to information, the proposal has been included at number 16 in the agenda list of the municipal house-meeting, which is scheduled to be held here tomorrow.
A case of political vendetta: Cong leader
Ludhiana, December 10
Though the municipal corporation has tightened its noose around Park Plaza for violating building bylaws, it has brought to the fore the fact that hundreds of other buildings in the city, too, are violating the bylaws.
No respite from power cuts
Ludhiana, December 10
Even as the winter season has set in, and the demand for power has considerably gone down, both in the domestic and agricultural sectors, there has been no respite from prolonged power cuts, which were continued rather regularly during peak of the summers.
Combining comfort with style
Ludhiana, December 10
As the winter sets in with a nip in the air, everyone is on the look out for a footwear that is fashionable, yet substantial. While some prefer stylish high-heeled boots, others go in for light and comfortable ballerina, the market has it all to meet the style requirements.
Cotton textile industry faces crisis
Ludhiana, December 10
The cotton textile industry in India is in a serious crisis as a result of global meltdown and the recession caused in the USA, Europe and Japan. This is definitely going to hit the industry hard and the units are bound to face closure.
Murdered youth's father fears threat to life
Mandi Ahmedgarh, December 10
Apprehending threat to his life and property, Manjit Singh one of whose sons had allegedly killed his another son and his accomplice about eight months ago, has urged the administration to either provide security or issue an arms license to him.
DBA Poll: Stevon Soni stakes claim for chief's post
Ludhiana, December 10
A senior lawyer Stevon Soni today filed nomination papers staking claim for the post of the District Bar Association's president. His is directly contesting with sitting Bar chief Parupkar Singh Ghumman, who had filed the nomination papers yesterday.
Vocational courses in demand in govt schools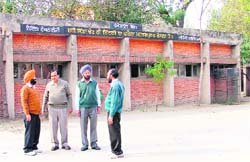 Ludhiana, December 10
The vocational courses started by the Punjab Education Department in Government senior secondary schools are gaining popularity among students of classes XI and XII.





The knitting technology centre at Government Multi-purpose School. Photo: Inderjeet Verma
Children's science congress opens at PAU
Ludhiana, December 10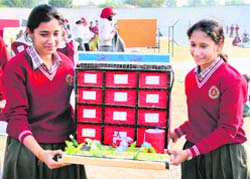 The Centre for Communication and International Linkages (CCIL) PAU and the Punjab State Council for Science and Technology (PSCST) organised the 16th state-level Children Science Congress-2008 at PAU today with the focal theme "Planet Earth-our Home: Explore Share and Care".


Students from a Hoshiarpur school with their model at the state-level science exihibition at Punjab Agriculture University in Ludhiana on Wednesday. Photo: Rajesh Bhambi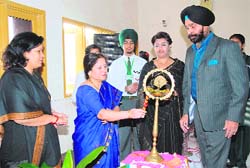 BCM bags overall trophy
Doraha, December 10
An inter-school solo song competition was organised at Green Grove Public School recently.




The chief guest light the lamp during the inter-school solo song competition organised at Green Grow Public School in Doraha. A Tribune photograph
Ravinder Kaur elected PU dean
Ludhiana, December 10
Dr Ravinder Kaur, principal, Malwa Central College of Education for Women, was elected as dean, faculty of education, Panjab University, Chandigarh, on December 8, for the term starting from the day to January 31, 2010. The faculty, besides the departments, includes colleges of education and colleges of physical education affiliated to the PU.


Youth burns house in inebriated state
Mullanpur Dakha, December 10
A youth of Issewal village burnt his house under the influence of liquor. Rachpal Kaur, wife of Gurmeet Singh of Issewal village, complained to the police that her son Rajbant Singh (30) was a drug addict. Due to his habit of consuming intoxicants of various kinds, they had not married him so far. Her elder son was residing at Jadha village near Latala and she, along with her husband, was living with him.
Drug stores raided
Mandi Ahmedgarh, December 10
Reacting to the reports of alleged violation of the Drugs and Cosmetics Act, a joint team of the health department and the police raided drug shops located at the local town and surrounding localities.
Six booked for focible ploughing of fields
Raikot, December 10
Five persons have been booked for forcibly ploughing the fields of Jagjiwan Singh, son of Sukhdev Singh of Walipur Kalan.


Two more judges for city
Ludhiana, December 10
The city has got two more Additional District and Sessions Judges with the orders of the Punjab and Haryana High Court.


Punjab softball teams announced
Ludhiana, December 10
P.N. Passi, honorary secretary, Punjab Softball Association, has selected boys and girls for representing Punjab in the 26th Junior National Softball Championship to be held at Warangal in Andhra Pradesh from December 17 to December 22.
'Basketball players in city talented'
Ludhiana, December 10
The young players in this part of the country are talented and keen to learn. This observation was made by David John Petrozziello, a basketball coach from Canada, who is in the city to impart training to the upcoming cagers, and also to interact with the coaches. David is a coach in various colleges and universities in Canada and USA.
9 Green Land students selected
Ludhiana,December 10
The management committee of Green Land Senior Secondary School,Ludhiana,has sent its students (u-14) to Nagpur for taking part in the North Zone II CBSE Chess Championship.