Be within limits: Capt to Bhattal
Challenges Sukhbir to fight from Bathinda
Tarn Taran, December 10
"Rajinder Kaur Bhattal should remain within limits as Opposition leader instead of interfering in my working as chairman of the Congress election Campaign Committee of Punjab. Whatever I am doing, I am doing with the consent and approval of the party high command," said former Chief Minister Amarinder Singh.
Sukhbir shying away from LS polls: Cong
Chandigarh, December 10
Punjab Congress general secretary Parminder Singh yesterday claimed that the poor performance of the SAD and its candidates in the Delhi Vidhan Sabha elections was the real reason why its president Sukhbir Singh Badal was now shying away from contesting the forthcoming parliamentary elections.
Ex-Cong man accuses Bhattal of land grab
Chandigarh, December 10
Sangrur-based former Congressman Deep Inder Singh yesterday demanded a CBI probe against Congress Legislature Party (CLP) leader Rajinder Kaur Bhattal, accusing her of grabbing and selling 188 bighas of Wakf Board property in Sangrur in league with her sister Balwinder Kaur Bhattal. He also claimed that the SAD-BJP government was going soft on the complaint submitted by him in this regard and despite an inquiry having been ordered into the entire issue, nothing had come out of it.
BSP, Left can bring change: Dayal
Sangrur, December 10
Keeping in view the results of the Assembly elections held in five states, the Left parties and the Bahujan Samaj Party (BSP) should come together in the ensuing Lok Sabha (LS) elections in Punjab to make a dent in the state politics, which is dominated by the SAD-BJP alliance and the Congress.
India, Pak should avoid armed conflict: Dal Khalsa
Hoshiarpur, December 10
With bilateral relations between India and Pakistan becoming tense, the Dal Khalsa has appealed to the respective heads of both countries to avoid an armed conflict.
Delhi results proof of SAD's declining graph: Khaira
Chandigarh, December 10
Punjab Congress leader Sukhpal Singh Khaira today said the fact that five Sikhs nominated by the Congress had emerged victorious in the Delhi Assembly elections in comparison to the defeat of all SAD-sponsored candidates was a clear indication of the declining graph of the SAD amongst Sikhs as well as Punjabi's.
Re-polling at Nurpur Bedi
Nurpur Bedi, December 10
Re-polling for the block-level elections of the Youth Congress was held here amid sloganeering. Of total 14 candidates in the fray, 12 of them boycotted the elections and raised slogans against district returning officer Sachin Naik.


He supplies 'makki di roti, sarson da saag' to PM
Tarn Taran, December 10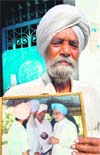 While Raja Ali, a classmate of Prime Minister Manmohan Singh, who brought a pair of "Chakwali Khussa tilley walli juttis" from Pakistan for his dear classmate, besides "mitti" of his school, hogged the headlines of newspapers in May, Zail Singh, an ex-serviceman from Tarn Taran, quietly visits 7 Race Course Road almost every month to supply prasad from Darbar Sahib or "makki di roti and sarson da saag" in winters.


Zail Singh of Tarn Taran, a Dalit friend of Prime Minister Manmohan Singh. Photo: Vishal Kumar
4-lane Ambala-Zirakpur section inaugurated
Dappar (Dera Bassi), December 10


As part of infrastructure development and boosting economy of northern India, especially Punjab and Haryana, the UPA government is pumping crores of rupees to construct four-lane and six-lane national highways passing through the two states.
Union minister of road transport and highways Thiru T.R. Baalu, flanked by Punjab Chief Minister Parkash Singh Badal and Haryana Chief Minister Bhupinder Singh Hooda during the inaugural ceremony of the four-lane Zirakpur-Ambala section of the national highway at Dappar, Dera Bassi, on Wednesday. Tribune photo: Vicky Gharu
Punjab officer apologises to HC
Chandigarh, December 10
An affidavit filed in a "cavalier fashion" nearly landed a senior Punjab government officer in trouble.
Border farmers' rally in Delhi on December 16
Amritsar, December 10
Farmers of the border districts of Punjab will hold a rally in New Delhi on December 16 against the failure of the Centre to meet promises made to farmers living near the Indo-Pakistan border.
Hoteliers against luxury tax
Chandigarh, December 10
Hoteliers and restaurant owners in Punjab are up in arms against the Punjab government decision to impose 8 per cent luxury tax on hotels, banquet halls and marriage palaces. At a time when tourist inflow is dwindling in wake of the Mumbai strikes, decision of another tax has served double blow to the hotel industry.
Dr Gargi given additional charge of Director
Chandigarh, December 10
Dr J.S. Gargi, principal, Government Medical College and Hospital, Amritsar, has been told look after the work of the director, Medical Education and Research (DMER), Punjab, too. The post fell vacant following the retirement of Dr J.S. Dalal on November 31.
Opening of lone bid for Rajpura thermal project allowed
Chandigarh, December 10
The Punjab State Electricity Regulatory Commission (PSERC) today approved the proposal of the PSEB to open the lone bid received for the 1,320-MW Rajpura thermal power project from Lanco Infrastructure Limited.
DGP orders formation of quick reaction teams
Chandigarh, December 10
Punjab Director-General of Police (DGP) N.P.S. Aulakh today directed district police chiefs to constitute quick reaction teams, comprising the fittest security personnel in all districts of the state to meet the challenge of renewed threat of terror attacks.
SGPC: Sahajdhari is one who slowly adopts doctrines of Sikhism
Chandigarh, December 10
The Shiromani Gurdwara Prabandhak Committee (SGPC) today made official its stand on the definition of Sahajdhari by dissecting the word to say "sahaj" meant slowly and "dhari" connoted adoption.
Rule of law must prevail, says doctors' body
Patiala, December 10
The Punjab Civil Medical Services Association (PCMSA), a body representing doctors from all over Punjab, has extended support to agitating Punjab Civil Services (PCS) officers struggling on the issue of alleged encroachment and incidence of lawlessness at Amritsar District Administrative complex recently.
Ex-servicemen for weeding out corrupt politicians
Amritsar, December 10
All right thinking people in the country should come forward to weed out corrupt politicians and bureaucrats as the nation is fast sliding towards becoming a "banana republic".
Farmer commits suicide
Nabha, December 10
Harassed at the hands of a local commission agent, a farmer of nearby village allegedly committed suicide at his shop in the new grain market here today.
Legal appointments in Punjab
Chandigarh, December 10
The Punjab and Haryana High Court has issued posting orders of the advocates appointed as additional district and sessions judges in Punjab.


SSP to probe pension denial
Chandigarh, December 10
A bank manager is in the dock on a petition filed by a 90-year-old freedom fighter's widow. Justice Uma Nath Singh and Justice Daya Chaudhary have asked Hoshiarpur senior superintendent of police (SSP) to hold an inquiry after Devki alleged pension paid to her since 1974 suddenly stopped, and a manager of Punjab National Bank (PNB) snatched away her passbook.