Defacement of Property
MC constitutes 8 teams
Jammu, December 12
To check defacement of the public property, the Jammu Municipal Corporation has constituted eight mobile teams that would enforce the Defacement of Public Property Act during the ongoing Assembly elections.
Despite the Municipal Corporation banning the defacement of public property, a party activist pastes posters on a wall. Photo: Inderjeet Singh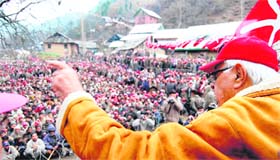 NC patron Farooq Abdullah addresses an election meeting at Kapran (Anantnag) on Friday. Tribune photo: Mohd Amin War
Poll trouble for students
Jammu, December 12
There seems to be no end to the miseries of the student community. After the two-month land row, during which all the educational institutions remained shut, the ongoing elections have cast a shadow on the routine class work.
Ultras put up death threat posters
Pulwama, December 12
Amidst a robust election campaign, which received a kick after a good turnout in the previous phases, militants are making last-ditch efforts to prop up the separatists' failing boycott campaign by pasting threatening posters in some parts of six constituencies going to the polls tomorrow.
Bring Cong to power, Soz appeals to voters
Srinagar, December 12
Union minister for water resources and state president of the Congress Committee Saifuddin Soz has expressed the hope that the party will make the next government in the state and urged people to vote for the Congress candidates. He was addressing a series of public meetings at Homshalibugh and Shangus constituencies of Anantnag district today.
Panthers' chief, gen secy allege assault
Jammu, December 12
Jammu and Kashmir National Panthers Party chairman Bhim Singh and general-secretary Anita Thakur today alleged that the duo were physically assaulted and abused by the returning officer for the Marh constituency.
Poll – boon for transporters
Jammu, December 12
After suffering huge losses during the Amarnath land agitation, transporters and taxi operators are doing a brisk business these days in view of the Assembly elections. However, their delight has turned out to be a bane for commuters who are having a tough time reaching their destinations.
PM's rehabilitation package gets good response
Jammu, December 12
The Return and Rehabilitation Package offered by the Prime Minister to Kashmiri Pandits in April this year and global meltdown has evoked unprecedented response from the displaced community as the Relief and Rehabilitation Commission has received more than 9,000 consent forms on the last day of submission of forms.
State told to give compensation
Jammu, December 12
Justice J.P. Singh of the Jammu & Kashmir High Court allowed writ petition filed by Parkasho Devi and Ano, whose son Kuldeep Raj lost his life while performing his duties as lineman, and directed the respondents to pay an amount of Rs 2,00,210 along with 6 per cent interest per annum from the date of filing of writ petition till its realisation within a period of two months.
Syed Geelani, others under house arrest
Srinagar, December 12
Chairman of both the factions of the Hurriyat Conference (HC) Mirwaiz Moulvi Omar Farooq and Syed Ali Shah Geelani and about half a dozen other separatist leaders were put under house arrest yet again to prevent them from leading anti-poll demonstrations today.
Yet-another shutdown in Srinagar
Srinagar, December 12
Srinagar was closed today as the security establishment beefed up its presence to foil any movement of separatist forces on a call given by the coordination committee, an amalgam of separatist groups.
BSNL subscribers rue poor service
Jammu, December 12
BSNL's CellOne and Excel mobile services have been a constant source of mental agony for people in the Jammu region for the past over a fortnight.
Two cops suspended for beating farmer
Kathua, December 12
The police has suspended two personal security officers of a Congress candidate after they allegedly beat up a farmer in the Billawar assembly constituency of Kathua district.
Five lawyers held
Srinagar, December 12
The police arrested five executive members of the Kashmir Bar Association while they were carrying a protest demonstration against the ongoing Assembly elections.
Four leopard skins seized, two held
Udhampur, December 12
The police seized four leopard skins and arrested two persons here today. While police officials remained tight lipped over the issue, reliable sources revealed.