35 Taliban militants killed in 'clean-up': Afghan general
Kabul, December 14
Thirty-five Taliban fighters have been killed in an operation to "clean up" areas controlled by the militants in a rebel-infested southern Afghan province, a military official said today.
Russian beauty is Miss World 2008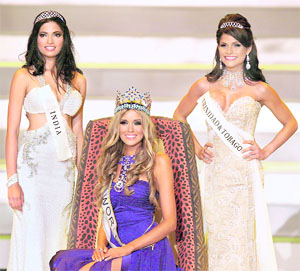 India's Parvathy finishes first runner-up
Johannesburg, December 14
India's Parvathy Omanakuttan narrowly missed out on winning the Miss World 2008 crown, which went to Russia's Ksenya Sukhinova at a glittering African extravaganza held here. "Miss World 2008 is Russia," announced Julia Morley, head of the Miss World committee that organises the event.


Ksenya Sukhinova (centre) of Russia smiles after being crowned Miss World in Johannesburg on Saturday. The first runner-up was Parvathy Omanakuttan of India (left) and Gabriel Walcott of Trinidad and Tobago was the second runner-up. — Reuters

Book on British Raj 'memsahibs' released at Cambridge
London, December 14
A unique anthology of 19 women who lived and worked in India between World War I and Independence in 1947 has been produced at the University of Cambridge.
Monroe's iconic photos to go under hammer
New York, December 14
Famous Marilyn Monroe photographs, including her iconic dress-lifting pose over a hot air vent, are due to be auctioned next week in New York.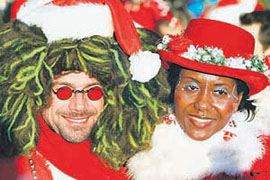 Revellers dressed as Santa Claus take part in the annual "SantaCon" event in New York on Sunday. — Reuters

Thai Democrat Party ready to regain power
Bangkok, December 14
The battleground of Thai politics was set to shift from the streets to Parliament, as lawmakers prepared to vote tomorrow on a new prime minister.
India must frame clear migration policy, say lawyers
London, December 14
India must frame a clear migration policy and enact legislation at the central level to check illegal trafficking, human smuggling and thriving immigration businesses, leading Indian lawyers have said.
Naipaul kin murdered in Pak
London, December 14
A top former Pakistani army officer, who was the brother-in-law of Indian-origin novelist and Nobel laureate V.S. Naipaul, was murdered after he "threatened" to expose Pakistani generals for 'deals' with Taliban militants, a media report said today.
Navy earns praise for tackling pirates
Dubai, December 14
The report of Indian Navy men boarding a pirate boat and taking 23 pirates into custody has been splashed in almost all the dailies in the West Asian region and also figured in global television coverage giving a commendable makeover for the Indian image.
Greece calm after 8 days of riots
Athens, December 14
Athens was calm today after eight days of the worst riots Greece has seen in decades, sparked by the police killing of a teenager. No demonstrations were planned for today.
Bush makes farewell visit to Iraq
Baghdad, December 14
US President George W. Bush made a surprise farewell visit to Iraq today, the country he ordered invaded in 2003, the White House announced.
Lord Paul in EU select panel
London, December 14
NRI industrialist Lord Swraj Paul, who scripted history by becoming the first Asian deputy speaker of the British House of Lords, has added yet another feather to his cap with his appointment to a high-powered select committee of the European Union (EU).
Iran shuns Paris meet on Afghanistan: Source
Paris, December 14
Iran today shunned a major conference in Paris at which top envoys from Afghanistan, its neighbours and the world's great powers met to map out the war-torn state's future. Tehran had promised to send its foreign minister Manouchehr Mottaki, French officials said, but in the end he failed to make the trip and even the Iranian ambassador failed to show up, a diplomatic source said.
Israel to free 227 Palestinian prisoners: Report
Jerusalem, December 14
Israel is planning to free 227 Palestinian prisoners tomorrow, military radio reported, after a special government committee approved the list of those set for release.
52 die in Egypt bus crash
Bahrut (Egypt), December 14
At least 52 Egyptians were killed when their bus plunged into a canal south of Cairo today in the deadliest road accident in Egypt, officials said. More than 60 persons were in the public bus when it swerved into the canal to avoid an oncoming truck as it traveled on the main highway between the Nile city of Minya to Cairo, a security official said.