Citizens' Service Bureau stops issuing birth, death certificates
New Delhi, December 14
It seems the Chandni Chowk situated Citizens' Service Bureau of the Municipal Corporation of Delhi (MCD) has stopped issuing birth and death certificates from the time the Bharatiya Janata Party (BJP) has come to power.
DU's smoke-free campaign on road to success
New Delhi, December 14
The campaign to make Delhi University a smoke-free zone seems to be paying dividends. According to a recent survey conducted on North Campus, some 18.4% boys smoke and a mere 3.3% girls smoke as compared to 23.5% boys and 3.9% girls some five years ago (VPCI survey).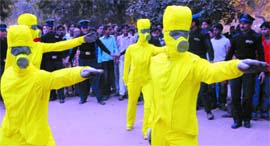 Swiss dance troupe 'Da Motos' spreads awareness about global warming as part of the ongoing 48C Public Art Festival in New Delhi on Sunday. Tribune photo: Mukesh Aggarwal

Students turn eco ambassadors
New Delhi, December 14
Sheila Dikshit, who has scored a hat-trick in the Delhi assembly election, today opened an annual meet on ecology where students from various schools across Delhi participated. The students tried to make people aware of the environmental hazards and explain them the ways in which they can protect environment.
A shopping fiesta for style freak
New Delhi, December 14
Designer duo Arjun and Shikha Prakash have hit the fashion floor with the launch of exclusive multi-branded designer house at MGF, City Square mall of Rajouri Garden that would showcase their unique creations, which is all set to lend a novel look, colour and appearance to the fashion estate.
Move to exploit Yamuna flood plain area decried
New Delhi, December 14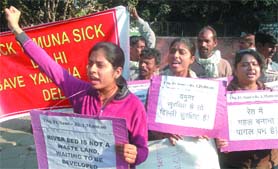 Hundreds of people in the city today protested against the state's intention to sell the Yamuna's sandy flood plains. On an average, the flood plain in the Delhi stretch of the river Yamuna is 40 m deep. The structure of the river makes it an ideal sponge for recharge of the city's ground water.
Activists of the Save Yamuna Campaign protest against the state's decision to sell the Yamuna sandy flood plains, at Jantar Mantar in New Delhi on Sunday. Tribune photo: Mukesh Aggarwal

Change in RPA Act demanded
New Delhi December 14
National Network For India (NNFI), working in the field of electoral reforms in the country, has demanded immediate amendment of Representation of People's Act (RPA) to bar those guilty of heinous crimes.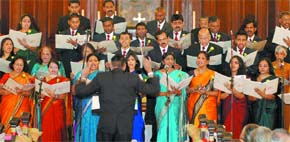 A choir sings for Leprosy Patients' Children Education Fund at the Cathedral Church of the Redemption in New Delhi on Sunday. Tribune photo: Mukesh Aggarwal

Goods worth lakhs gutted
New Delhi, December 14
Goods worth lakhs of rupees were destroyed in a fire that broke out in a shop near Bikaner House this morning. According to preliminary inquiry, short circuit could be the cause of fire, an official of the Delhi Fire Service (DFS) said.
Fire in Arjun Colony house
Gurgaon, December 14
A fire broke out in a house in Arjun Colony in the morning today. It is said that there was leakage in cylinder but the actual reason seemed to be the short circuit.
Wintry conditions in Delhi
New Delhi, December 14
After a warm weather earlier this week, it was back to cold wintry conditions in Delhi today with the minimum temperature of 7.3° C but little warmer than yesterday.
3 vehicle thieves held
New Delhi, December 14
With the arrest of three persons, the South West district police today claimed to have worked out six cases of vehicle theft and recovered six motor cycles from their possession.
7 cops suspended for custodial death
Ghaziabad, December 14
Seven policemen in Ghaziabad, including two sub-inspectors, were suspended today after an FIR was lodged against them for killing a person in police custody.
DMRC gets award for energy conservation
New Delhi, December 14
The Delhi Metro Rail Corporation (DMRC) received an award from the ministry of power for adopting measures which helped in conserving energy. These measures include utilization of regenerated energy during braking for train airconditioning and lighting, management of lighting in stations and tunnels, use of solar energy in parking lots, optimization of airconditioning in trains and stations.
Police still clueless in Parteek case
Gurgaon, December 14
Fourty eight hours after two youths fired at Parteek Phalswal, the police is still struggling to identify them.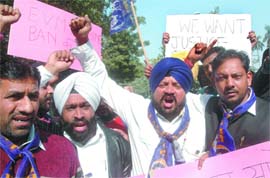 BSP seeks probe into EVM functioning in polls
New Delhi, December 14
A large number of the Bahujan Samaj Party (BSP) activists today demonstrated at Jantar Mantar demanding CBI inquiry into the alleged malfunctioning of the electronic voting machine (EVM).
Defeated BSP candidate Shamsher Mehandi (2nd from right) protests at Jantar Mantar in New Delhi on Sunday. Tribune photo: Mukesh Aggarwal

SC/ST rally today
New Delhi, December 14
The All India Confederation of SC/ST organizations will have a rally tomorrow at Jantar Mantar in which lakhs of employees from all over the country will take part.
Labourer hit by crane, dies
New Delhi, December 14
A labourer, Shailender (28), was killed after being hit by a crane today at the construction site of the Commonwealth Games Village near Akshardham Temple in east Delhi.