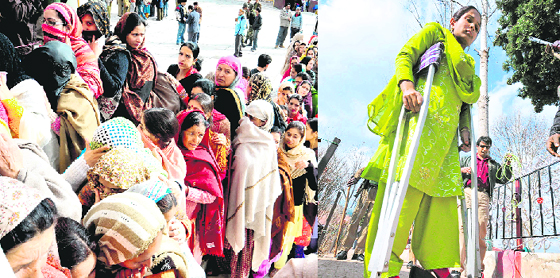 Voters throng a polling booth in Kishtwar district on Wednesday; and (right)
a physically challenged woman comes after casting her vote at
a polling booth in Bhaderwah. Tribune photos: Anand Sharma
Flawed EVMs, chill fail to dampen spirits
Polling in the Sumber polling station of the Banihal assembly segment, Ramban district, could not take place due to a faulty electronic voting machine (EVM). Just as the polling started, it was stopped and could not be resumed.
People vote to get rid of inefficient politicians
Democracy in the state has come a long way. From voting to rid the state of militancy in both 1996 and 2002, people of the former militant hub of Doda today came out and voted in large numbers for "development, peace and tranquillity", clearly indicating a vote for change in favour of young and new entrants in politics.
They came long way for democracy
Thathri (Doda), December 17
Notwithstanding the claims of the administration to set up polling stations at the nearest possible place in every village, in this mountainous belt of the Jammu region, large number of voters had to trudge down long distances to cast their votes.
Curfew-like situation hits life
Srinagar, December 17
Continuing with the past practice, restrictions on the movement of people to prevent separatists' anti-poll march to south Kashmir affected normal life, leading to a curfew-like situation here today.
Snowfall brings down mercury
Srinagar, December 17
Weather in the state has grown chillier with the upper reaches of the state experiencing the second spell of snowfall and the low lands receiving intermittent rains since last evening, official sources said today.
Top Hizb ultra, accomplice shot
Srinagar, December 17
The security forces achieved a big success today when they gunned down Hizbul Mujahideen commander Rayees Kachroo, who had mysteriously escaped from police custody in a Pulwama court on November 4, and his accomplice in a Shopian village.
IED seized, tragedy averted
Anantnag, December 17
The security forces averted a tragedy today when they seized an improvised explosive device (IED) here.
Omar lashes out at PDP-Cong rule
Bishnah, December 17
After Gujarat Chief Minister Narendra Modi tried to reignite the fire reminding the people about the Amarnath land row here yesterday, NC president Omar Abdullah today mouthed platitudes in a bid to woo voters.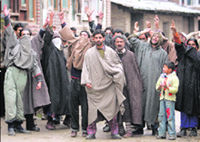 Protest over denial of
voting right
Kokernag, December 17
Villagers of Hayatpora in this Assembly
constituency today protested as their
names did not figure in the voter list and
were not allowed to vote.

Protesters shout anti-election slogans in Anantnag on Wednesday. — Reuters photo

Nomadic Gujjars seek voting right
Jammu, December 17
Though they play a vital role in the state economy, around 2.25 lakh nomadic tribals still remain children of the lesser God in the absence of voting right in the state.
Post-poll alliance with PDP
Pranab hint comes as a surprise
Jammu, December 17
With External Affairs Minister Pranab Mukherjee hinting at a post-poll alliance with the PDP, the political equations have gone for a toss a week ahead of the last phase of polling in state.
Information dept playing a 'partisan' role
Jammu, December 17
The state Information Department has been playing a "partisan" role in the ongoing Assembly elections as a "selected lot of reporters" from some of the media houses are given preferential treatment while others are being neglected.
Panthers hold rallies in Jammu, Samba dists
Jammu, December 17
Panthers Party leaders, including chairman Bhim Singh, today held a series of rallies in various constituencies of Jammu and Samba districts.
JKDPN flays divisive politics
Jammu, December 17
Former minister and president of the Jammu and Kashmir Democratic Party Nationalist (JKDPN) Ghulam Hassan Mir said today that economic stability and empowerment of the people was the only way to address problems confronting them in the restive state.
Pak 'augments' force along border, LoC
Jammu, December 17
The Army and the BSF have noticed unusual activities across the international border and the LoC.
Kendriya Vidyalaya teachers honoured
Jammu, December 17
Teachers of Kendriya Vidyalaya Sangathan were honoured by Union minister of Human Resource Development Arjun Singh on its 45th Foundation Day in New Delhi.