Denied entry, scribes protest in front of LG's house
New Delhi, December 17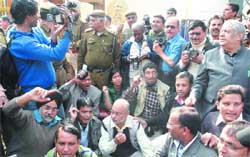 Scores of journalists sat on dharna in front of Lt-Governor's house. They were not allowed entry to Raj Niwas to cover the swearing-in ceremony.




Mediapersons sit on dharna outside the LG's house during the swearing-in ceremony of the Chief Minister in New Delhi on Wednesday. Tribune photo
Malhotra is leader of oppn
New Delhi, December 17
V. K. Malhotra, chief ministerial candidate in the Delhi assembly elections, was today unanimously elected as leader of the BJP's state legislature party. He will be leader of opposition in Delhi assembly.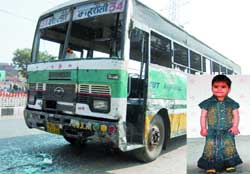 KILLER BUS: A Blueline bus hits a child, Khushi, (inset) near Mayur Vihar in New Delhi on Wednesday. Khushi died on the spot. Tribune photo
Court moved to get dialysis facilities
New Delhi, December 17
The Delhi High Court on Wednesday sought a reply from the central and Delhi governments on a public interest petition alleging lack of facilities in government-run hospitals especially for dialysis.
Delhi blasts: First charge sheet filed
New Delhi, December 17
The Delhi police today filed the first charge sheet in the September 13 blasts in Delhi that claimed 26 lives, charging five suspected Indian Mujahideen (IM) terrorists with waging war against the state, murder and various other crimes.
Now, get factory licences online
New Delhi, December 17
The Municipal Corporation of Delhi (MCD) has announced the online issuance and renewal of factory licences. The factory owners will be able to submit their applications for grant of factory licence or requests for renewal online along with required documents as the system will be introduced from December 20. 
T-series lays off 230 employees
Noida, December 17
Workers at the Noida-based Super Cassettes Industries, owner of music label T-Series, went on a day's strike after the company laid off 230 employees on Tuesday.
Parking space for 700 buses on nullahs
New Delhi, December 17
With a view to strengthen infrastructure for the Commonwealth Games to be held just after one year in 2010, the Municipal Corporation of Delhi (MCD) today passed a proposal to build two parking facilities near Jawaharlal Nehru Stadium with a capacity of 700 buses.
Quality students needed in maths, science: Pitroda
New Delhi, December 17
Chairman of National Knowledge Commission Sam Pitroda today, said, India required more quality students in mathematics and science to fulfil the academic needs of a modern country.
Universities to be upgraded for C'wealth Games
New Delhi, December 17
Universities across Delhi are all set to undergo extensive renovation and facility upgradation in their countdown to serve as venues for the Commonwealth Games scheduled for 2010. Tens of thousands of visitors will be descending on the capital as it plays host to the Commonwealth Games.
Three-day school science expo opens
Gurgaon, December 17

The three-day Haryana state school science exhibition began here at State Council for Educational Research and Training today. It was inaugurated by divisional commissioner DPS Nagal. The theme of the exhibition is Science and Technology for Global Sustainability.
Children participate in Saraswati Vandna at the Haryana State School Science Exhibition on Wednesday. Tribune photo: Rajesh Kumar Yadav
Crime rate dips, claims police
Fall in rape cases, but murder and vehicle thefts on the rise
New Delhi, December 17
It may surprise many, but the fact remains that the overall crime graph in the national capital is heading for a dip this year as compared to 2007.
Man gets life term for killing nephew
Noida, December 17
A man, who had shot his sister's son in 1999 over a property-related dispute, has been pronounced guilty by a court and was awarded life sentence and a fine of Rs 10,000. Three of his accomplices were also pronounced guilty by the court and were awarded the same punishment.
ICICI bank robbed of over Rs 25 lakh
Ghaziabad, December 17
Four armed robbers barged into the Sahibabad branch of ICICI bank today evening and decamped with cash more than Rs 25 lakh at gunpoint. According to information, four armed men who had covered their faces with masks entered the bank around 6.30 pm after disarming the security guard.
5 Nepalese held with fake currency
Greater Noida, December 17
Five Nepalese have been arrested by the Greater Noida police for pedalling fake Indian currency into NCR market from Pakistan via Nepal. The
Man booked for tortureof wife
Faridabad, December 17
The police today booked a man and his relatives for harassing and torturing his wife for dowry.
Ethics of climate change discussed
New Delhi, December 17
Standing at the crossroads of planetary exigency, the whole world is striving to strike a balance between its aspirations to excel and newfound ways of existence. Man competes with nature is a story often told, but this issue has assumed immense significance after the commencement of industrialisation. This was the focal point of today's deliberations at Chinmaya Mission here in the Capital.
Temperature likely to rise
New Delhi, December 17
Clouds that covered the capital on Wednesday morning brought some respite from the chilly winds that had been blowing for the last two days. The weathermen said the minimum temperature is likely to rise.