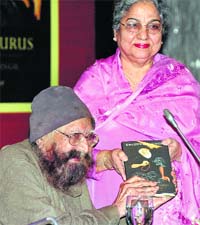 Gursharan Kaur releases a book "Songs of the Gurus from Nanak to Govind Singh", which is translated by Khushwant Singh and Illustrated by Arpana Gaur (not in the picture), at a function in New Delhi on Saturday. Tribune photo: Mukesh Aggarwal
BJP wants to know who's calling shots in Pak
New Delhi, December 20
The BJP has asked Pakistan to state who is in control of the country there. While referring to the recent statement of former Pakistan prime minister Nawaz Sharif that president Asif Ali Zardari and his government had come under pressure from the army.
Call off talks with Islamabad: Sinha
New Delhi, December 20
Accusing the ruling UPA of losing grip on the aftermath of the Mumbai attacks, the main opposition BJP has suggested that the government should call off composite dialogue with Pakistan as that country has not responded adequately to India's demands.
Mumbai Parsis split over lawyer's offer
Mumbai, December 20
The Parsi community in Mumbai is split over a decision by one of their own to defend Mohammad Ajmal Amir Iman, alias Ajmal Kasab, the lone terrorist to have been caught alive after the terrorist attack in the city last month.
Interpol promises help
New Delhi, December 20
The Interpol today assured all help to India in securing details of the perpetrators of the Mumbai attacks. Interpol secretary-general Ronald K. Noble today met union home minister P Chidambaram.
Rs 800 cr to put Varanasi on world map
Lucknow, December 20
Chief Minister Mayawati today laid the foundation stones of around 28 schemes costing more than Rs 800 crore to develop the world's oldest surviving city, Varanasi, into an international heritage and tourist spot as well as an important destination on the Buddhist circuit.
ISRO conducts 'hot test' on cryogenic engine
Bangalore, December 20
After the historic launch of unmanned moon mission Chandrayaan-I, the Indian Space Research Organisation (ISRO) today successfully conducted the flight acceptance "hot test" of an indigenous cryogenic engine.
MP Cabinet formed 23 sworn in
Bhopal, December 20
More than a week after he took the oath alone, Madhya Pradesh Chief Minister Shivraj Singh Chauhan constituted his council of ministers today. The Governor, Dr Balram Jakhar, administered the oath of office and secrecy to 23 ministers at Raj Bhawan. These include 17 cabinet ministers and six ministers of state.
Verma is new internal security adviser
New Delhi, December 20
A senior IPS officer, K.C. Verma, of the Jharkhand cadre has been appointed as the internal security adviser to the union home minister P. Chidambaram. Verma, a 1971 batch officer is presently posted as secretary (security), cabinet secretariat.
Pro-LTTE leaders burn Sonia's effigy
Chennai, December 20
It was a day of protests, counter-protests and clashes in Tamil Nadu over the Sri Lankan Tamils' issue. Much to the embarassment of the DMK and the police, two of its allies, the Congress and Viduthalai Chiruthaigal Katchi directly confronted each other in front of the state headquarters of Congress.
Govt to export 20 lakh tonne wheat
New Delhi, December 20
In view of comfortable situation of wheat stock, the government has decided to export up to 20 lakh tonne of wheat from the central pool to friendly countries.
Panel raps PGI
New Delhi, December 20
While the stage is set for amendments to PGIMER, Chandigarh, Act to empower the institute to grant dental and nursing degrees, the parliamentary committee looking into the matter is miffed at the institute's delay in moving for changes.
IAF geared up, says chief
Hyderabad, December 20
National security "can never ever be taken for granted" and the Indian Air Force should be fully geared up to face new challenges, Chief of Air Staff F. H. Major said today. He was addressing the combined graduation parade of flight cadets of the Indian Air Force at the Air Force Academy, Dundigal. — PTI