SAD leaders skip Shaheedi Jor Mela
Chamkaur Sahib, December 20


Shiromani Akali Dal (SAD) leadership remained absent from the Shiromani Gurdwara Parbandhak Committee (SGPC) stage on the second day of annual Jor Mela held to commemorate martyrdom of Ajit Singh and Jujhar Singh, sons of Guru Gobind Singh, along with 40 other Sikhs.
SAME SPOT, DIFFERENT SCENES: Punjab policemen can be seen relaxing and people passing through the metal detector without any check and (right) later, the cops frisk people as their superior arrives during the Shaheedi Jor Mela at Chamkaur Sahib on Saturday. Tribune photos: Vinay Malik
Akalis stand united in Dirba
Dhindsa, Barnala groups share stage at party rally
Dirba (Sangrur), December 20
Though everyone knows about factionalism (Sukhdev Singh Dhindsa and Surjit Singh Barnala faction) in the Shiromani Akali Dal (SAD) in Sangrur district, it seemed that the party was at least united in the Dirba Assembly constituency as leaders of both groups jointly attended the party rally held here today.
Bid to counter Amarinder effect
CM's vikas yatra from tomorrow
Jalandhar, December 20
Senior BJP leaders will accompany Chief Minister Parkash Singh Badal who is to launch the first phase of his vikas yatra (development march) on December 22. Badal has planned to visit Khadoor Sahib, Ferozepur, Jalandhar and Lundiana districts in the first phase. The yatra appears to have been planned to neutralise the effect of the visit of former Chief Minister Amarinder Singh, who drew a huge response in Punjab's countryside during his recent five-day visit.


Despite CM's orders, some chief parliamentary secys ignored
Chandigarh, December 20
Despite clear orders of Chief Minister Parkash Singh Badal, certain chief parliamentary secretaries of the state are being kept out of the functioning of their departments.
Anti-dumping duty on radials opposed
Jalandhar, December 20
Urging the Union government to break what it describes as cartel formed by tyre manufacturing companies, the All-India Transport Congress said yesterday that it would hold a demonstration against Union commerce minister Kamal Nath for imposing anti-dumping duty on radial tyres, which were being imported from China and other countries.
Chandigarh girl is Ms World Punjaban
Jalandhar, December 20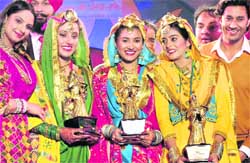 Judged on the basis of their attire, Punjabi communication skills, historical, cultural and literary knowledge about Punjab and gidda performance, Chandigarh girl Mohit Inder won the Ms World Punjaban contest which was jointly organised by the Punjabi Sabhyacharak Sath and a Punjabi TV channel at the PAP Grounds here last evening.
Mohit Inder (centre) of Chandigarh, who won the Ms World Punjaban contest, is flanked by first runner-up Gurpreet Kaur from Canada and second runner-up Supreet Malli from the US at a function at the PAP Grounds in Jalandhar on Friday evening. Tribune photo: Pawan Sharma
New Punjab Jail Act
Hoshiarpur, December 20
A new Punjab Jail Act has been framed to replace the present one of 1894. Stating this at a press conference here yesterday, minister for tourism and cultural affairs, jails, printing and stationery, Punjab, Hira Singh Gabria said the present Jail Act was prepared 114 years ago during the British regime, according to the conditions prevailing at that time. The new Act had been framed keeping in view the present circumstances and it would be submitted at the next state Cabinet meeting for final approval, said Gabria.
Cops to face action if not in proper uniform
Bathinda, December 20
Punjab DGP N.P.S. Aulakh has shot off official communiqués to all SSPs of the district concerned, asking them to direct all security personnel on VIP duty to don proper uniform or face the music.
Bridge demand-supply gap, PSEB told
Patiala, December 20
The Punjab government was looking into the problem of electricity shortage in the state and would soon frame a policy keeping in mind the needs and interests of the PSEB and its officials.
Rain brings hope for wheat growers
Bathinda, December 20
Reports of rain from all over the region has proved to be a boon for farmers and given respite to officials of the Agriculture Department, who are confident of achieving the wheat-yield target this year.
Experts discuss eye diseases
Jalandhar, December 20
Over 400 delegates from across the country participated on the second day of the 12th Punjab Opthalmological Society Annual Conference organised by its Jalandhar chapter here today.


HC: Govt can transfer employee nearing retirement
Chandigarh, December 20
A Punjab government employee now can be transferred, even if he has less than two years to go before superannuation.
Challenging Orders of Acquittal in Murder Case
Counsel files petition in Supreme Court
Chandigarh, December 20
As the suspected murderers of Ravinder Pal Singh, whose bullet-ridden body was found 15 years ago at a bandh of Fatehgarh Bairan, Ropar, were acquitted by the Punjab and Haryana High Court, the counsel for the deceased has filed a Special Leave Petition (SLP) in the Supreme Court challenging orders of the acquittal.
Mega Lok Adalat settles 25,000 cases
Compensation worth Rs 17 crore awarded to litigants
Amritsar, December 20
Compensation worth over Rs 17 crore was awarded to litigants even as 25,000 cases were settled at the inaugural day of Smadhan 2008, a two-day Mega Lok Adalat, held at the District Courts here today.


Singer Balbir Mann held in rape case
Sangrur, December 20
The local police today arrested three persons allegedly involved in a rape case, registered against Anupam Kumar, alias Pompy (a local Congress municipal councillor) and five others under Sections 376, 366-A and 120, IPC, at the police station here yesterday. The case was registered on the statement of the mother of a minor girl, who had allegedly been raped by Pompy in the house of Punjabi singer Balbir Mann at Sangrur some time ago.