Shun anti-national forces, says Sidhu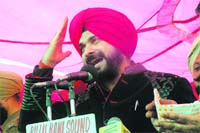 Jammu, December 21
BJP leader Navjot Singh Sidhu brought the very element of his persona, better known as 'Sidhuism', while opening a tirade against the Congress, PDP and the NC when he came here to address an election rally in Bakshinagar in Jammu West.
BJP leader Navjot Singh Sidhu addresses a rally in Jammu on Sunday. Tribune photo
Mumbai attacks hit cross-LoC trade
Poonch, December 21
Cross-LoC trade through the Poonch-Rawlakote road has reportedly stopped following terror attacks in Mumbai. Both India and Pakistan had pinned hopes to improve the relations but not only did the Mumbai attacks shatter trust that India was building on Pakistan, it also brought to halt the recently started cross-LoC trade.
Widow's journey from kitchen to politics
Jammu, December 21
Shilpi Verma, widow of Kuldeep Verma, who reportedly committed suicide over the Amarnath land row, is fast picking ropes of an astute political leader.
NC, PDP supporters clash in Khanyar
10 injured in stone pelting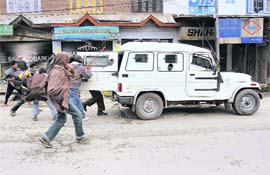 Srinagar, December 21
National Conference and PDP supporters clashed near Dastgir Sahib in Khanyar today, causing injuries to several persons. At a few other places in downtown, an anti-election crowd tore down posters and banners of political parties.

Agitators target a police vehicle during an anti-poll protest in Srinagar on Sunday. — Reuters
Srinagar-Jammu highway reopens
Srinagar, December 21
The 40-day-long severest part of winter known as 'chilaikalan' set in the Kashmir valley today, but on a warmer note with a bright sun and mercury recording two notches above normal.
200 employees trapped in Kishtwar?
Udhampur, December 21
Following a heavy snowfall in the higher reaches of Pir Panchal, about 200 government employees, including 150 cops, have been stranded in the militancy-plagued Wardwan, Nawapachi and Marwah areas of Kishtwar district. These employees were on special duty to conduct polling in these hypersensitive areas on December 17.
Gupta: Kashmir-based parties hoodwinking people of Jammu
Jammu, December 21
President of the Jammu State Morcha (Progressive) Prof Varinder Gupta today accused the Kashmir-based political parties of hoodwinking the people of Jammu.
Arrested militant 'accomplice' of Hizbul commander
Rajouri, December 21
The militant, who was arrested by the Rajouri police on Tuesday, was reportedly an accomplice of the divisional commander of the Hizbul Mujahideen.
Mulayam: SP sided with UPA to save Indo-US nuke deal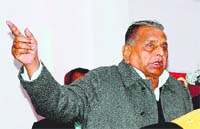 Jammu, December 21
Samajwadi Party chief Mulayam Singh Yadav said today that his party had supported the UPA government during the trust vote as the Indo-US nuclear deal was in the interest of the nation.
Samajwadi Party chief Mulayam Singh Yadav addresses a public rally in Vijaypur on Sunday. Photo: Inderjeet Singh
Parties tune into voters' homes
Srinagar, December 21
Big rallies in urban Srinagar, whose downtown increasingly resembles a garrison due to huge deployment of security forces, are still eluding political parties and the popularity of FM radio stations has come very handy in their efforts of reaching out to electorate.
Ongoing polls historic: Mufti
Srinagar, December 21
PDP patron Mufti Mohammad Sayeed has called upon the voters of Srinagar to put a final stamp on the renewed assertion of the people's will to transform their destiny through peaceful and democratic means.
Ties with Pak crucial for peace in subcontinent: NC
Srinagar, December 21
Bilateral relations between India and Pakistan were the basic essence for lasting peace in the sub-continent, National Conference (NC) patron Farooq Abdullah said here today. Addressing public meetings during road shows, the NC patron held that peace in the subcontinent was not possible without strengthening Indo-Pak relations. He added that the people of the state wanted peace that was only possible when mistrust between the two countries was removed and cordial relations strengthened.
Ammo Depot Fire
Victims rue meagre relief
Khundroo (Shangus), December 21
Pain and suffering caused due to the devastating fire in the Army ammunition depot here on August 11 last year continue to haunt the peasants in 13 villages around this place. The fire had resulted in 17 deaths, injuries to several others and heavy damage to livestock, houses, standing crops and orchards, for which the Centre sanctioned Rs 26.50 crore.
Ladakhi new year celebrations begin
Leh, December 21
Light snowfall was witnessed here on Friday. The snowfall before the celebration of Losar (Ladakhi new year) festival is considered as a good omen in this region. Though Losar is usually celebrated with excessive use of meat and alcohol, this time youngsters have decided to celebrate Losar in a different way.