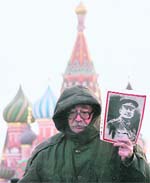 A Communist supporter holds Soviet dictator Josef Stalin's portrait during a wreath-laying ceremony to mark his birth anniversary in Moscow. — Reuters
Sonia, SRK in Newsweek list of
most powerful
New York, December 21
Congress president Sonia Gandhi and superstar Shahrukh Khan have been ranked among the 50 most powerful people in the world by the prestigious US-based magazine 'Newsweek' magazine in a list topped by President-elect Barack Obama.
Hollywood stars donate $50,000 for Obama's swearing-in
London, December 21
Hollywood actresses Sharon Stone, Halle Berry and Jamie Foxx are a list of politically-minded stars who've donated $50,000 each to fund US president-elect Barack Obama's upcoming inauguration into the White House.
Americans optimistic about Obama's policies
Washington, December 21 About 70 per cent of Americans are optimistic about the policies that President-elect Barack Obama will pursue when he becomes the country's 44th president next month, according to a new opinion poll.
Bangladesh steps up security for Hasina


Dhaka, December 21
Ahead of the crucial December 29 poll, Bangladesh has beefed up security for former premier Sheikh Hasina amid reports that an outlawed militant group's suicide squad trained by an ISI operative planned to assassinate her.
Former Bangladesh premier Sheikh Hasina reportedly faces threat to her life from militants
10 killed in Pak building collapse
Islamabad, December 21
At least 10 persons were killed and 59 others were injured when a shopping mall collapsed after it suffered structural damage due to a 12-hour long blaze in Rawalpindi.
Rioters clash anew with cops in Athens
Athens, December 21
Hundreds of rioters have battled the police in central Athens, fire-bombing a credit reporting agency and attacking the city's Christmas tree two weeks after the police-shooting of a teenager set off Greece's worst unrest in decades.
Most Britons do not believe in nativity, says survey
London, December 21
Majority of the people in Britain do not believe the Biblical story of the birth of Jesus, a new survey has revealed.

Michael Jackson 'close to death'
London, December 21
Pop legend Michael Jackson is suffering from a rare lung condition and is "close to death", a British newspaper has claimed. Jackson needs to undergo an emergency transplant operation but he is too weak to be rushed into surgery and may even be fighting for his life, the Sunday Express quoted Ian Halperin, who is penning a biography on the singer, as saying.
UN divided over homosexuality rights
United Nations, December 21
The 191-member UN General Assembly is sharply divided over gay and lesbian rights but the advocates of the same sex relations said the very mention of the subject in the world body would give fillip to the cause.