Haze daze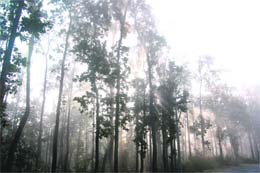 Dehradun, which is usually free of winter fog, witnessed it on Tuesday. Tribune photo: Anil P. Rawat
India to have interceptor missiles: DRDO chief
Dehradun, December 23
The missile programme of India is going well and with the development of interceptor missile, having capability of killing the enemy missile, India has joined the elite group of USA, Russia, Israel and China, the only countries to be equipped with such missiles. Giving this information, Defence Research and Development Organisation (DRDO) chief controller Dr. W. Selvamurthy said DRDO had successfully tested the interceptor missile, some month's back.
Chilli smoke grenades to draw out enemy
Dehradun, December 23
In its latest innovation, the Defence Research and Development Organisation (DRDO) has developed 'chilli smoke' grenades, which would enable the Indian forces to bring out holed up terrorists.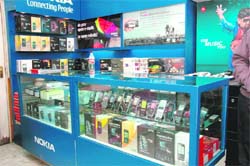 Stay connected on the move
Dehradun, December 23
Gone are the days when people rarely used mobile phones but today everyone from business class, housewives, students to auto drivers seems to flaunt one. A mobile in today's time has become a necessity rather than a luxury. "Recently, I purchased a Nokia 6610 as I often have to call my grandparents who stay in the village," said Ramesh Bhatt, a clerk.
Jaunsar fest from Dec 27
Dehradun, December 23
To promote Jaunsar folk culture, Jaunsar Bavar Working Employees Association will organise a cultural fest at Ambedkar Stadium here on December 27-28. The event, being held at the initiative of serving central government employees belonging to Jaunsar region, will showcase folk dances of the region.
Excise cut spells doom for pharma industry
Bhagwanpur (Roorkee), December 23
The Centre's decision of cutting down excise duty on pharmaceutical products from eight to four per cent has started spelling doom on this excise free zone (EFZ) here, as more than 25 drug units from Roorkee alone have shut-down their businesses while many others are looking for other avenues.