VIPs asked to prune security cover
CM, SAD chief exempted
Chandigarh, December 23
The police has "requested" ministers, chief parliamentary secretaries, MLAs and also the Speaker of the Vidhan Sabha to forgo security personnel with them in excess of norms. It has reduced and completely withdrawn security cover of a number of junior politicians in the state.



CM calls for ouster of UPA govt
Zira/Makhu (Ferozepur), December 23
Chief Minister Parkash Singh Badal has called upon people to oust the Congress-led UPA government and pave the way for the NDA to form a new government at the Centre.
Cotton rules: Badal seeks PM's intervention
Sultanpur Lodhi, December 23
The Cotton Corporation of India (CCI) is harassing cotton farmers of the state by enforcing new rules that require the farmers to produce jamabandis (revenue records) for selling cotton.
Blames Capt for financial mess
Chief Minister Parkash Singh Badal today lambasted former Chief Minister Amarinder Singh by saying that the people of Punjab should not expect anything from a person who had not stood by his family.


Seechewal for including environment in manifesto
Anandpur Sahib, December 23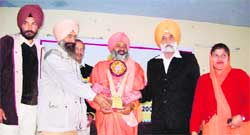 Water-man Sant Balbir Singh Seechewal and his followers have decided to approach various political parties and motivate them to include environment of Punjab as a part of their election manifesto in the forthcoming Lok Sabha (LS) elections.

Sant Balbir Singh Seechewal being awarded at an NSS camp in Anandpur Sahib on Tuesday. A Tribune photograph
PSEB takes up Lanco bid
Chandigarh, December 23
The Punjab State Electricity Board (PSEB) took up the lone offer bid by Lanco Infratech to offer power from the proposed 1320 megawatt thermal plant at Rajpura at Rs 3.38 per unit at a board meeting today.A special purpose vehicle of the PSEB, which had received and opened the bid, has referred it to the Board. The bid is rated to be on the higher side. Earlier, the PSEB had urged the Punjab State Electricity Regulatory Commission (PSERC) to allow opening of the lone bid which had been allowed with the condition that the commission's approval be taken before issuing the letter of intent (LoI).
Probe hinges on clothes found on body
Ludhiana, December 23
The investigation into the resurfacing of a murdered man and the conviction of five persons for his "murder" now hinges on the clothes found on the body that was identified as that of Jagseer Singh 12 years ago.
Relief for 3,600 rice shellers
Chandigarh, December 23
Punjab Food and Supplies Minister Adesh Partap Singh Kairon today succeeded in securing a major relief for the 3,600 sheller industries of the state as the Union government today acceded to the request of the Punjab government to relax refraction of damaged, slightly damaged grains, including pin-point damaged grains from existing 3 per cent to 3.5 per cent.
Farhat eager to meet family in Pak


Ludhiana, December 23
A Pakistani national, who had been convicted of entering India illegally, has sought his release and deportation to his country. Rana Farhat Ali, a resident of Faislabad in Pakistan, entered India through Nepal in 2005. He started living in Guru Arjan Dev Nagar in Ludhiana as a painter and was arrested in 2006.



Pakistan national Rana Farhat Ali
Vet officers demand promotions
Chandigarh, December 23
The Punjab State Veterinary Officers Association today urged the government to order placements and promotions.
Donating the gift of life
Chandigarh, December 23
It's nothing short of a life-saving gift. The decision of Onkar Singh, resident of Anandpur Sahib to donate the kidneys of his 16-year-old son who had suffered brain death, following a road accident, have given a new lease of life to two patients from Himachal.
No politics please, devotees to parties
Fatehgarh Sahib, December 23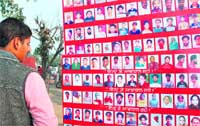 "No politics please" is the message that masses congregating at Fatehgarh Sahib for the annual Jor Mela are sending to politicians of the state. The historic gurdwara here is witnessing a huge rush with hundreds of devotes arriving for the mela that marks the martyrdom of the two Sahibzadas.

A poster of most-wanted criminals has been put up at the site. Tribune photo: Vicky Gharu
Kalia gives Rs 3 cr for Sangrur
Sangrur, December 23
The Punjab government will spend Rs 230 crore on development works in all those towns and cities that have municipal councils. "A" class municipal councils are being given Rs 3 crore each while "B" class and "C" class councils will get Rs 2 crore and Rs 1 crore each, respectively.
Hotels, restaurants remain closed
Amritsar, December 23
Despite Chief Minister Parkash Singh Badal's assurance to the hospitality industry in the state to look into tax structure hotels and restaurants today remained closed in protest against luxury tax and other levies.


Security Equipment Case
Stop pressure tactics, judge warns Punjab
Chandigarh, December 23
If the Punjab government today made an attempt to compel a judge into recusing himself from security equipment purchase case, the move boomeranged.