Wines a winner with women
New Delhi, December 23
This New Year or Christmas, gift your friends a wine bag and find their senses and hearts rolling. Wine gift boxes contain everything — from evaluation cards, recipe cards, corkscrews, tasting placemats, vinography aroma card and, of course, the wine bottle itself. It is also possible to present a wine of your flavour and choice as wine importer Nagesh Dayal says, "This year many brands entered the market.
One killed, many injured in group clash
Ghaziabad, December 23
A man was killed and a dozen injured in a group clash here. he incident occurred on Monday midnight in the UPSIDC Industrial area near Coca Cola plant in the city when a group of 50 men from Dehra village attacked eight persons from Bajehra, who were going to attend their duties at the Coca Cola factory, the police said.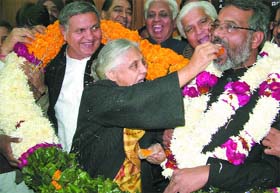 Chief Minister Sheila Dikshit offers sweets to Ambrish Singh Gautam, who was elected deputy speaker of the Delhi assembly, on Tuesday. Also seen in the picture is speaker Yoganand Shastri. Tribune photo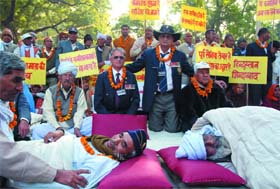 Ex-Armymen sit on hunger strike demanding pension at Jantar Mantar in New Delhi on Tuesday. Tribune photo: Manas Ranjan Bhui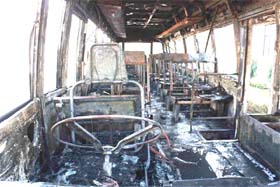 The mini bus that caught fire at Sector-37 in Gurgaon on Tuesday morning. However, no injury was reported. Tribune photo: Rajesh Kumar Yadav
Vehicle theft cases solved; 3 held
New Delhi, December 23
With the arrest of four black motorcycle-borne snatchers — Lakhan, Vikas, Shahid and Pradeep — the South East district police claims to have solved 10 cases of snatching, robbery and vehicle theft.
2 traffic cops held for bribery
New Delhi, December 23
The anti-corruption branch of the Delhi government today arrested a Delhi traffic police zonal officer and a constable for allegedly taking bribes from auto-rickshaw drivers.
Reshuffle in Delhi police
New Delhi, December 23
In a Monday night reshuffle in the Delhi police, joint commissioner Karnal Singh, who has been heading the special cell and the anti-terrorist squad for the last five years has been transferred as joint commissioner of Northern Range. P.N. Aggarwal, who was earlier the joint commissioner of police (training) will take over the posts.
VC of JNU gets French award
New Delhi, December 23
Vice-chancellor of Jawaharlal Nehru University (JNU) B.B. Bhattacharya, has been conferred with the highest French civilian award 'Officer of the Order of Academic Palms' (Officer dans I'Order des Palmes Academiques) by the Prime Minister of the French Republic.
Weaving music into colours
New Delhi, December 23
India is perhaps the only nation wherein you have specific music by the hour and by seasons. Music not only engages the mind, it also touches the soul. What if one gets a chance to experience the music in the form of colours?
Woman falls from 2nd floor, dies
Father alleges in-laws pushed her
Noida, December 23
A married woman died in suspicious circumstances in Sadarpur colony of Noida after falling from the terrace of her house last night. The woman, who was seriously injured, was rushed to the hospital, but died on the way.
Night temp could plummet this week
New Delhi, December 23
Residents can expect bright and sunny days the rest of this week but night temperatures are likely to drop, the weatherman said here on Tuesday. The minimum temperature in the Capital on Tuesday fell to 8° Celsius from Monday's 11° C while the maximum temperature was 22° Celsius.
191 plots allotted
Noida, December 23
The Noida Authority allotted 191 industrial plots here on Monday. The allotment process started at 9 am at Noida Stadium. Plots measuring 2,000 sq mt in Phase-II and III were allotted today. In all 5,500 applicants had applied for the plots. The authority had rejected the applications of 300 people due to lack of documents.
Delhi's history in coffee table book
New Delhi, December 23
Interested in knowing about the rich past and the fast changing face of Delhi? A coffee table book released today may end your search. Titled 'Delhi-India in One City', the book embodies centuries of life and living of changing cityscapes and fine architectural masterpieces that draw together ancient fortresses, medieval cities and a metropolis that has embraced the diverse, multi-layered and dynamic reality of India and Indians.
Teacher accused of molestation held
Gurgaon, December 23
The schoolteacher accused of molesting and driving a minor girl of Pahari village here to suicide has been arrested. He was produced in a local court, which remanded him to judicial custody for 14 days.
Man beaten to death
Greater Noida, December 23
Dharam Raj, 24, was beaten to death by some employees of Sterling and Wilson Electric Company near Capra Hotel in Greater Noda today. The people who attacked Dhraam Raj alleged that he was a thief and was trying to steal cables from the construction site.